Tapping the Admiral makes it a Triple!
Tapping the Admiral, near Kentish Town West Station, has been awarded Pub of the Year by the North London Branch of CAMRA, the Campaign for Real Ale.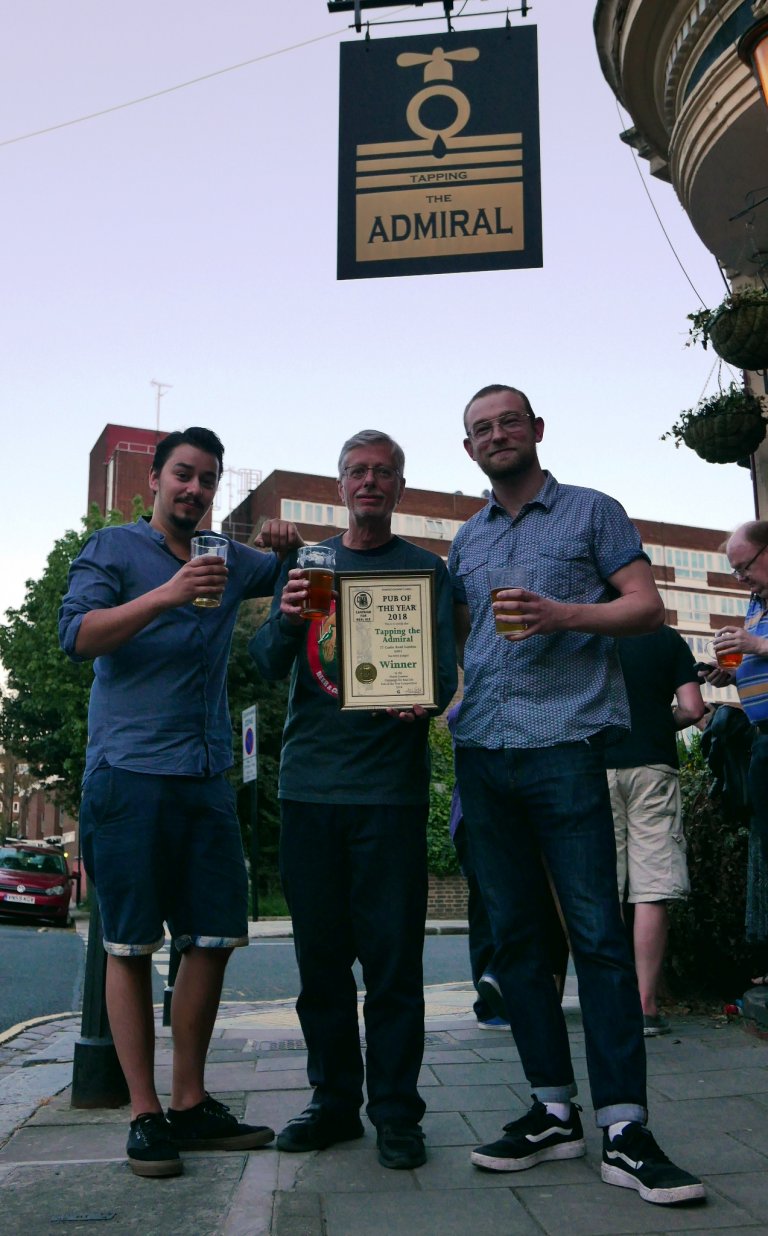 John Cryne, Branch Chairman, said, 'This is the third time that the pub has taken this Award. The first time was 2013 and they made it a second in 2015. It just goes to show that you can't keep a good pub down!'
He added 'The award was instigated by CAMRA to promote good pubs that serve the community and the Tapping the Admiral is an excellent example of that, with their knowledgeable staff welcoming regulars and strangers alike. This pub, originally known as the Trafalgar, was closed down and remained shut for four years and it became almost derelict. It reopened in 2011. With 20+ pubs closing every week, it is a case of use it or lose it and it's great to see a pub go from strength to strength. It's well supported by locals and pubs need all the support they can get.'.
Josh Freeborn, the pub's manager, said 'This is a community pub that is made so by everybody who drinks here, from the staff to the locals who make it so. We are all friends who like to drink'.
The other 2018 shortlisted pubs were the Tapping the Admiral's sister pub, the Pineapple, also in Kentish Town, the Angel (Angel), Duke's Head (Highgate) and Doric Arch (Euston). Voting was open to the 1700 local CAMRA members.
The Tapping the Admiral is part of CAMRA's LocAle scheme, which promotes pubs stocking local beers. The pub prides itself on having well trained staff who know about the beers.
The Tapping the Admiral's full address is 77 Castle Road, NW1 8SU; opening times 12.00-23.00 Mon-Sat; 12-22.30 Sun. The pub is opposite Kentish Town West station and 3 minutes walk from Chalk Farm tube.
The term 'Tapping the Admiral' has now passed into slang as meaning a sly drink. It supposedly comes from a story of how Nelson's body was brought back from Trafalgar. It is said that the body was preserved in spirit (rum or brandy, sources vary) in a barrel and the sailors thought they would tap into it, siphoning off measures during the long journey home. They toasted Nelson's health so many times that the barrel was nearly dry when it finally got home!
6. More details about the pub can be found at: https://whatpub.com/pubs/NLD/6020/tapping-the-admiral-london