Saved Pub gets London Accolade
The Wenlock Arms in Hoxton has won North London's Pub of the Year, just five years after it looked as if it might close.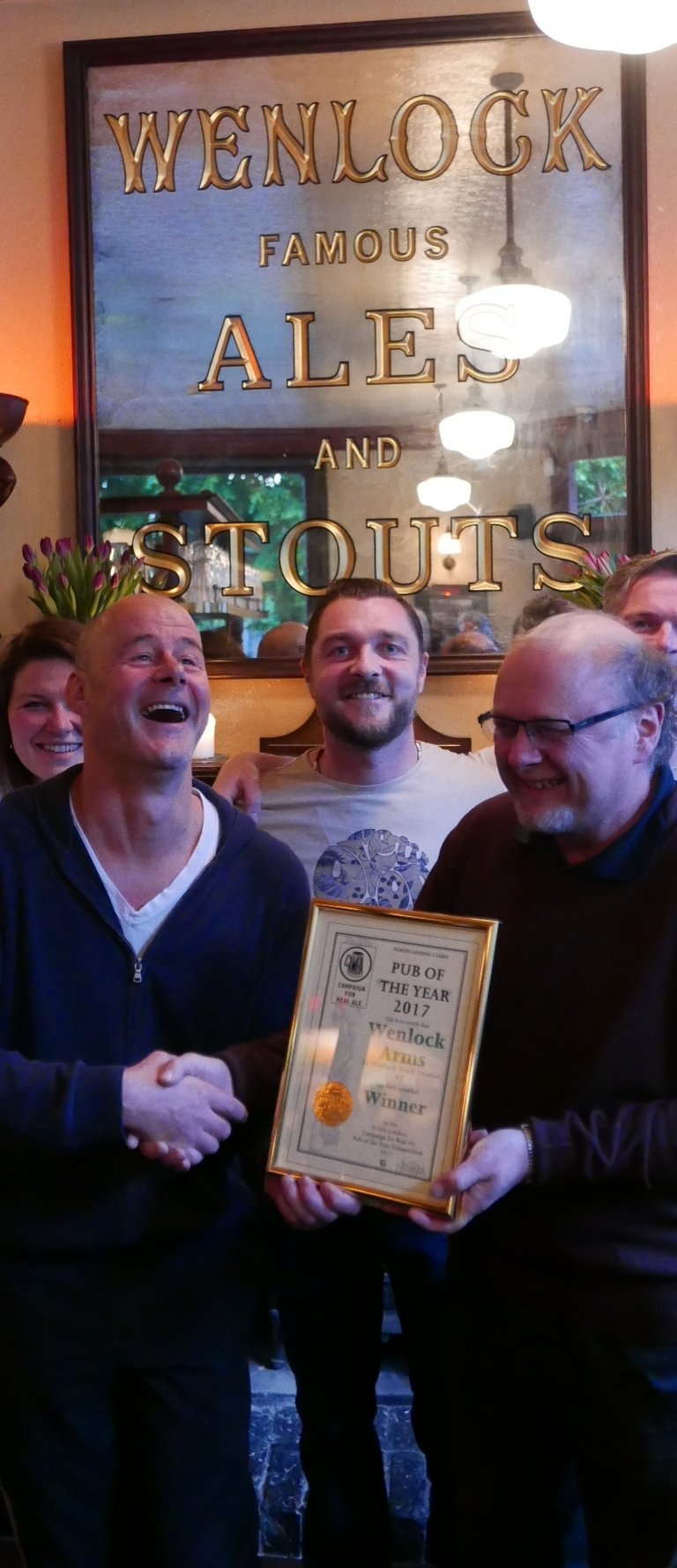 John Cryne, North London Branch Chairman, said, 'This is a classic story of rags to riches then back to rags and finally riches. The pub reopened as a free house in 1994 by Steve Barnes and Will Williams and became a beacon for good beer at a time when real ale was not in abundance. Then property developers took an interest and in 2010 a three year fight began to keep it as a pub. It finally re-opened in 2013 and has gradually re-built its reputation for good beer and a warm welcome.
John added 'This accolade of North London's Pub of the Year is a tribute to all the hard work of Marcus and his team at the Wenlock and shows that it is really back on form. It won the award in a vote amongst 1,600 local members featuring six pubs shortlisted from the hundreds of other real ale pubs in the North London area, which is no mean feat. It just shows that no pub should be written off when property developers knock on the door'.
When asked what he thought of the winning the Award, Wenlock's licensee, Marcus Grant said, 'It's great. Both the staff, the regulars and the irregulars think it's fantastic to win the Pub of the Year. Even being recognised amongst the best pubs in London is really special to the Wenlock, especially now that there are so many great pubs that sell loads of great beer. It's an honour to try to continue the legacy left by Steve and Will since they started with 5 hand pulls and sold Tetleys at £1.35 a pint. It's a great time to be in the pub game'.
The pub has ten handpumps and seven real ciders. It's a traditional Victorian corner pub (it was built in 1835) with a 'U' shaped bar, dart board and a piano in the back seating area. Such is its classic features that it has been used for filming including Simon Pegg's 'The World's End'. It originally sold beer from the nearby Wenlock Brewery (hence the name).
But there is more than just beer. Simple snacks menu of toasties, Pig and Hay scotch eggs & sausage rolls and pickled eggs are served, at a price which won't break the bank and Brian Masters Jazz trio play on Thursday nights.
The Award was presented to the pub on Tuesday 9th May at 8pm by Steve Barnes previous owner of the Wenlock Arms, who won this accolade four times under his ownership.