Golden Lion roars across the finish line.
Golden Lion roars across the finish line.
Staff and customers at The Golden Lion pub in Camden are jubilant at the tremendous news that publican Dave Murphy and his family have acquired the freehold, bringing to an end a fiercely-contested planning battle with a residential developer lasting nearly three years.
John and Mary Murphy took over the pub in 1978, and are still involved with the operation and their son Dave now runs the business.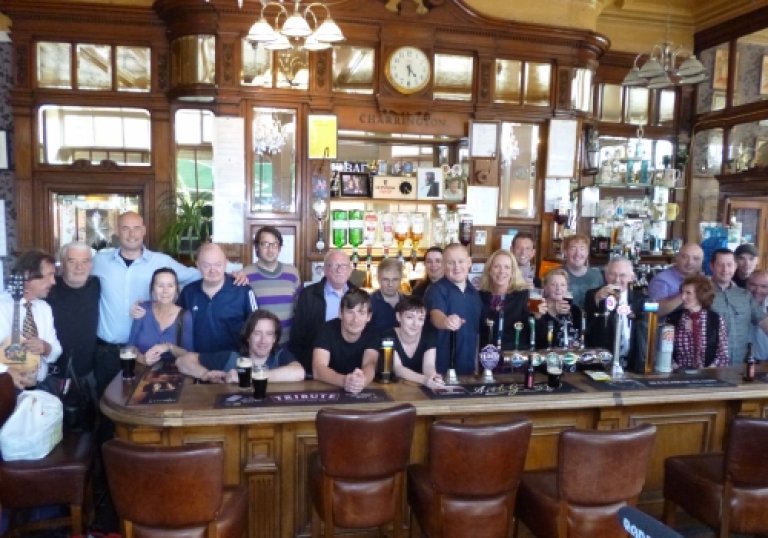 The local community, supported by a slew of politicians across the political spectrum and some first rate work by Camden Council, saw off two planning applications, secured planning protection against change of use and registered the pub as an Asset of Community Value. All of these measures together torpedoed the developer's chances of converting the building to offices or shops and flats.
The case is unprecedented as the campaign's planning consultant believes that the Lion is the very first pub in the country to have been bought under the 'going concern' stipulation of S95 of the Localism Act and its Community Right to Bid protection, as well as the first to have been acquired by its current publican operator.
​"The campaign was a long and hard one, but it was thanks to the local community doing everything they could think of that really saved the day. We must a​lso thank Greg Mulholland MP, Will Blair Conservative candidate at the next election, Tom Copley London Assembly Member and Roger Robinson, our local councillor. The Campaign for Real Ale's North London branch, especially John Cryne, its Chair, were immensely helpful too with promoting the Asset of Community Value application and objecting to the plans. All of them have supported us from the start in every way they can. It was a team effort."
"Owning the freehold now means the pub can have a settled and successful future. We can plan for new work to the building and consider how we can invest in it to make it better than ever. Being released from the commercial tie which obliged us to buy a limited selection of draft beers from a single supplier at inflated prices means we can stock whatever we want, from any brewery we choose. The cost savings will be considerable and help to sustain it as a viable community pub. Our offer will now include a range of real ales and we hope to reintroduce food as soon as possible​​. The pool table is still there and the upstairs function room is available for private hire and meetings."
The Golden Lion campaign had teeth, and wasn't afraid to use them. For now though, there is no need for them, and the Lion's claws are safely sheathed too.
It's business as usual after all- and can now remain so for many years to come. "