Beer & Chocolate Tasting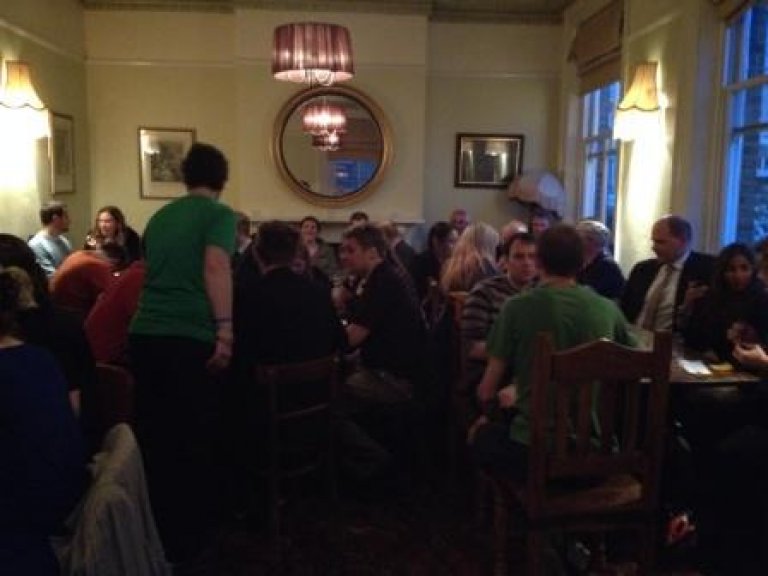 As part of CAMRA's North London branch's 40th celebrations, a chocolate and beer tasting was organised at the Pineapple in Kentish Town and it turned out to be a sell out - with no spare seats.
Christine Cryne, beer writer and beer judge matched six beers, three from London, with six chocolaty items (all the latter were from the Co-Op), with a view to complementing or creating a contrast of tastes. Christine commented that all of the beers were on the stronger side to be able to cope with the strong flavours of the chocolate, most of which were Fairtrade. The matchings were:
1. Moncada's Amber*, 4.7%ABV (London) with Ghanaian 85% dark chocolate
Based in W10, this brewery started in 2011 by Julio Moncada, who is Argentinean, and his wife, who is Greek so a real International brewery! The first beer of the evening was pale brown in colour (from the addition of Crystal malt) and a smooth mouthfeel. This beer has a slightly sweet characteristic, due to the addition of Munich malts but it is balanced by citrus fruits and a little bitterness. The hops were all American: Centennial, Cascade and Amarillo. The fruity sweetness cut through the dryish bitterness of the chocolate and chocolate fattiness on the mouthfeel.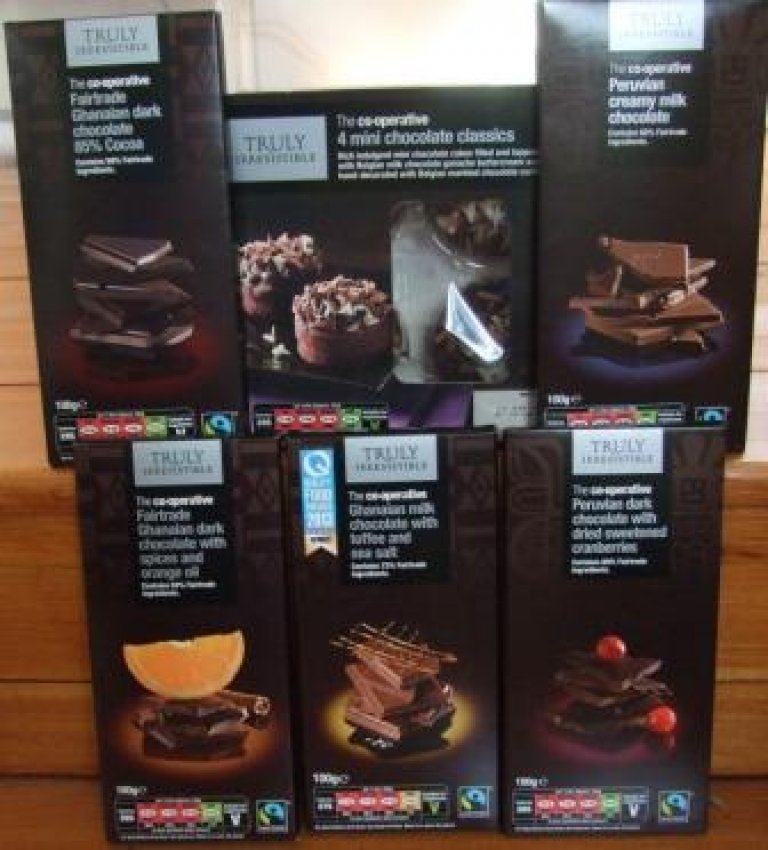 2. Teme Valley's Wotever Next*, 5%ABV (Worcestershire) with Peruvian creamy milk chocolate
Teme Valley have been brewing since 1997 and pride themselves on using just Worcestershire hops thus it comes as no surprise that this beer uses the traditional British hop, Fuggles, and the malts were Maris Otter Pale and Crystal, creating a strong brown bitter. This beer was more bitter than the first with fruit and hops that faded in a dry bitter finish. As a consequence, this beer was combined with a much sweeter chocolate, a creamy milk chocolate that compensated for the beer's bitter character.
3. Dark Star's Revelation, 5.7% ABV (Sussex) with a Ghanaian dark chocolate with toffee and sea salt
Dark Star Brewery was set up in the Evening Star pub in Brighton and has subsequently moved twice as demand has grown. Revelation is described as an American Pale Ale. A little brother version, at 4.7%ABV, won CAMRA's Champion Golden Ale of Britain in 2009. This is a highly hopped beer with strong citrus character from the American hops (Centennial, Liberty, Cascade and Citra) and a bitterness that grows on drinking but is made quaffable by the honey malt sweetness and a rich smooth mouthfeel. This beer needed a chocolate that wasn't too bitter or too sweet and so a chocolate with toffee and sea salt was chosen, providing the right blend of bitter/sweetness.
4.Portobello Kensington Porter, 4.9%ABV (London) with Peruvian dark chocolate with dried sweetened cranberries
The newest brewery of the evening, Portobello was set up in December 2012 but Rob Jenkins, the sales director has a long history with the trade having worked for Brakspears, Well's & Young's and, latterly, Kite Brewery, to name but a few. It was described by the tasters on the evening as smelling of tobacco and leather! An easy drinking black beer, with characteristics more of a stout than a porter (it was not hoppy). The dark malts brought roasted coffee flavours and aromas plus a dryish roasted finish. These were balanced by fruit (sweet raisons), blackcurrant and a trace of liquorice and black treacle. The hops are Brambling Cross, Challenger and UK Cascade.
As this beer was a bit more complex in its flavours, it was teamed with a chocolate that would be strong in character to cope. The dark roasted character in the chocolate complemented the roasted character of the beer and sweetness of the cranberries brought some balance. A plain dark chocolate with a high cocoa content would have been too harsh for this beer.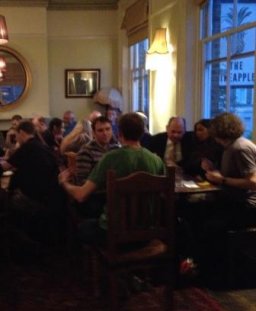 5. Durham's Bede's Chalice*, 9%ABV (Durham) with Ghanaian dark chocolate and orange oil
This brewery was set up by two former music teachers, Steve and Christine Gibbs in 1994. The beer is left in conditioning tanks where gravity is allowed to drop out most of the yeast so their beers are suitable for vegans. This beer is golden in colour and is in the style of a Belgian Tripel. It is a top fermented beer with a rich smooth mouthfeel, sweet orange character and a bitter finish. It uses a single hop, Centennial and has some coriander spice. It was matched with a dark chocolate with orange oil and spices (cardamom, ginger and cinnamon). The dark chocolate balanced the sweetness of the beer, the orange oil enhanced the fruitiness and the spices helped to bring out the coriander.
6. Redchurch's Old Ford Export Stout*, 7.5%ABV (London) with mini chocolate cakes with Belgian chocolate
We finished with a rich chocolate cake to celebrate an attendee's birthday so we needed a beer that would have lots of flavour and not too sweet to cut through the stickiness. This strong stout hit the spot with a dark roasted bitterness and black treacle notes overlaid with fruitiness. The hops were Chinook and Simcoe. The malt blend is complex with Maris Otter Pale, Crystal and Brown, Black and Chocolate malts plus roasted barley, giving the beer a typical stout flavour. Redchurch was set up in 2011 in two railway arched near Bethnel Green tube station. The majority of the beer it produces is bottled and this beer is the first in a series of special beers from Redchurch so get it while you can.
And the conclusions? The audience was asked to vote on the beers and all the beers got votes, showing that people's palates are all different and what a great range of beers we had on the night. In the end, Bede's Chalice was voted the favourite beer of the night (it certainly created a warm feeling on drinking) and the best combination went to Revelation which was drunk with the dark chocolate with toffee and sea salt, a really interesting blending of flavours. A great evening was had by all as could be told by the hubbub towards the end of the tasting! * These beers are bottled conditioned i.e. they undergo a secondary fermentation in the bottle. The bi product of the fermentation is carbon dioxide, which is trapped within the bottle creating a beer that is more bubbly. This makes it lighter to drink and thus beers tend to 'not drink their strength'.