Tottenham Brewer helps Capital Beer Festival remember a well regarded volunteer
Thursday 6 March 2014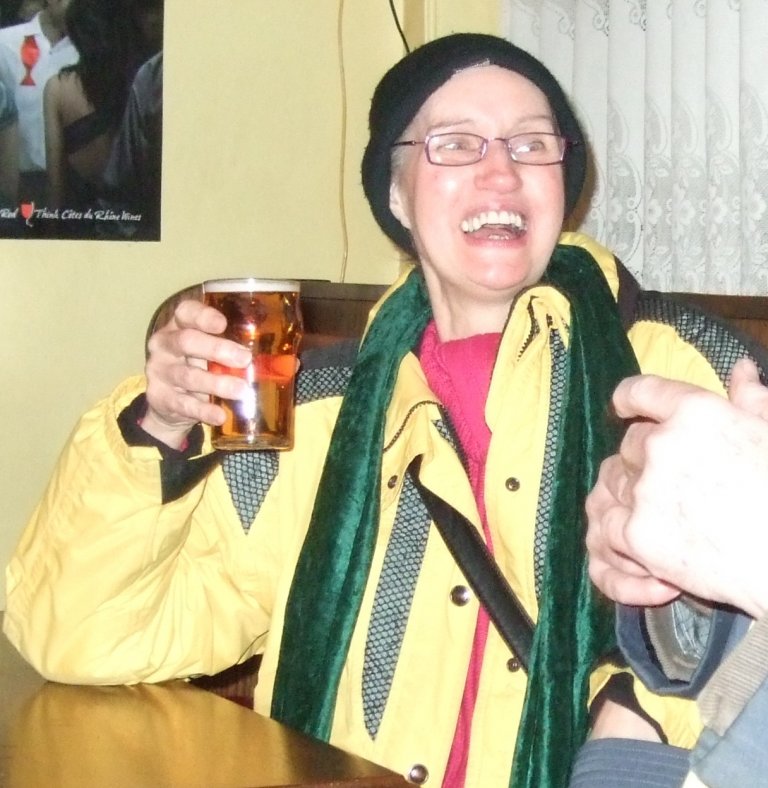 30 years ago, when the London Drinker Beer & Cider Festival first opened its doors, there were only 8 breweries in London and 9 brewpubs. At the latest count, this number has grown almost 4 fold; a staggering 42 breweries and 19 brewpubs.
During that time, thousands of CAMRA members have given their time for free to put on the Festival, which regularly attracts over 4000 visitors each year. But this year, there is a little sadness in the air.
Christine Cryne, the Festival's Staffing Officer, said 'Sadly this year, one of the stalwarts of CAMRA's North London Branch died. Although she had been fighting a serious illness for many years, no one can really ever remember Gerrie Stokes complaining of her plight. We decided we'd like to remember her in the best way we know how, by having a beer brewed in her memory. Tottenham's Redemption Brewery agreed to produce a beer for us. After talking to her family, it was decided to call it 'Make me Smile'. Gerrie was a lovely lady, a chatterbox who always had a smile on her face. She was a regular worker at this and other beer festivals and she will be missed'.
Gerrie spent most of career in the caring profession, including nursing at Great Ormond Street Hospital. In later years, she became a great fundraiser, particularly for cancer charities.
The beer will be available at the London Drinker Beer & Cider Festival in King's Cross, which is one of the longest running beer festivals in London. This year it will have beers from 23 breweries from across London.
Andy Moffat, from Redemption Brewery, added 'It's a pale beer, which has an alcohol content of 3.5% and with citrus hoppy flavour. Designed to be a perfect springtime beer and hopefully put a smile on people's faces. We hope you enjoy it'.
The event is at the Camden Centre, Bidborough Street, WC1H 9AU and is open 12-3; 5-10.30 Wednesday 12th and Thursday 13th March; 12-10.30 Friday 14th March. Lunchtimes on Wednesday and Thursday admission is free; £3.50 at other times.
For further details: contact Christine Cryne 07932 736 827; www.camranorthlondon.org.uk Andy Moffat: 020 8885 5227 London Drinker Beer Festival twitter - http://twitter.com/ldbeerfest London Drinker Beer Festival facebook - http://tinyurl.com/3x87bg6
Extra Facts ● The London brewers bar will feature beers from at least 24 London producers: A Head in a Hat, Beavertown, By the Horns, Clarence and Fredericks, Clarkshaws, Crate, East London Brewing, Ellenberg, Five Points, Fourpure, Fuller's, Hackney, Hop Stuff, Late Knights, London Brewing Company, London Fields, London Glider Cider, Moncada, Portobello, Redemption, Sambrook's, The Cronx, Truman's and Twickenham. ● The North London Branch of CAMRA has been running the London Drinker Beer & Cider Festival for 30 years. ● The Festival relies entirely on some 150 unpaid volunteers of all ages. ● More details on the Festival can be found at www.camranorthlondon.org.uk. ● CAMRA is the Campaign for Real Ale and is a volunteer membership organisation of over 150,000 members with around 200 branches throughout the UK ● CAMRA nationally was formed in 1971.