Carlton Tavern comes back from the dead to win top Award
Sunday 17 April 2022
Destroyed by so-called developers, and now reconstructed by order of Westminster Council, CAMRA members from at least 9 different CAMRA Branches celebrate the Carlton Tavern winning the 2022 West London Pub of the Year Award.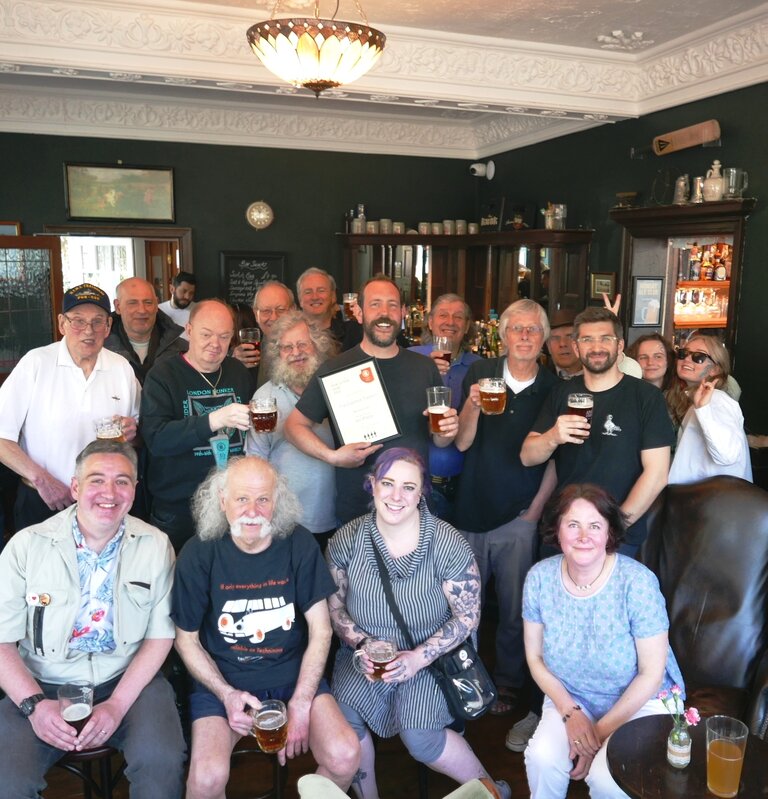 A site now nationally-famous to CAMRA members; after being illegally demolished the developer was forced by Westminster Council to rebuild this pub brick by brick. The architect was Francis J. Potter, working from original plans.
Much was salvaged from the wreckage of the old pub, including tiles, reusable bricks and the original bar and fireplaces, and some of the decorative ceilings were also rescued.
The opportunity was taken to redesign the internal layout by moving the kitchen to the basement, which had previously been used as changing rooms for a local hockey team. The inside is quite roomy, stretching around the bar to a dining room at the back. Outside is a garden/patio area also used for dining in summer.
The new pub showcases the best brewers and distillers in London, alongside a fresh, seasonal menu in the new dining room. The ale offerings include a house bitter from Anspach & Hobday.
The pub is halfway between Kilburn Park and Maida Vale tube stations (33a Carlton Vale Kilburn, NW6 5EU) and the area to the south is affluent, with the pub clientele reflecting that.