Queen's Head, Acton Street wins 2022 Pub of the Year Award
Saturday 16 April 2022
The Queen's Head in Acton Street WC1 has finally won North London CAMRA's Pub of the Year 2022.
This prestigious award is given by the North London Branch of CAMRA, the Campaign for Real Ale, as a result of a vote open to all its 1400 local CAMRA members.
Colin Coyne, Branch Chairman, said, "This pub has previously won our branch's Cider Pub of the Year twice (2013 and 2016) but never before managed to win the branch Pub of the Year, despite being shortlisted a number of times … that is, until now!"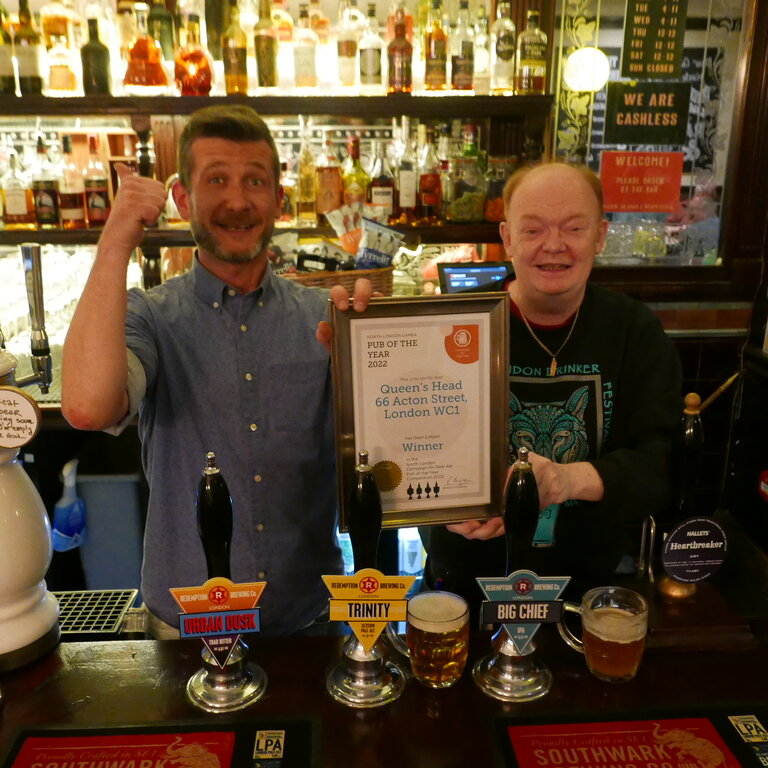 Colin continued: "It's a lovely late Georgian building, grade 2 listed, with a number of original Victorian features and is well worth coming to look at along, and, of course, to try its excellent range of real ales. It's well known for serving one of the best pints of Trinity, brewed by Tottenham's Redemption Brewery and at only 3% ABV, it's remarkably tasty and worth a visit to the Queen's Head for that alone".
The Queen's Head is a single bar pub with etched mirrors, a splendid bay window, a fine back gantry, floor tiling, blue wall tiles (listed), lamps, a lovely fireplace, a lantern and a mixture of old, non-matching tables and chairs, which gives it an eclectic charm, added to by a piano which is made use of every Thursday from 8pm.
On receiving the award, Pete Czubala from the Queen's Head said ""We're thrilled to be awarded Pub Of The Year. We take huge pride in creating a welcoming space at our inner city pub with delicious drinks to be enjoyed. We work hard to make it the much loved haunt for locals, commuters and beer lovers it has become. It feels great to come out of the pandemic with an award that reflects our efforts".
The pub is independently run with a sister pub in Bermondsey, the Simon the Tanner.