North London's Cider Pub of the Year 2013
For the first time ever the North London Branch of CAMRA is awarding a Cider Pub of the Year and the first ever winner is the Alma, in Newington Green, N1.
PLEASE NOTE - HEALTH WARNING
Immediately after making this Award, Kirsty Valentine was evicted from The Alma. This Award very much reflects the hard work and commitment of Kirsty and her team. CAMRA cannot endorse this Award as applying to any successors now running the Alma and clearly cannot guarantee what ciders visitors might now find.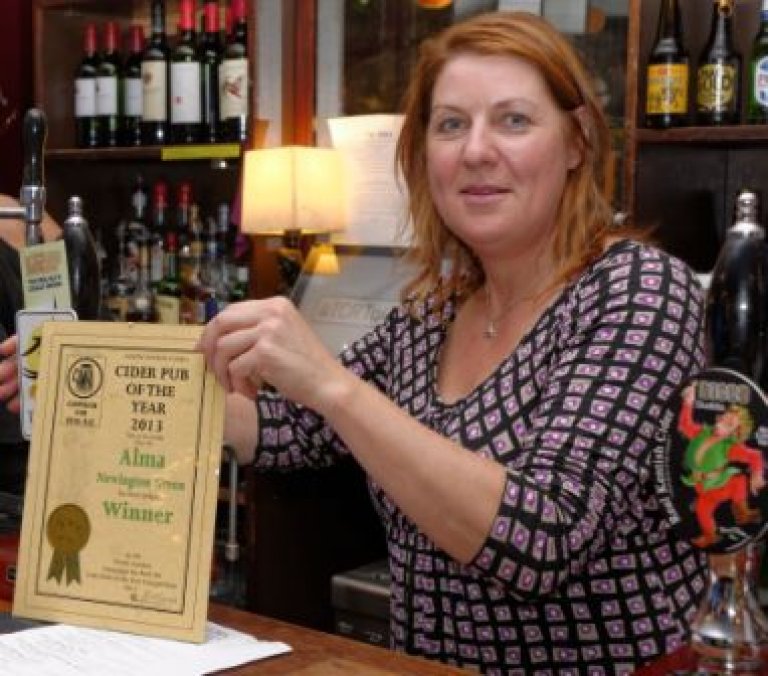 John Cryne, CAMRA North London's Chairman, said 'CAMRA designates October as Cider month so we thought what better way to raise the profile of real cider than by holding a competition to find the best cider pub in North London. We asked our members, and they chose the Alma. Real cider has been making a comeback in London recently and, over the last couple of years, we have seen a growth in the number of pubs stocking it, so the Alma was up against some stiff competition. We hope that this Award will raise the profile of the pub and encourage people to pop in and try a pint of cider. The Alma always has real cider available and holds regular cider festivals'.
The pub has an island bar, wooden floors and maroon decor. There are big wooden tables, sofas and low chairs around the open fire, Maori art and church candles. One half of the pub is a dining area leading to rear patio garden. Children and dogs welcome.
As well as real cider, the pub stocks real ale including beer from London breweries. The pub also features a New Zealand tuck shop (the general manager being a Kiwi). This sells goodies that a native Kiwi might miss when away from home such as Watties Tomato Sauce, Chocolate Slab, Jet Planes, Minties & Pineapple lumps
The award ceremony took place at 8pm Tuesday 15th October 2013. A few pints were raised to celebrate.
For further details contact: John Cryne on 07802 174861 or the Alma: 020 7359 4536