Parcel Yard
The Parcel Yard on King's Cross Station has made it into CAMRA's 2014 Good Beer Guide for the first time - and it's also the first time a North London station pub has been in the Guide since 1988.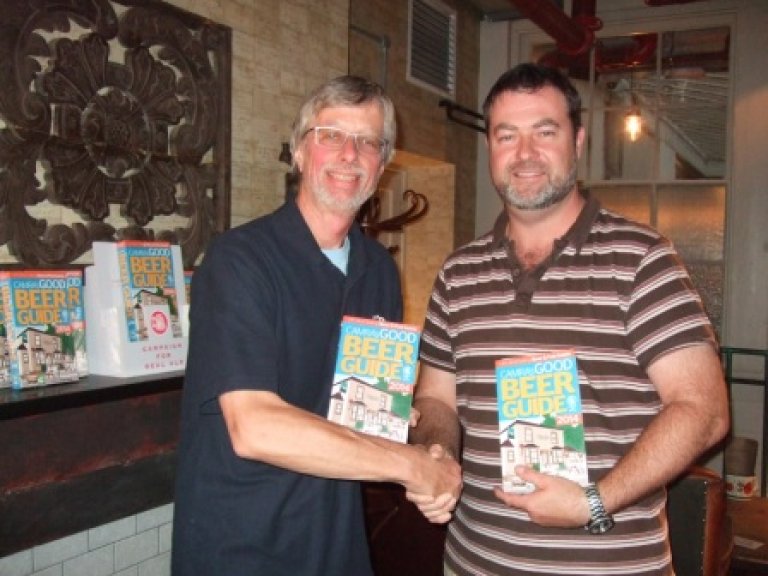 John Cryne, CAMRA's North London Branch Chairman, said "The pub only opened in 2012 and it has proved a popular place for travelers, selling beer from Fullers and further afield, in amazing surroundings. It joins just three other station pubs in the London section of Guide, all of which are on the Circle Line. Now there is an interesting pub crawl!'
John added 'It's always difficult to choose which pubs should go in the Guide. Throughout the year, our members check hundreds of pubs incognito to find those that are selling the most consistent pint of good real ale. The Parcel Yard was shortlisted from many hundreds of pubs in the North London area to become one of only six North London pubs to go into the 2014 Guide for the first time'.
The Parcel Yard is a pub that was from a converted Grade I listed parcels office. It was built in 1852 by Lewis Cubitt. The result is a pub with multiple areas across two floors including an eye catching central atrium that has a glass ceiling three floors high.
The Good Beer Guide is produced annually by CAMRA and the pubs are chosen for the beer quality by unpaid branch volunteers. It is edited by the award winning writer, Roger Protz. It is priced £15. 99 and is available from all major book stores and from CAMRA.
There was a launch of the Guide at the Parcel Yard on Thursday 12th September at 7.30pm. For further details contact:
John Cryne: 07802 174861 or the Parcel Yard 020 7713 7258.
Extra Facts
1. For more details on CAMRA's Good Beer Guide, visit the website: http://www.camra.org.uk/
2. The other three station pubs in London in the Guide are Hamilton Hall, Liverpool Street; Mad Bishop and Bear, Paddington; and Wetherspoons, Victoria.
3. The other five North London pubs making it into the 2014 Guide for the first time are: Old Dairy N1, Bull N6, Railway Tavern N16, Charlotte Despard N19 and Tapping the Admiral NW5.
4. The Parcel Yard serves breakfast until 11.45am and main meals until 10pm.
5. The pub can be found up the steps by the famous Platform 9 3/4 (there is a lift for easier access) in King's Cross Station. Opening times are Monday - Saturday 8am - 11pm; 9am- 10.30pm Sunday.
6. The pub's website is: http://www.parcelyard.co.uk/