Antwerp Arms wins CAMRA London Hero of Heroes
Sunday 19 September 2021
The Antwerp Arms Association in Tottenham has won CAMRA's Greater London Hero of Heroes Award for all the efforts they have done during lockdown for their local community and including their food bank. Geoff Strawbridge, London CAMRA's Regional Director said "The people running pubs, clubs and breweries have been doing some amazing stuff locally to support their communities during the pandemic. CAMRA's London branches have been handing out 'Lockdown Hero Awards' to reflect and acknowledge their work. The objective was to give these heroes an even greater profile. The Hero of Heroes was chosen from all of these worthy award winners".
Colin Coyne, Chair of CAMRA's North London Branch, commented "A community association run pub, the Antwerp Arms became part of the Tottenham Foodbank and Felix Project initiatives helping the most needy during lockdown and the pandemic. Although the pub was itself closed to the public during lockdown, they gathered together as a collective and using their own committee, volunteers, kitchens and resources became a vital part of the community providing food packages during these very difficult times. Since the pandemic started, they have cooked over 10,000 meals, and over the Christmas period alone, their volunteers had created and delivered over 400 Xmas hampers to the most vulnerable in the local community!"
The Antwerp Arms is CAMRA North London's current Branch Pub of the Year.
Martin Burrows, Chair of the Antwerp Arms Association, was delighted at the news: "Everyone I have spoken to was very chuffed. We'd like to thank CAMRA for this Award but our biggest thank you goes to our volunteers. There were over 60 of them that helped with everything from cooking to deliveries. They helped us keep out community alive".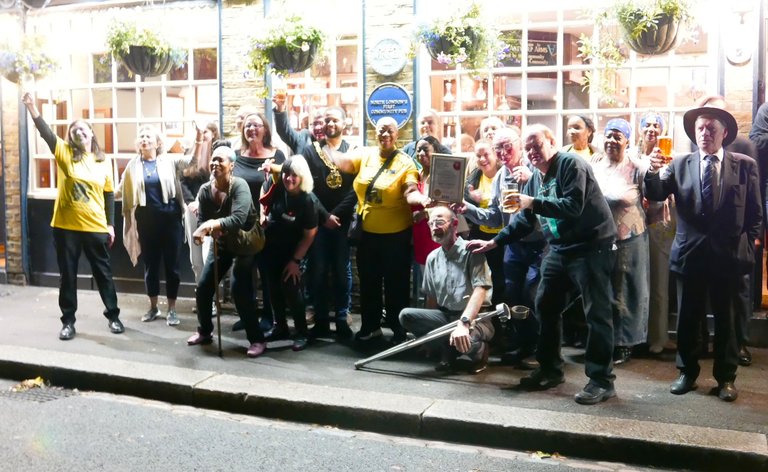 This is a link to a video with more information on the Antwerp Arms Association Foodbank project   https://fb.watch/5ITBY9AVT3/