Never too late to get your Pub Of The Year Award!
Thursday 13 August 2020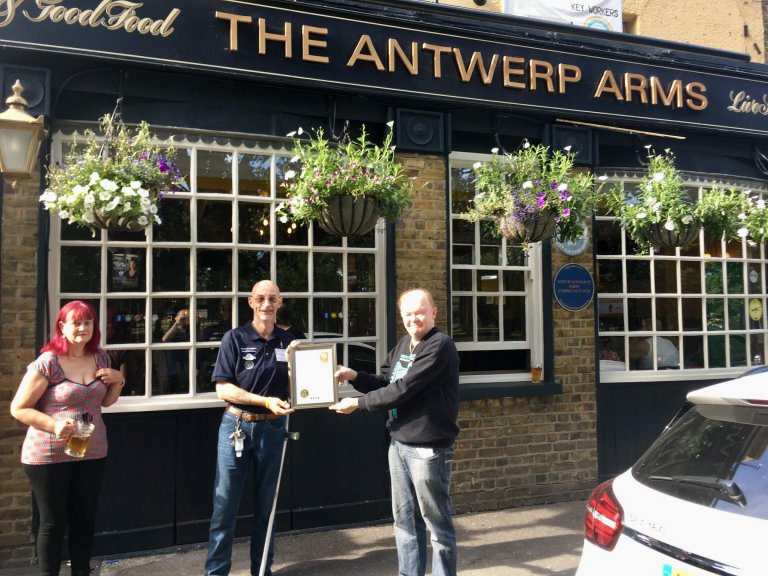 The oldest working pub in N17 has won the 'golden gong' for cask beer pubs in North London. The community owned Antwerp Arms (known locally as the 'Annie') has scooped theNorth London Branch of CAMRA's Pub of the Year 2020 beating hundreds of pubs to this prestigious award.
The Award is given by the North London Branch of CAMRA, the Campaign for Real Ale,as a result of by a vote open to 1600 local CAMRA members.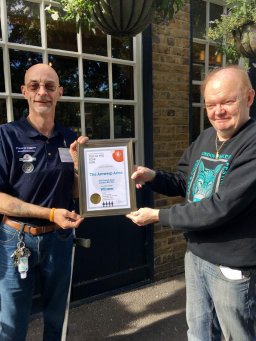 .
Colin Coyne, NL Branch Chairman, said, 'This Georgian building has been serving local people since 1822. In 2013, the pub faced demolition before the local community and CAMRA campaigners came together to preventthe developers taking action. The Antwerp Arms Association was set up, raising funds through shares and a grant from the Social Investment Bank. This enabled the pub to be purchased two years later. It's a great example of local people taking ownership of and doing something to keep what they value. The Antwerp Arms is the only community owned pub in North London and it's a really worthy winner'.
Antwerp Arm's General Manager Peter Passam said 'We are absolutely thrilled to receive this great honour from CAMRA. As a Community Pub we are committed to being a friendly and welcoming place run by our community FOR our community'.
The pub is run by the Antwerp Arms Association, which has just over 400 Shareholders who elect a small Management Committee at the AGM every September. There is a full time manager and part time staff to run the operational side of the business but volunteers help with community work, maintenance, and gardening. The pub offers free space for local groups and the community for meetings and events as well as getting involved in a number of local initiatives, often working with partners such as the Friends of Bruce Castle Park to improve the local park, CRUTCH Haringey to host Community lunches and picnics for those in need and the local community choir for Christmas socials. But it's not only adults that the pub welcomes; it's both family and dog friendly, aided by the garden for warmer weather!
The presentation took place at the Antwerp Arms (observing social distancing!) on Weds 5th Aug 2020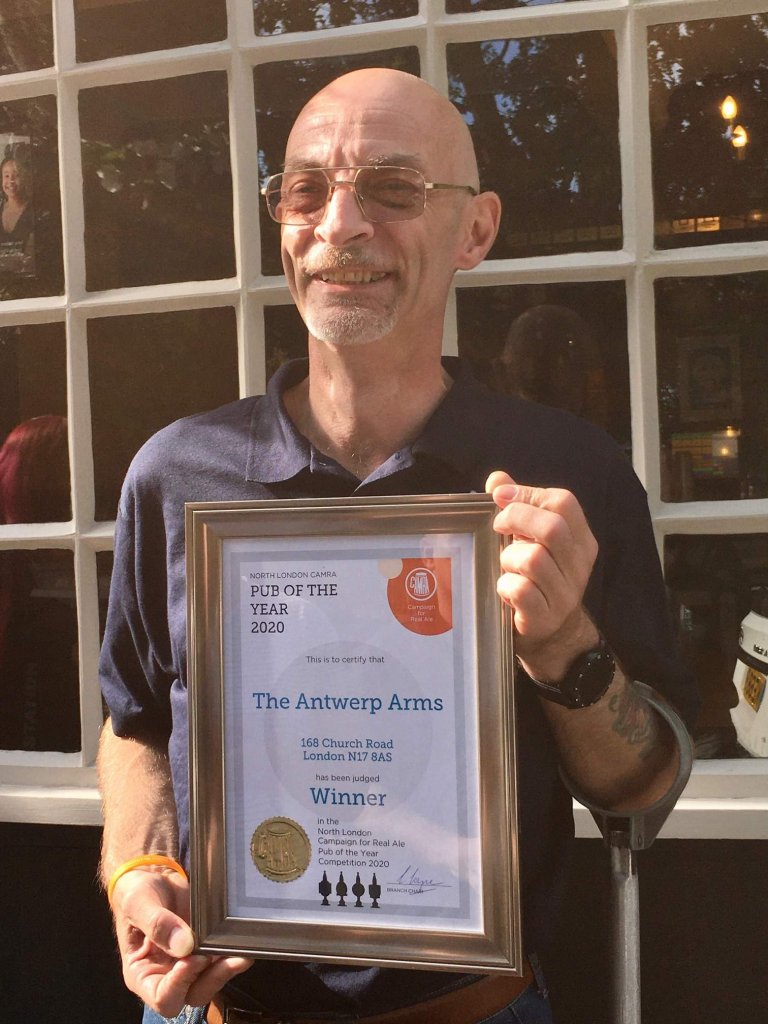 For further details contact: Colin Coyne (CAMRA) 07973 831082; or Antwerp Arms: 020 8216 9289.