Camden's hidden gem wins local CAMRA award
Thursday 20 February 2020
Many pubs off the main drag are suffering with low awareness and footfall often leading to their closure but nothing can be further from the truth for the Colonel Fawcett!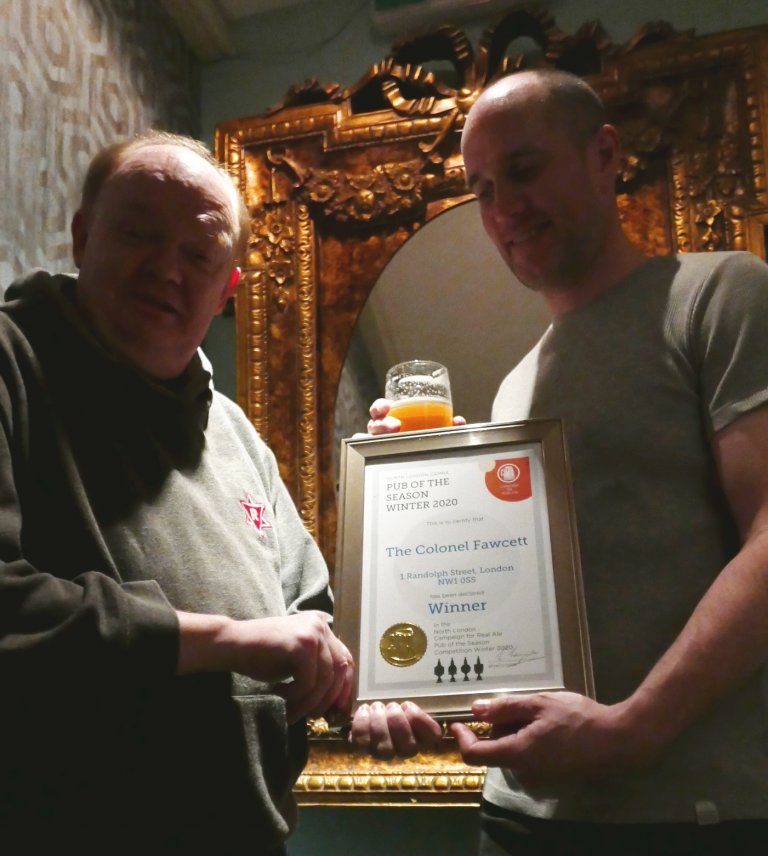 Hidden down the back streets of Camden (but only a few minutes walk from Camden Road Station), this pub has gone from strength to strength since the small Tidalwave pub chain took on the pub in 2011. Finally, after several years of consistency, the pub has won recognition for the quality service and beer it provides by receiving North London CAMRA's Pub of the Season, beating hundreds of other pubs in the area.
Colin Coyne, Chair of North London CAMRA, said 'What makes this pub successful is that it has tried to reach out to all parts of the community. Alongside its range of good real ales, it runs a comedy club, a pub quiz, live music and an infamous gin event once a year to celebrate the death of Colonel Fawcett. We wish the pub ongoing success for the future. It's a great example how hidden gems can be successful with the right attitude'.
Paul Evans, from Tidalwave, explained his views as to what else made pub was successful: 'It's all down to customer service, the way we interact and value the customer. Training and selecting the staff with the right attitude is key. It's nice to be recognised that we are getting it right'.
Dating back to 1843, the Colonel Fawcett was originally known as the Camden Arms, changing its name when Tidalwave took it over. Its name refers to Colonel Fawcett, who took part in the last fatal dual in England in 1873. He died upstairs in the pub and his ghost is reputed to still drink at the hostelry!