News
Read news about pubs and campaigning issues affecting Real Ale and Pubs both in the Branch area and further afield.
News Archive - 2017
31st December 2017
The Exmouth Arms near Euston station now offers a 10% discount to CAMRA members. https://whatpub.com/pubs/NLD/5936/exmouth-arms-london
15th December 2017
Crouch End and Crouch Hill see a burst of activity. The Harringay Arms (153 Crouch Hill N8) had a soft opening last week and a formal opening last night. Over the hill by the station, the Brave Sir Robin (29 Crouch Hill N4) has emerged from the former Hopsmiths bar. Again, with a soft opening last week, its formal opening was last night. It is now run by the team at the Rose & Crown on the Holloway/Kentish Town borders. Finally, in a rush of building and fit out work, the Small Beer bar (22 Topsfield Parade, Tottenham Lane N8) is hoping to open in the week leading up to Christmas.It used to be the Henry Reader and wll now be run by the team behind the Dukes Head in Highgate and the Prince in Wood Green.
13th December 2017
Branch newsletter Editor, John Paul Adams celebrated his birthday in style (if a little late!) at last night's Branch Xmas Party at the Brewhouse & Kitchen, Highbury. He had commissioned a specially brewed beer from brewer Burchard Stock and plenty of members there helped him raise a glass in cheer. https://whatpub.com/pubs/NLD/5614/brewhouse-kitchen-london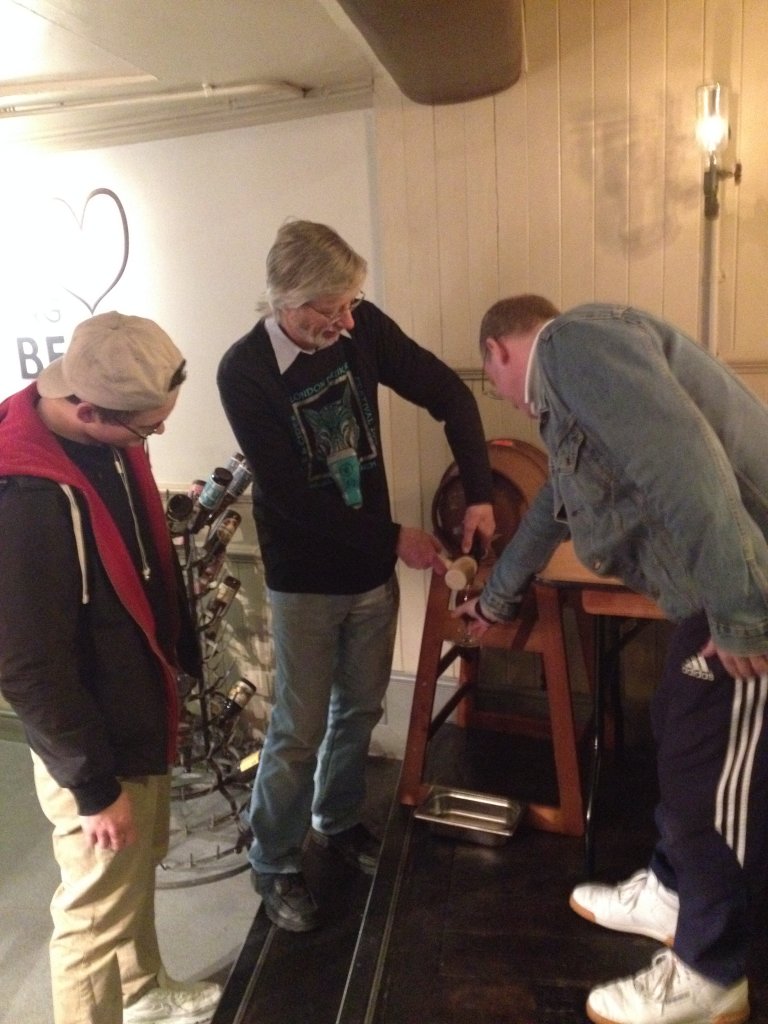 28th November 2017
Two re-openings this week. The Winnicott chain closed their bars earlier in the year. The one in Newington Green (68 Green Lanes, N16) has just opened as the Be-Bop-A-Lula pub, a 50's pub with vintage slot machines and an appropriate juke box. Currently a couple of real ales but four promised for the official opening party on the 1st of December.
Down in Hoxton, the Prince Arthur re-opens tonight after short closure for a refurbishment. Assumed still run by Shepherd Neame, Four Sods beer from Bethnal Green has been reported.
26th November 2017
The North London branch announces the Champion Low Alcohol Beer of London Competition as part of the London Drinker Beer Festival Low Alcohol Beer of London.
17th November 2017
A small clutch of re-openings in the last few weeks to report. These are the Lord Palmerston in Dartmouth Park, the Baring Arms in Hoxton and the Duke of Hamilton in Hampstead (as the NW3 Jazz Club). More information welcome.
Also recently opened are a couple of bottle shops. Indiebeer (322 Holloway Road N7) just down from the Coronet Wetherspoons has a wide selection of bottled beers and four craft keg. There are relaxed seating areas so you can drink your purhcases in house. In Wood Green, Bottle Shop Heroes has opened in the Blue House Yard development behind the bus garage. A collaboration between Muswell Hillbillies, Oddly and Earth breweries, see their webpage for opening details, mostly weekday evening and weekend day times. Keg beer from the three breweries usually available including drinking space in the bus outside!
18th October 2017
The Mayor of Haringey was among guests gathered at the official opening of London's only Czech brewery Bohem on October 12 that has just been massively expanded. For more Mayor opens Czech brewery extension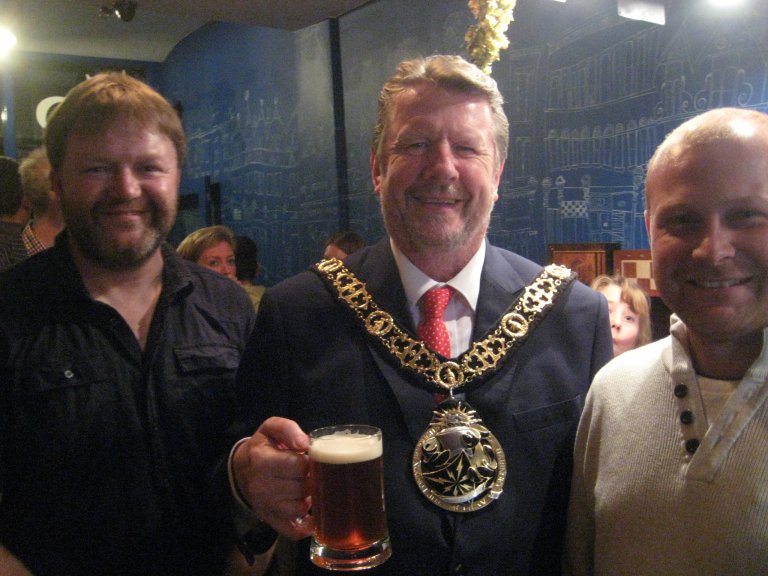 16th October 2017
The Sir Colin Campbell joins our LocAle scheme this week. A rather good selection of beers was available on our recent social there, Redemption usually amongst them. https://whatpub.com/pubs/NLD/6131/sir-colin-campbell-london
30th September 2017
The Old Dairy in Stroud Green N4 now has a 10% discount for CAMRA members.
The Tottenham brewing scene has a couple of changes. Pressure Drop, having started brewing on the same industrial estate as Beavertown, road tested their new taproom last Saturday. Hopefully it should be open regularly soon. Nearby Affinity has announced they are moving from outside the Five Miles craft beer bar to an arch on the Bermondsey Beer Mile in the same stretch as Partizan and Eebria.
3rd September 2017
NW1 - Grand Union, 102-104 Camden Road. Taken over by the Draft House chain earlier this year, the transformation is almost complete. This weekend saw the pre-opening events and full opening thereafter. The Draft House chain is very real ale friendly offering a CAMRA discount (to be confirmed with this branch) and a cheaper real ale of the day each day. Three handpumps were visible during the "soft-launch" but had not yet been connected. https://whatpub.com/pubs/NLD/6024/draft-house-camden-london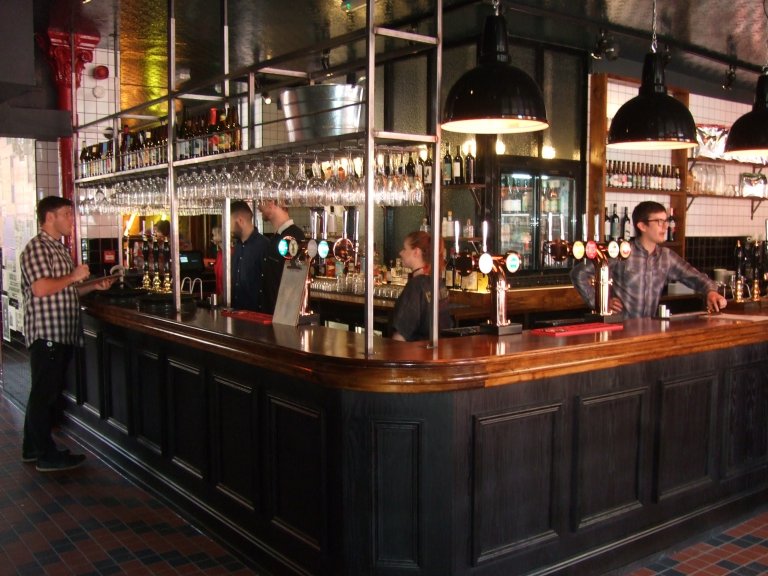 N22 - Prince, 1 Finsbury Road. The House Brewery started its first beer a few weeks ago. It is hoped it will be available at the same time as the Myddlton Road Market on Sunday but if not, soon after. Welcome to the branches newest brewery! The Myddleton Road Market is monthly and this Sunday is a food and drink special. Beers will be available from the local breweries (Bohem, Muswwell Hillbillies, Oddly and hopefully House).
The micropub revolution continues to sweep across the country and North London is starting to see the effect. Our friends over in Enfield & Barnet have let us know that their first micropub opened last weekend, the Little Green Dragon in Winchmore Hill. The address is 928 Green Lanes, N21 2AD. Details and opening times are on WhatPub at https://whatpub.com/pubs/ENF/7567/little-green-dragon-winchmore-hill Our branch will soon be getting one as well. It is intended to open the toilets at High Cross in Tottenham.
29th August 2017
As part of CAMRA's Cider Month, the North London Branch is having a tasting featuring 5 ciders and a perry conducted by Master Trainer and Member of the British Guild of Beer Writers, Christine Cryne. This fun event will last about 90 minutes and will cover the history of cider in Britain, how it is made and an explanation as to the different four types of cider apples and how the cider wheel is used to describe ciders (and perries).
23rd August 2017
The Lady Mildmay has been awarded the CAMRA North London Summer Pub of the Season Award. The ceremony took place last week where some excellent pints of local beers including Hammerton & Redemption were supped. https://whatpub.com/pubs/NLD/5477/lady-mildmay-london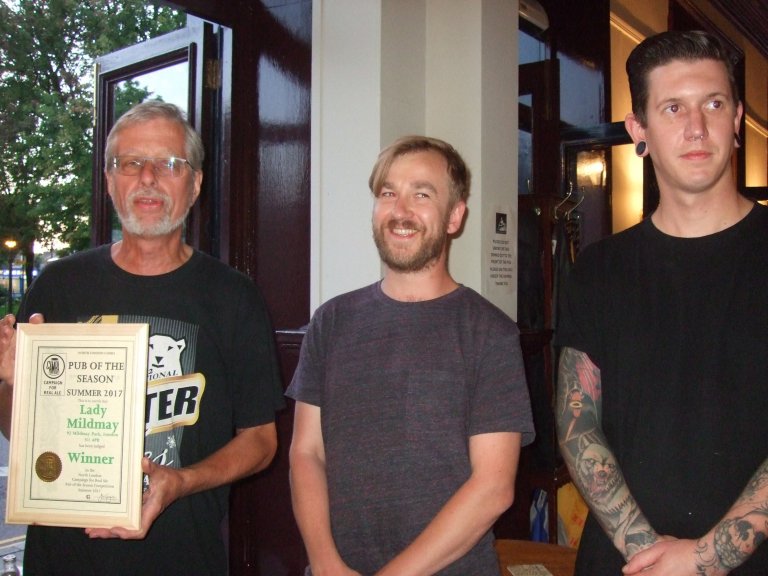 11th August 2017
N16, Stoke Newington Tea House, 102 Stoke Newington Church Street. Previously known as the Daniel Defoe, the recent name change has not been popular so it has reverted to its very original name of the Clarence. Beer range still from Wells and Youngs, the owners, and two Westons ciders on handpump.
The branch has a new brewery, not surprisingly in Tottenham. Pressure Drop has done their first brew at their new premises on the same trading estate as Beavertown. They are moving from a railway arch just along from Hackney Central station. Trials still continue for Moncada Brewery at their new premises in Dollis Hill and hopefully we'll be able to officially welcome them soon.
26th July 2017
N8. A few changes afoot in Crouch End. The Henry Reader (22 Topsfield Parade) is closed for a three month refurbishment. It is now run by the team behind the Dukes Head in Highgate and the Prince in Wood Green. The Harringay Arms (153 Crouch Hill) closed on Monday and it due to be taken back by its pub owning company. The Queens (26 Broadway Parade) is reported to be closed for a refurbishment.
N15 - Affinity Brewery, 39a Markfield Road. The brewery started at the end of the year in a shipping container. The building it was outside of was used as a temporary brewery tap. This has now been redeveloped into a larger complex comprising a nightclub and bar. The bar seems to be open most days with the nightclub at the weekend. The bar consists of 17 craft keg taps usually including four of the Affinity beers. See the usual social media for opening times and ticketed events.
NW1 - Bree Louise, 69 Cobourg Street. News comes through from Craig & Karen. The eviction notice has come through and they have to be out by 20th November this year due to HS2. However, we have just heard that this has been extended to the end of January. Expect a few last parties!
NW3 - Duke of Hamilton, 23-25 New End. The pub has been closed for a few weeks following internal flooding. It is hoped to open again in about three months time.
24th July 2017
The former Wig & Gown becomes Hammerton Brewery's first pub the House of Hammerton, 97-99 Holloway Road http://islingtontribune.com/article/brewer-follows-his-ale-trail-to-the-pub There is an impressive array of handpumps and craft keg taps. https://whatpub.com/pubs/NLD/5679/house-of-hammerton-holloway
13th June 2017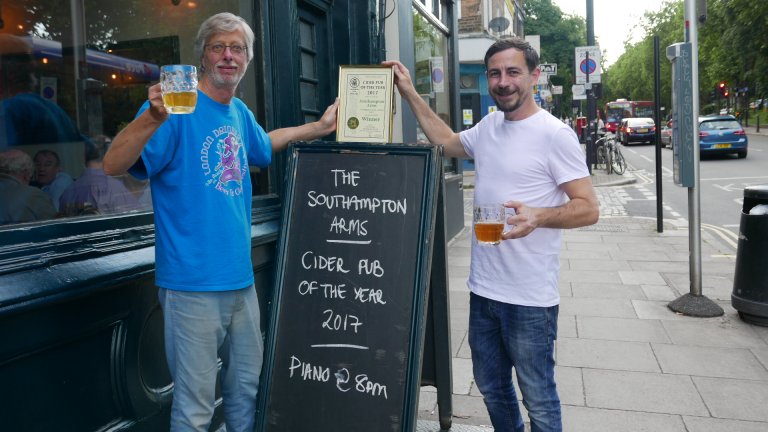 The Southampton Arms in Kentish Town has won North London's Cider Pub of the Year after many years of being shortlisted in the competition. John Cryne, North London's Branch Chairman said 'The Award is determined by CAMRA members voting for a short list of pubs selling real cider in North London. The Southampton has appeared on the short list on numerous occasions over the last few years but has not quite got there so it's great for the pub and their hard work that it has finally won'. For more Trad pub wins Cider Award after many years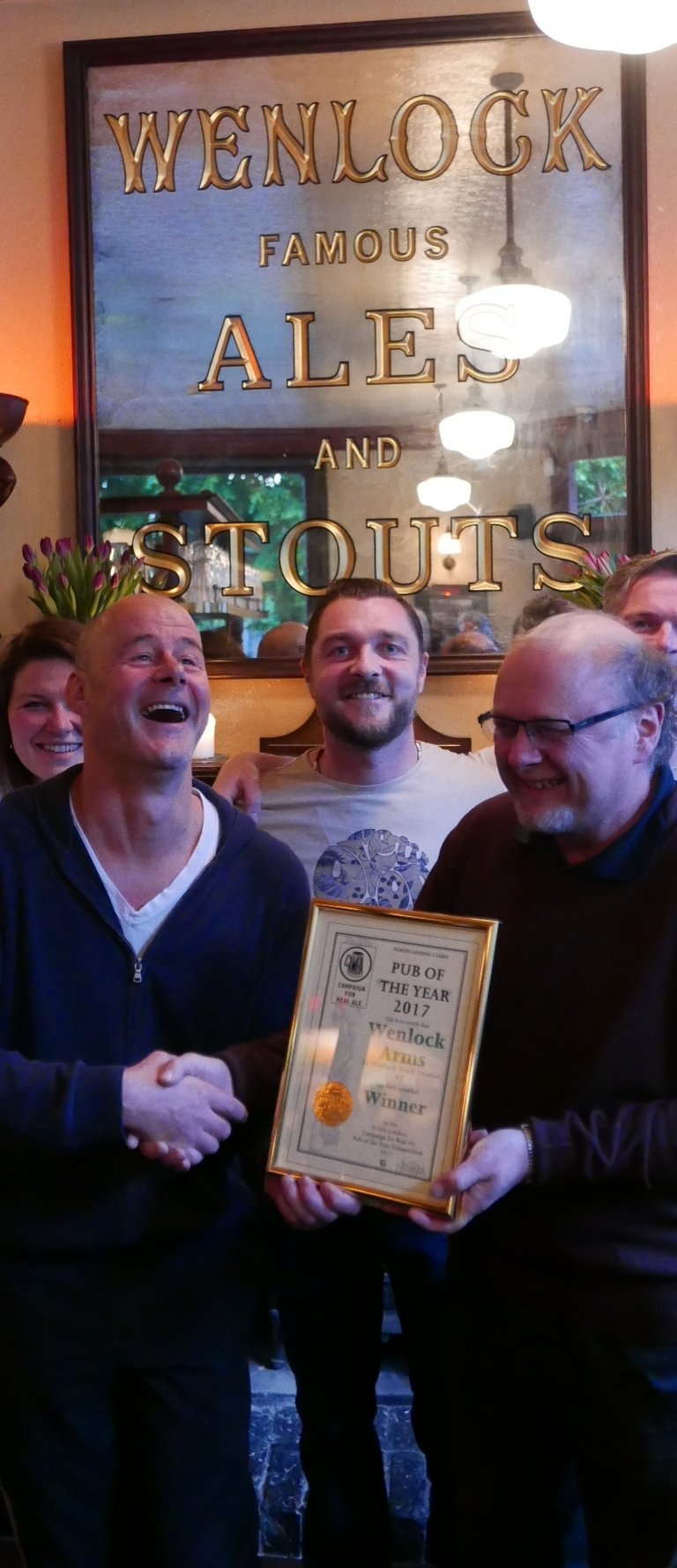 4th June 2017
N16, Jans, 18 Northwold. Re-opened over the bank holiday after a number of years closed. Now called the Axe, three cask beers and 16 or more craft keg beers available. In a similar way to the Earl of Essex, there are no pump clips, details available from cards slotted into a board on the wall.
N17, Redemption Brewery. Redemption are opening their first pub but not in our branch. In partnership with the Angelic Pub Company, they will be opening the Angel of Bow on Thursday 8th June. It's at 171 Devons Road, E3, between Mile End and Bromley by Bow. The aim is to open six partnership pubs redeeming closed and dilapidated London pubs.
NW1, Pack & Carriage, 162 Eversholt Street. We have been told that this pub does a 10% CAMRA member discount on their two cask ales.
29th May 2017
N17 Brewheadz Brewery Tap, Unit 16a, Rosebery Industrial Estate, Rosebery Road. The brewery tap room should now be open every Saturday, usual hours seem to be Noon to 8pm but check social media for confirmation.
N19 Landseer, 37 Landseer Road. Now open again after being closed for sometime for a refurbishment. Four cask ales reported including Sambrooks and Redemption.
NW6 Sir Colin Campbell, 264-266 Kilburn High Road. This recently re-opened pub offers a 10% discount for CAMRA members. The three handpumps will soon be joined by another set making available up to five cask ales and a cider.
19th May 2017
N1 Duchess of Kent, 72 Prebend Street. The handpumps are back in use and cask beer is available again. Fullers London Pride and Courage Directors available.
N1 Howl at the Moon, 178 Hoxton Street. The CAMRA discount is no longer available. Cask ale offering reduced to one well kept beer and a greater emphasis on interesting craft keg.
N1 Oxford Arms, 21 Halliford Street. After about 10 years in residential use, this has reopened as the Halliford House, a cocktail bar and restaurant. No cask beer but welcome nonetheless.
N8 One Bourbon Tavern, 4 Topsfield Parade, Tottenham Lane. Now closed after only being open for a short period. The other pub in the chain, in NW6 West Hampstead, remains open with a wide range of interesting craft keg.
NW1 Euston Tap, 190 Euston Road. The orignal lodge on the west side closed for a few days whilst the windows were replaced. They now complement those of the newer east lodge including letting light into the upstairs room.
NW6 Cock Tavern, 125 Kilburn High Road. Twitter reports that the handpumps are now unused. They didn't last long as the pub only re-opened last autumn.
12th May 2017
The Wenlock Arms in Hoxton has won North London's Pub of the Year, just five years after it looked as if it might close. Saved Pub gets London Accolade
9th May 2017
Lots of pub & brewery news to catch up on, it's been a busy few months, and it's mostly good news for a change! Many of them have been long term closures and re-openings following local compaigns. Details of each pub should be on WhatPub by now. Please let us know of any other news.
N1 Block Brewery c/o Wenlock Arms, 26 Wenlock Road. Now brewing its own beer under the Block Brewery name. It goes rather quickly when it is put on, best bet is apparently on a Tuesday!
N1 Brewery Below, c/o Borough Wines, 344a Essex Road. This new basement brewery has produced its first beer, available from the shop in 5 litre mini kegs.
N1 Green Man, 144a Essex Road. Open again after a refurbishment. The bar as been moved to the side creating a bigger space and it looks like there are some handpumps between the keg fonts so cask ale may be on offer for the first time in many years.
N1 Hen & Chickens, 109 St Pauls Road. Closes on Sunday 7th May for a two week refurbishment.
N1 Hill & Szrok, 8 East Road. Reverts to original name of THREE CROWNS. Now run by the City Pub company, should have at least one beer from the Essex Street Brewery in Temple WC2.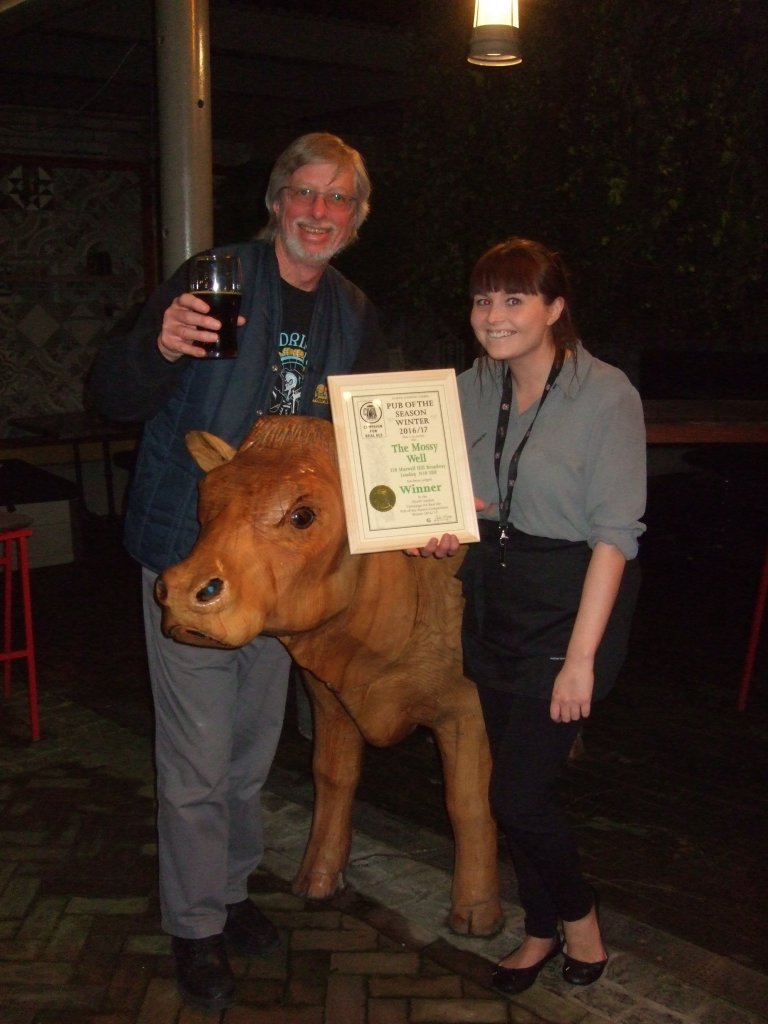 N1 Prince of Wales, 1a Sudeley Street. After a long term closure, has soft launched (you have to book to visit during this period) as the Plaquemine Lock. It does cask, currently Fullers ESB and Hammertons and food is cajun and creole, ie Louisiana gastro.
N1 Tap Room, 163 Upper Street. The handpumps have been removed and the number of gravity beers in the cool storage unit has been reduced. Reports are that quality has improved, which was pretty good already.
N4 Brouhaha, 501 Green Lanes. Has had a major refurbishment resulting in a much larger and better shaped bar area.
N6 Bull, 13 North Hill. The Bull Brewery was relaunched in March as the Gorgeous Brewery, the name of the owning company. Not to be confused with the Gorgeous Beer Company in Telford!
N7 Wig & Gown, 97-99 Holloway Road. Good news here, the Hammerton Brewery have taken this on as their brewery tap. Only opening at the moment on Arsenal match days, they will formally launch after a full refurbishment, hopefully late May or early June.
N8 Great Northern Railway, 67 High Street. Fullers have spent a large amount of money refurbishing this heritage pub bringing it back to its former glory.
N10 Muswell Hillbilly Brewery, Mews Workshops, 24-26 Avenue Mews. A group of home brewers have moved into a new site just off Muswell Hill Broadway. For sometime they have been selling bottled beers at the regular Ally Pally farmers market, it is thought these were brewed at UBrew in Bermondsey. The Muswell Hill site is open one Saturday a month.
N10 Victoria Stakes, 1 Muswell Hill. After a major fire last year, it re-opened at Easter. Three cask beers available with intentions to add more up to the six handpumps installed as patronage increases.
N16 Lion, 132 Stoke Newington Church Street. After a brief closure, reverts to its original name, Red Lion. Should have at least one handpump, Truman's reported.
N16 Robinson Crusoe, 177 Green Lanes. After a closure and refurbishment, has had a soft opening this week. Now known as Clissold Park Tavern, full opening hours will start this weekend. Hopefully cask ale has been retained.
N19 Landseer, 37 Landseer Road. Currently closed for a major refurbishment.
N19 Whittington Stone, 53 Highgate Hill. Reports suggest it sometimes has cask ale again, Sharp's Doom Bar intermittently.
N22 Bohem Brewery Taproom, 120a Myddleton Road. The Bohem Brewery is based in Whittington Road a short distance away and over the border into Enfield and Barnet CAMRA branch. The taproom opened over Easter and could be considered a micropub. Four keg beers are available including beers brewed by Bohem. Opening at the moment is Thursday evenings and all day Friday and weekends. Check their website for the latest opening times as they assess the trade although it is already proving popular in an area devoid of pubs.
N22 Prince, 1 Finsbury Road. A brewery has been delivered and is stored in the side room awaiting installation.
NW3 St Mary's Church, Elworthy Road. The first bottled beer from them is now available but I've not been able to find out where. It is assumed this is from UBrew but there are plans to install a brewery in the church.
NW5 Camden Town Brewery Tap, 55 Wilkin Street Mews. After a major refubishment of the brewery and tap room related to expansion to a second site in Ponders End, the tap room is now open again. Consequently, the opening hours at the Camdens Daughter has been reduced.
NW5 Dartmouth Arms, 35 York Rise. Re-opened the weekend after Easter and now run by the team from the award winning Chesham Arms in Hackney. Two cask ales at the moment with plans to go to five once the handpumps have been replaced, including a beer from Hammerton always on.
NW6 Sir Colin Campbell. 264-266 Kilburn High Road. Reopened under new management, the same as the Colonel Fawcett in Camden Town. Three handpumps have been installed after many keg years, two cask ales and one cask cider. An Irish restaurant has opened upstairs.
NW8 Clifton, 96 Clifton Hill. Another long term closure, being re-opened in May by brothers Ben and Ed Robson whose history includes running the Horseshoe in Hampstead. Definitely at the foody end of the market, an on-site brewery has been promised.
NW10 Royal Oak, 95 High Street Harlesden. The pub closed earlier this year citing not enough trade and advertised itself as a function venue. They have tweeted they will be opening as normal again from 12th May. The same week, the Harlesden Picture Palace, the Antic pub around the corner, tweeted about a temporary closure whilst they rethink the business. The Green Man across the road is also closed with building work in progress.
Losses:
WC1 Jeremy Bentham, 31 University Street. After a closure and major refurbishment, it has opened as a branch of the Simmons cocktail bar chain. This means no cask ale, a sad loss to what had promise since leaving the Greene King estate and becoming free of tie.
N16 Haunt, 182 Stoke Newington Road. Cask ale now stopped. Manager keen to stock a local beer but not enough turnover to clear a barrel.
25th February 2017
The Prince of Wales was recently added to the CAMRA London Regional Inventory being an historic pub interior of regional importance - https://pubheritage.camra.org.uk/pubs/historic-pub-interior-entry.asp?NatPubID=NLD/6168&Detail=brief It was also discovered that "There are plans for a major refurbishment by Star Bars & Inns – see http://www.starpubs.co.uk/pubs/prince-wales - and a change of name to The Kilburn Arms. The artists impression shows a future exterior proclaiming 'Good Food & Cask Ale' ".
15th February 2017
Once the Express Dairy Tea Room, with a milk depot at the rear, the Mossy Well pays homage to its heritage in a number of ways, including a milk float and a cow in the garden (albeit not a real one). But it is another type of liquid that has resulted in the pub gaining an award from CAMRA, the Campaign for Real Ale, namely our Mossy Well Pub of the Season 2016/17
31st January 2017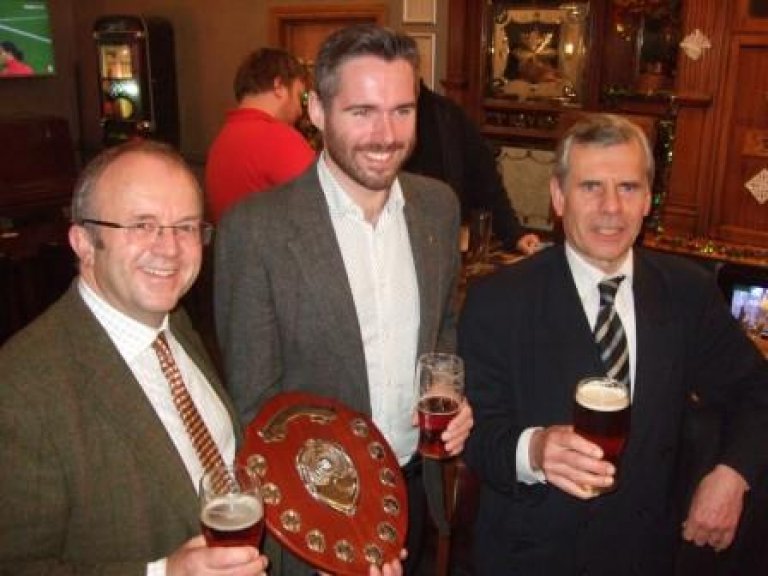 The campaign to save The Golden Lion in Camden was one of the longest fought by its now owner Dave Murphy, local people and CAMRA. Playing a part in that successful campaign was London Assembly Member, Tom Copley. In recognition of that and his contribution in trying to save London's pubs in general, he was awarded the CAMRA John Young Memorial Award for 2016. The ceremony appropriately took place at the Golden Lion.
27th January 2017
Local legend, pub landlord Pat Quinn has passed away at the grand age of 94. Camden New Journal journalist Dan Carrier writes a fitting memorial to Pat here http://www.camdennewjournal.com/pat-quinn-tributes The pub featured in CAMRA's Good Beer guide for a number of years and Pat's early initiative in bringing beers from Belgium to the attention of a wider audience played a key part in this. Photograph to left courtesy of the Camden New Journal.
12th January 2017
Wetherspoon has embarked on a new project to highlight the history of their pubs across the UK. Many of the company's pubs are built on the site of interesting and, in several cases, unique buildings. These include former banks, post offices, churches, theatres, cinemas and even an opera house. They are highlighting pubs, with historical connections, on the website https://www.jdwetherspoon.com/pub-histories and will be adding many more in the months and years ahead.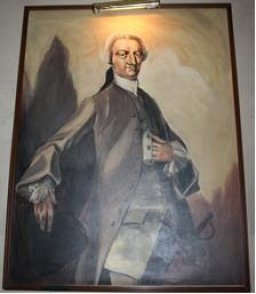 One of the pubs chosen is in the North London area – The Rochester Castle in Stoke Newington. Wetherspoon believe this is something that could be of real interest to CAMRA members and they'd love to get them involved: "We'd really appreciate it if you could share this information in any way, such as on your website or in letters/ emails you send out to your members. They are also given the chance to share any stories they have about their local pub, they simply have to email ku.oc.noopsrehtewdj@seirotsihbup, and their information will get added to the pub's page."
Brewers Association supports London Drinker Festival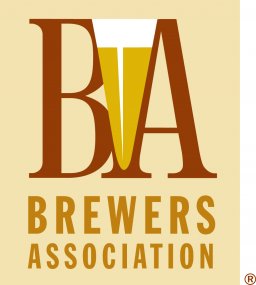 The American Brewers Association are supporting the Festival for the first time. BREWERS ASSOCIATION PROUDLY SPONSORS LONDON DRINKER BEER & CIDER FESTIVAL FOR FIRST TIMEThanks to their support the Festival are going to have a great range of American beer, both known and not so known. They will also be hosting a tasting session on the Friday evening. See: http://www.eventsbot.com/events/eb4821353643
News Archive - 2016
26th October 2016
The time came to take our GBG launches to North West London visiting Wetherspoon's J J Moons in Kingsbury on a very pleasant Sunday afternoon in October.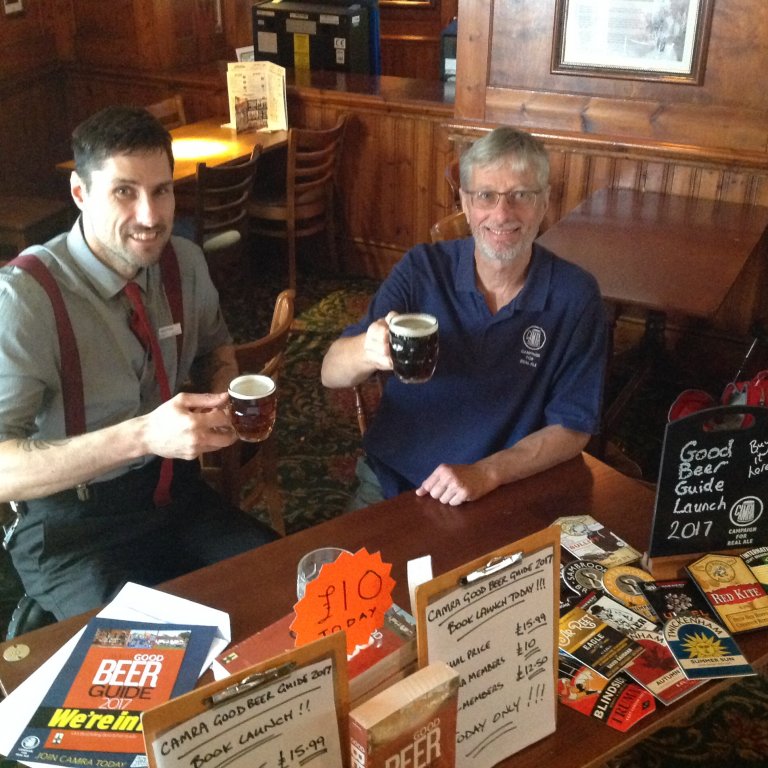 4th October 2016
Following further sterling work by the Hampstead Neighbourhood Forum the Freemasons Arms and the Garden Gate in Hampstead have both been listed as Assets of Community Value by Camden Council.
22nd September 2016
It's Good Beer Guide time and we held a splendid launch at The Shaftesbury in Upper Holloway. Claire Holly Davies of North Four came along, see what she has to say about it at http://www.northfour.co/the-shaftesbury-tavern-makes-the-camra-good-beer-guide-2017/ Picture courtesy of North Four/Michael Barry (http://thebarefacedmovement.com/profile-mike.html) shows Joe Bishop (right) celebrating the pub's inclusion with John Cryne of CAMRA. Don't worry if you missed that GBG event because there is another at J J Moons in Kingsbury this Sunday from 3pm.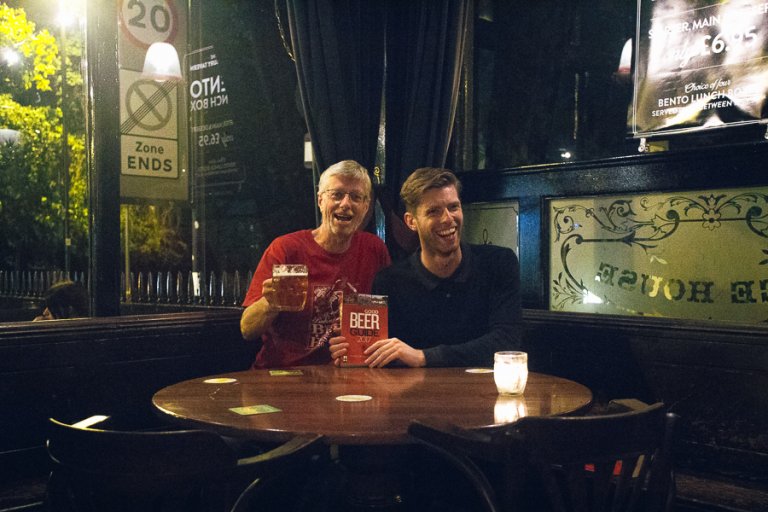 30th August 2016
The Sir John Balcombe now offers a 50p a pint discount to members. https://whatpub.com/pubs/NLD/5965/sir-john-balcombe-london
16th August 2016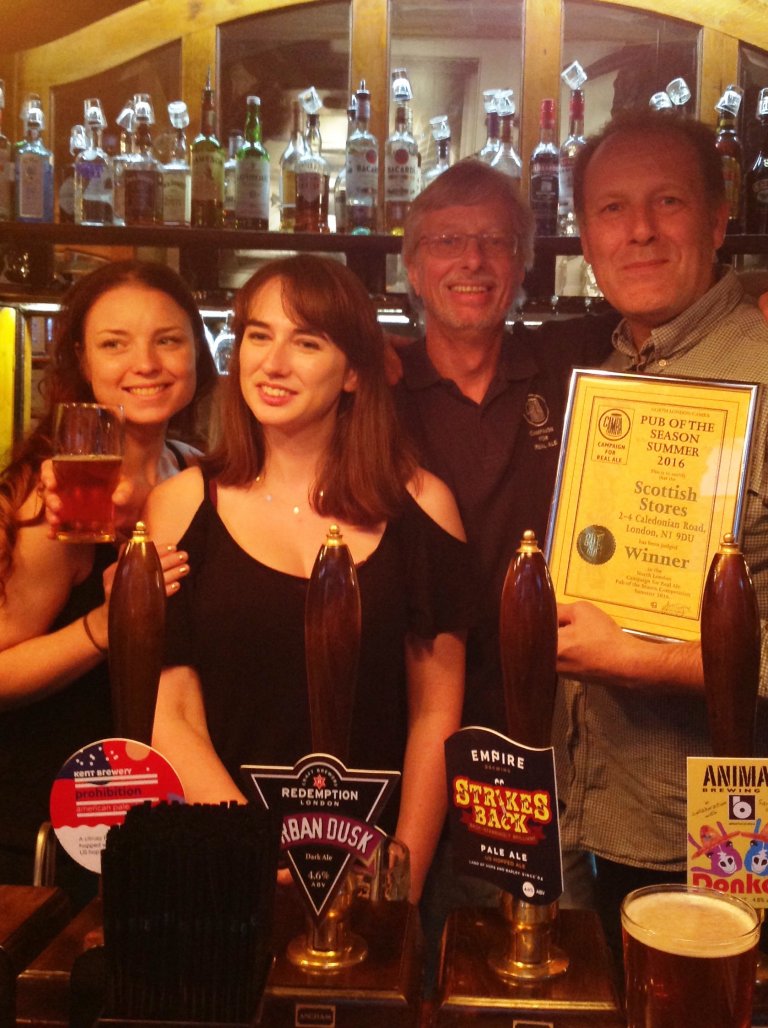 The Scottish Stores reopened in December 2015 and is already picking up awards as CAMRA North London's Summer Pub of the Season 2016. For more on the pub https://whatpub.com/pubs/NLD/5555/scottish-stores-london
2nd August 2016
The Wenlock Arms https://whatpub.com/pubs/NLD/5523/wenlock-arms-london are to welcome Sussex based, Dark Star Brewing Co. for a week long Tap Takeover during the Great British Beer Festival http://www.gbbf.org.uk/.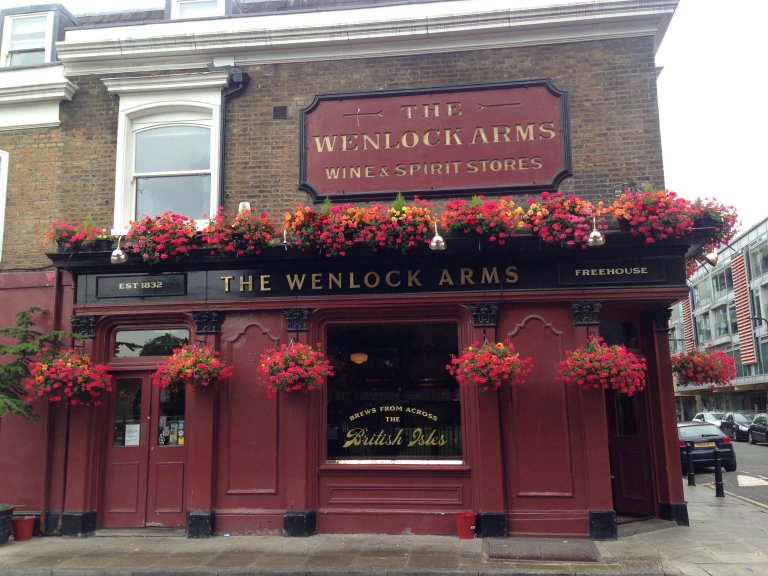 Starting on August 9th, The Wenlock,runner-up in the North London 2016 Pub of the Year competition will be serving a wide range of Dark Star beers, from Hophead, through to specials such as their Six Hop and last year's GBBF Champion Strong Ale, Revelation. The takeover will start on Aug 9th and last for approximately a week…or until all the beer has gone.
22nd July 2016
The Lady Mildmay is now offering CAMRA Members a discount - 50p off a pint of beer or cider, to find all Discounts for CAMRA members just click
Our branch is well off for bottle shops with shelves groaning under the weight of the many London breweries. Growler stations are becoming common allowing you fill up to take home. The good news is that Bottle Dog in Bloomsbury now has a bar on site where you can drink what you have bought. This includes some keg lines and the bottles. Over in Hoxton, the Seven Seasons has obtained a temporary events notice and will become a pub from Wednesday 27th to Sunday 31st July opening between 11am and 10pm each day.
26th June 2016
A little while since the last pub roundup. It looks like it is all kicking off in Holloway!
- Beer Kat opened at 203 Holloway Road in the former Phibbers/12 Bar Club, the latest venture by the Laine pub company. It is hosting pop ups and June weekends from Thursday to Sunday are hosted by the Beavertown Brewery. A huge number of their beers are available on keg but two handpumps on the ground floor dispense real ale, a rarity for Beavertown. Two more weekends and then Siren Brewery take over for the first two weekends of July.
- Towards the top end of Holloway Road, the former keg Irish pub called Quays (417 Holloway Road) re-opens as the Edward Lear run by the Distinct pub company. Promoted as a community pub serving food, real ale features including from the local Hammerton Brewery.
- Shillibeers (1 Carpenters Mews, North Road) has been taken over by the West Berkshre Brewery and their beers are now available there.
Over in Belsize Park the Load of Hay opens after a period of closure and reverts back to its original name. Back to basics here with beer and food being the focus and an on site brewery to be commissioned soon.
As well as being in the list for our next Pub of the Season, the Scottish Stores in Kings Cross has been added to our LocAle list. As well as selling local beers, cider on handpump is available and CAMRA members can get 10% off on production of their valid membership card.
10th June 2016
One of our previous Pubs of the Year, the Snooty Fox, has been listed as an Asset of Community Value, congratulations to all the Snooty Fox's Supporters. https://whatpub.com/pubs/NLD/5619/snooty-fox-canonbury
31st May 2016
CAMRA North London Summer Pub of the Season .......... We are once again asking North London members to take just a couple of minutes to support our pubs. We would like you to vote from a short list of 5 pubs. Simply go to: https://www.surveymonkey.co.uk/r/LBMVQXF to find out the candidates and to vote. Closing date for voting is 30th June.
10th May 2016
The long-awaited public enquiry into the illegal demolition of the Carlton Tavern starts on May 17 at 10am at Westminster City Hall, 64 Victoria Street SW1E 6QP. https://www.google.co.uk/maps/place/Westminster+City+Hall/@51.4975395,
We have been advised by Westminster Council that a big attendance by the community is very important on the first day of the enquiry. Even if you cannot stay long, your presence at the beginning of the enquiry is very important. So please join us there! Please turn up at 9.15 outside City Hall to join us in protesting at the vandalism of CLTX in knocking down our pub. (The nearest underground station is Victoria. The number 16 and 36 buses also go to Victoria.). See you on 17 May! Rob Cope for Friends of the Carlton Tavern
9th May 2016
More smiles at the runner-up award ceremony for our Pub of the Year competition at The Wenlock Arms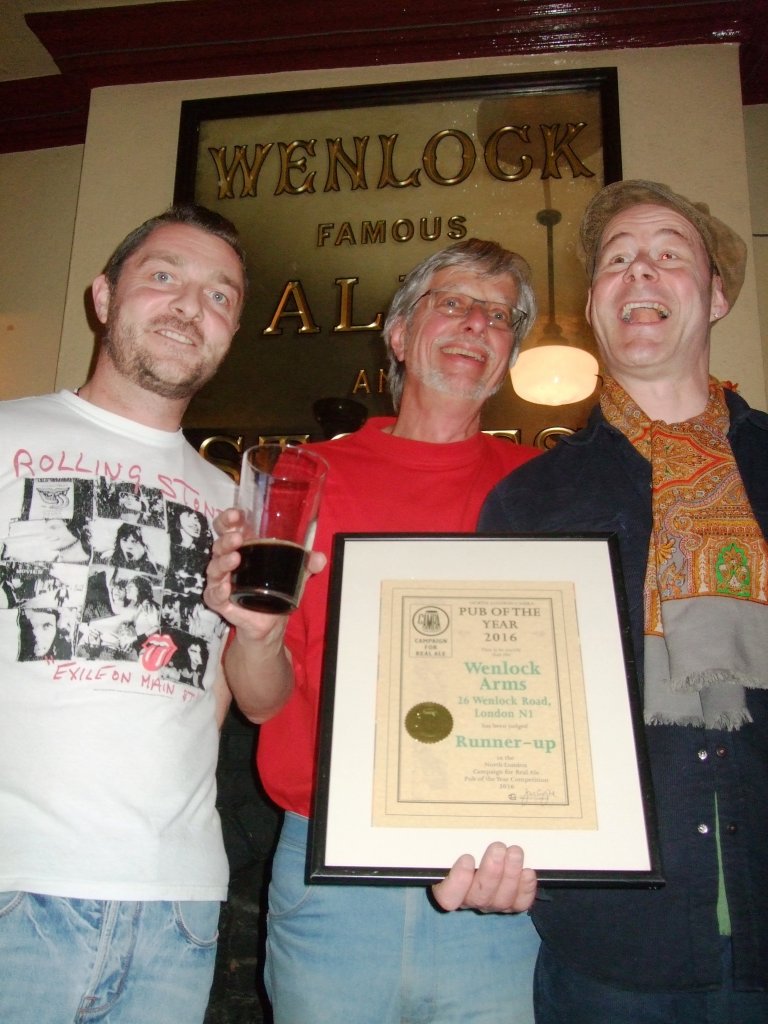 20th April 2016
It was all smiles at The Bree Louise as the presentation took place of the North London Pub of the Year Award for 2016.
16th March 2016
The Maynard Arms Hornsey now offers Discounts for CAMRA members Mon-Fri 10% off.
12th March 2016
Missed from last week's pubs update, the Cuckoo in Barnsbury (115 Hemingford Road N1) is now open again as a pub after a time as an Indian restaurant and closure. It has had a long soft opening but is now aiming to open normal hours. The beer is from the Ripple Steam brewery in Kent as the landlord used to work there.
5th March 2016
Cake & Ale tasting - Tues 26 April, Snooty Fox N5
"Dost thou think because thou art virtuous there shall be no more cakes and ale?" said Sir Toby in Shakespeare's Twelve Night. Well whether you are virtuous or not, you can join a wonderful tasting of beers and cakes hosted by the North London Branch of CAMRA.
There will be five different beers paired with five different cakes by Beer Writer, Beer Judge and Master Trainer, Christine Cryne. Christine said, "I did this combination for the first time at the BBC Good Food Show at the NEC and it went down a storm. Attendees are in for a real delight."
The event starts at 8pm in the upstairs room of the Snooty Fox and will last about an hour. The Snooty is easy to get to, being opposite Canonbury Overland Station.
To order your ticket (for only 10 pounds members; 12 pounds non members), simply go to http://www.eventsbot.com/events/eb387631571 or send a cheque paid payable to John Cryne at 10 Sneyd Road, London NW2 6AN. NB Tickets are non refundable as the beer and cake has to be purchased in advance.
4th March 2016
It's a little while since we've included pub updates, so there are few to catch up on.
Starting at the very bottom of the branch, the Three Crowns (8 East Road N1) is now Hill & Szrok. Not for vegetarians, it links with the Smithfield butchers with the pub cooking what they sell. Fortunately a selection of real ales remains on the bar.
The North Pole (188-190 New North Road N1) is now transforming into North by North West, a tribute to Alfred Hitchcock and the nearby Gainsborough film studios. Now run by the team from the Alma on Newington Green Road, expect changes to the beer range as they settle in.
The Dissenting Academy (92 Mildmay Park N1) is a large pub overlooking Newington Green. It has been through a number of changes recently and after a closure for a refurbishment emerges as the Lady Mildmay. Now run by the group behind the Tufnell Park Tavern.
Over in Finsbury Park, the development zone continues to appear north of the station and local pubs are changing to encompass the new influx. The Blackstock sits by a busy junction on Seven Sisters Road and has just reopened after a makeover. Now with see through windows, it even has three real ales on after many years as a keg pub. No doubt a busy place on Arsenal match days.
The Wetherspoon pub sell off continues and two of their pubs in our branch have been affected. The White Lion of Mortimer in Stroud Green and the Gatehouse in Highgate have both been purchased by Urban Pubs & Bars. The Gatehouse is still closed for a refurbishment but the White Lion is now open again in its new format and minus the heraldry. As expected, prices for the real ales are significantly more than when under the Wetherspoon umbrella.
In the offing is another real ale outlet in Holloway. The Quays on Holloway Road is transforming into the Edward Lear under the Distinct Pubs group, which currently run the Prince Albert in Camden Town, the Three Compasses in Hornsey and the Adam & Eve in Mill Hill. Expect real beer at last in another former keg only pub.
27th February 2016
The Scottish Stores now offers members a 10% discount. http://whatpub.com/pubs/NLD/5555/scottish-stores-london
13th February 2016
CAMRA's 2016 London Drinker Festival has done collaboration brew with the London Brewing Company for the March Beer Festival to celebrate local member's near death recovery!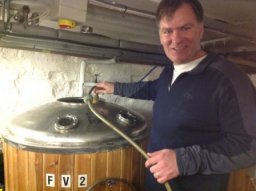 Tom Kearney, who lives in Hampstead, was hit by a bendy bus whilst on an Oxford Street pavement in December 2009. The impact cracked his skull, popped both his lungs and threw him 20 feet. When paramedics arrived, they could not find a pulse and it was only the skills of the doctors that kept him alive. In mid January, Tom finally woke up from a coma. Over the next few months, whilst in hospital, he had to learn again how to speak, walk, eat and drink. Eventually he was allowed home to recover and then his neighbour, the writer Al Alvarez, gave him a piece of life-changing advice. Alvarez, author of Pondlifeas, a swimming diary, told Tom to get himself into Highgate Men's Pond saying 'If a Bendy Bus can't kill you, the Ponds certainly won't. Besides, I think it will make you better." Taking Al's advice, from September 2011 Tom started swimming regularly in the Pond and was gradually joined by friends to form a group of 40 hardy souls, swimming in all weathers.
Christine Cryne, Festival Publicity Officer, said, 'We were looking for someone who had a great tale to tell to come and brew with us. We loved this story, which was sent to us by Tom's friend Paul Mylrea. We were also taken by the name of the group, the 'East German Ladies Swimming Team', despite the fact they are all middle-aged professional men! Paul told us that the name came from a partner of one of the swimmers. Instead of praising the fortitude of her man and his friends, she compared them to the 1976 East German Ladies Swimming Team. They were known for their physique at the Summer Olympic Games in Montreal thanks, in large part, to cocktails of banned substances. It made us smile to hear that this swimming group decided to follow this Team's spirit and instead of banned substances, they chose beer, what else? They regularly visit the pubs in Highgate & Hampstead after the plunge'. The celebration beer was brewed at the London Brewing Company's micro brewery at the Bull, Highgate. The beer is an American Brown Ale, in honour of Tom's heritage (he is originally from Maine, USA) and is called 'Highgate Lifebuoy' in honour of the good that the Highgate Pond did in aiding Tom's recovery. Tom was there to assist in brewing his very own beer and said 'I am grateful for the opportunity to learn more about a pint than I've ever learned from all the years of drinking the stuff!' The beer will be available from early March at the Bull and London Drinker Beer Festival at the Camden Centre, King's Cross (2-4th March), just a short tube ride from the Bull and the Pond.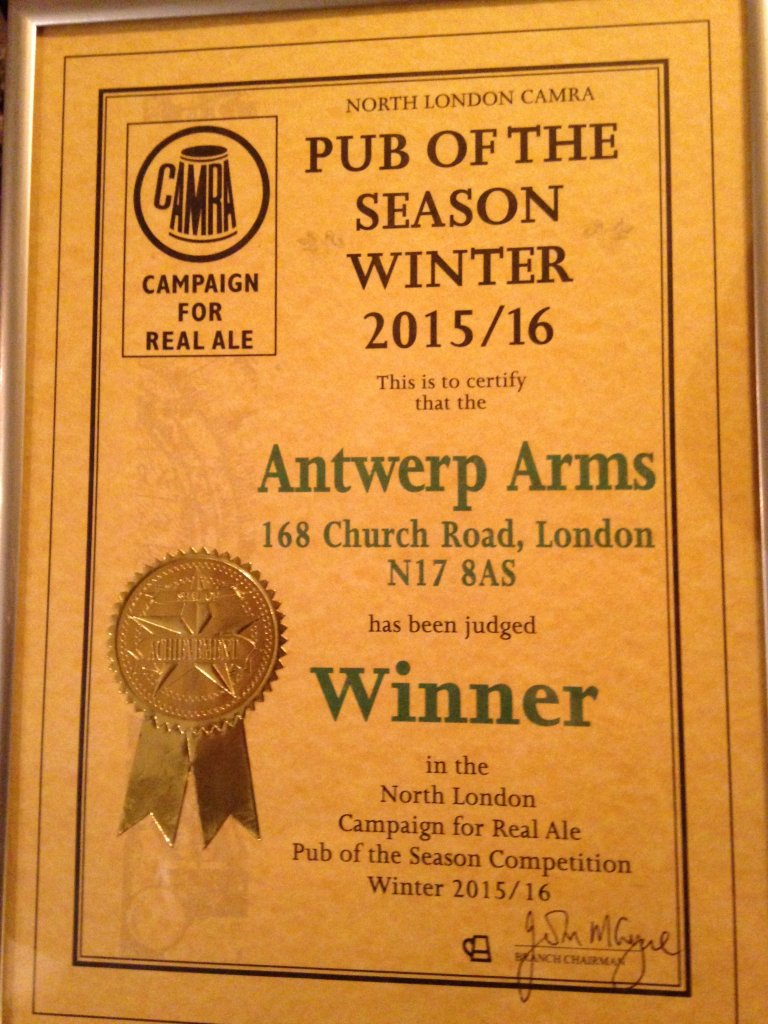 23rd January 2016
The King William IV in Hampstead has been added to the list of pubs giving CAMRA members a discount. Show your valid membership card at any time and you will get 20p off a pint. The beers usually available are Courage Directors and Fullers London and often a seasonal beer from Caledonian.
The 12 Bar Club on Holloway Road has had another delivery of bottled beer from the Stubborn Mule Brewery of Altrincham, their only outlet outside of their Manchester home area.
Branch Member Laurence Fryer is to launch a new bottle shop in Hoxton this weekend. The Seven Seasons is at 195 Hoxton Street, just down from the Howl at the Moon, and will have over 200 beers to choose from.
8th January 2016
Another new year and the beer events start rolling in again. The Snooty Fox has their beer festival over the first weekend of February, expect the usual fine selection of beers from around the country.
Another annual beano is down the road at the Hops & Glory. Tuesday 26th January sees Australia Day celebrated in fine style including meet the brewer from Stone and Wood Brewery in Byron Bay NSW. Expect beers from them, Coopers, Little Creatures, James Boags and loads more. Aussie food as well from the BBQ.
Next weekend starting on Thursday 14th is a pop-up Keller bar as part of the Lumiere Festival. Being held at the new Kings Cross development around Granary Square behind the station, expect interesting European beers.
The annual JD Wetherspoon London Beer Festival seems to be taking place again this year but details are sketchy. The North London week starts on Monday 8th February. Hopefully more details as we find them but keep a look out for the booklets in their London pubs.
5th January 2016
Stoke Newington seems to have had a number of changes recently. It's always good to start with a new cask outlet. What used to be the Fox Reformed wine bar and more recently just the Fox has now changed into the Fox & Pie after a refurbishment. Now run by those behind the Newman Arms in Fitzrovia W1, it's mostly a food place selling those pies but it is also a bar you can drink in. There is one cask ale, London Pride, at a very reasonable 3 pounds a pint and up to eight keg beers and lagers. Address is 176 Stoke Newington Church Street.
Further along opposite the Lion, One Two Five Church Street has been open for a few months. A cafe during the day and a bar later on, it has six craft keg taps on including London breweries such as 40FT from Dalston and Brew By Numbers from Bermondsey. Beer range varies, as do the opening hours. You can guess the address.
Another change further along is the Daniel Defoe owned by Wells of Bedford. Now run buy the Yummy Pub Co it's been refurbished and called the Stoke Newington Tea House. It specialises in tea during the day but on the large metal topped bar, eight handpumps serve a selection of Wells beers and some guests, and on the wall at the back, twelve keg taps serve a range of keg beers from a range to local or national beers.
Round the corner and a bit further down from the Rochester Castle, Stokey Bears is still serving four craft keg beers. Primarily a burger restaurant, the bar at the back usually sells at least two beers from the Bear Hug brewery in South East London and guest beers such as Beavertown. You can drink in the bar area at the back or the seats by the front windows and you don't have to eat.
News Archive - 2015
5th December 2015
The Resting Hare in Bloomsbury is now open. Sister pub to the Holborn Whippet, expect four real ales and lots of craft keg. It's on Upper Woburn Place, the ground floor of the County Hotel. The former County Bar on the right is now the Upper Fleet Bakery and the Resting Hare is to the left of the foyer. At the moment, only open weekdays with food and weekend opening to come in the new year.
A re-opening this time, the Hops & Glory on Essex Road, Islington is now open again after a refurbishment and upgrade of the kitchen. Business as usual and that includes the in house Solvay Society brewery.
News comes through of an exciting project in Kings Cross. The Flying Scotsman, 2-4 Caledonian Road is being restored to its former 1901 glory. It is on the CAMRA National Inventory of listed interiors. The strippers have gone and it will re-open as a real ale pub selling up to 8 London brewed beers. The interior is starting to look stunning. Follow on Facebook at https://www.facebook.com/TheScottishStoresLondon/ or Twitter on https://twitter.com/ScottishStores
Craft keg beer may not be to everyones taste but it does get interesting and local beers into new places such as wine bars, restaurants and clubs. The latest place is Yield N16 overlooking Newington Green which opened last weekend. Styling itself as a wine shop with charcuterie, cheese and craft beer, five keg beers are available from the likes of Hammerton, Five Points and Crate. 44/45 Alliance House, Newington Green or yieldn16.com
2nd December 2015
Full details of London Pubs Group crawl of Camden and Euston including map now available.
24th November 2015
Branch events for December and January now on the Diary page.
28th October 2015
The branch celebrated CAMRA's Cider Month by a tasting at the Pineapple in Kentish Town (http://whatpub.com/pubs/NLD/6101/pineapple-kentish-town). If you missed it, you can read all about it here: Cider & Cheese Tasting 2015.
16th October 2015
The big profile opening this week is the Village pub in Muswell Hill which is the latest Wetherspoons, called the Mossy Well. It's what you would expect from the chain and opens in time for their beer festival which should have now started. A welcome addition to an area that has lost a number of pubs in recent years.
Another area that has lost many pubs is Tottenham and just as important is the re-opening of the Olive Tree, 169 Park Lane, N17. No real ale unfortunately.
Another new opening with no real ale is Dog Eat Dog in Islington (29-31 Essex Road, N1). The latest bar from Brew Dog, it's more foody than other branches but promised are 12 draft craft beers and 25 bottles.
We have heard that the Flying Scotsman on Caledonian Road has closed for a refurbishment. You would probably not notice it due to other distractions but it is a Grade II listed building and on the CAMRA Regional Inventory of pubs with historic interiors. If anyone has any information about what is planned, please let us know so we can keep the London Pubs Group informed.
9th October 2015
A few re-openings in Islington after refurbishment, both selling beers from London brewpubs. The Alma in Chapel Market has reopened and sells beers from the One Mile End brewery in Whitechapel, both on cask and keg.
On New North Road, the North Pole opened two weeks ago. It's in the same pub chain as the Antelope in Surbiton so often has beers from the Big Smoke brewery at the Antelope otherwise beers are usually from other London breweries.
The Tap Takeovers at the Bree Louise in Euston start again with Wild Weather brewery on Monday 19th October. Halloween is celebrated by a beer festival from 24th October to 1st November featuring over 30 spooky brews.
At the Bank of Friendship in Highbury (226 Blackstock Road N5), all cask ales will be from the Caledonian Brewery from Friday 23rd October to Saturday 7th November. £3.50 pint with 10% discount for CAMRA card holding members.
8th October 2015
North London Branch announces its Cider of the Pub of the Year, which goes to the Cider Tap in Euston. Cider Pub of the Year.
30th September 2015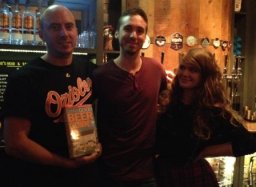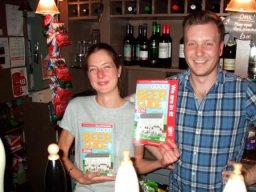 The North London branch held a couple of local launches for the 2016 Good Beer Guide at three new entries into the Guide. One evening covered 2 Kentish Town pubs, the Grafton and the Lion & Unicorn with the following week at the Duke's Head in Highgate. You can purchase a copy at the new guide at: https://shop.camra.org.uk/books/goodbeerguide2016.html.






31st August 2015
The Monarch on Green Lanes N16, just up from Newington Green, has been empty and gutted for a while. Good news comes through that it is now open again as the Winnicott. The most striking difference is the outside paintwork has been stripped back to reveal the original tiling underneath. Early days yet but three real ales available (two from Adnams + a guest).
But disappointing to hear that the Alma, Chapel Market, N1 has closed without warning.
21st August 2015
Your pub matters - join the debate next week....We will be answering questions on Twitter and Facebook between 2 and 3pm using the Hashtag #ThisPubMatters. Our Twitter Handle is @CAMRA_Official.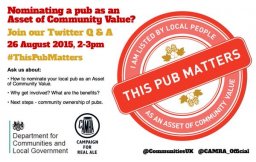 19th August 2015
The Shaftesbury Tavern, has scooped CAMRA North London's Pub of The Summer Season Award. For more Upper Holloway Pub takes local award!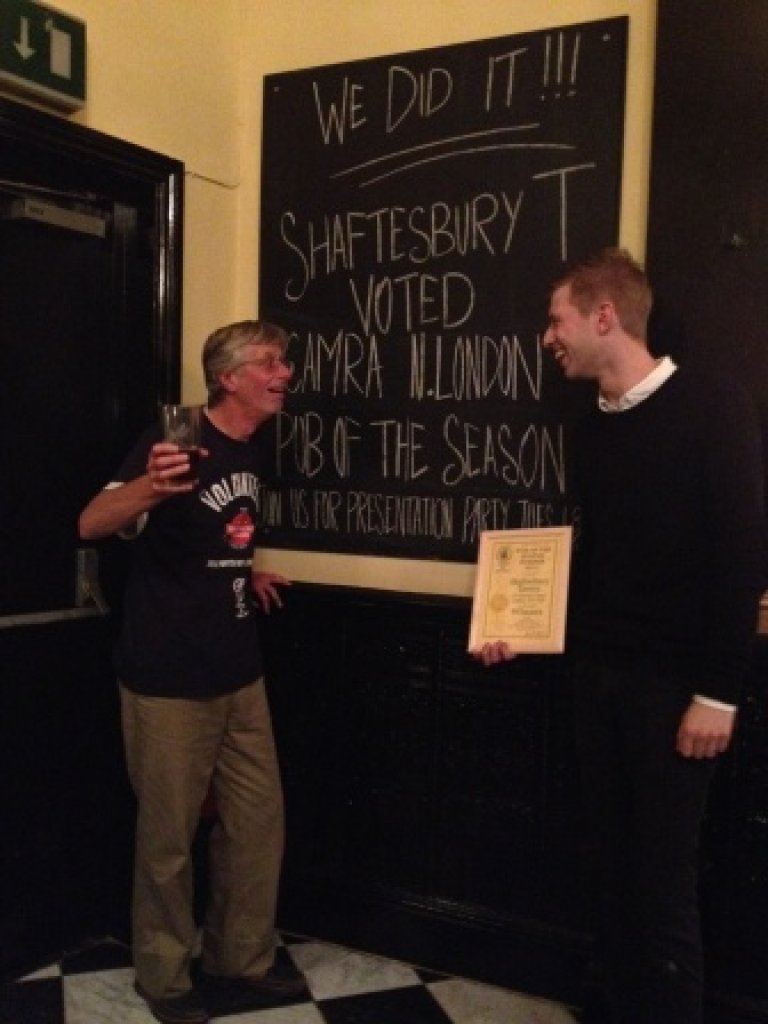 14th August 2015
Evening Crawl of Highgate and Kentish Town Details of 19 August Pub Crawl are now available.
The Bull in Highgate will be having a party on Saturday 22nd August to celebrate 4 years of the company. Along with the usual full range of beers (with 1 pound per pint going to charity), there will be a BBQ, live music and a "swearing on the horns" ceremony. Starts 12 noon.
The new manager at the Dissenting Academy by Newington Green reports a greater emphasis on beer including from Laines Brewery and others in London. Sign up for their free Ale Club mailing list and you can have a pint of beer for 3 pounds at any time. Website: http://dissentingacademy.pub/
The Yorkshire Grey in Holborn becomes the latest addition to the LocAle scheme. It's a long time since it was a brewpub so the LocAle beers currently come from the London Beer Factory in Gipsy Hill and East London in Leyton.
The Yorkshire Grey also joins the list of pubs offering a discount to CAMRA members producing a valid membership card. In this case, it is 20% off the real ales. Also joining is the Bank of Friendship on Blackstock Road in Highbury which are offering 40p off to CAMRA members for guest ales that are not already promotional.
7th August 2015
The Hops & Glory in Islington (382 Essex Road, N1) will be having a "demolition party" on Saturday 8th August to clear the bar of drink. They will close for a refurbishment for about five week including expanding the in-house brewery.
Sponsored by Redemption Brewery, artist Lewis Hazelwood-Horner is having an exhibition from 10th to 16th August in the St Pancras Church crypt on Euston Road. Open from 9am to 7pm each day, it contains many London brewery and pub paintings along with other work places in action.
Back by popular demand, we have arranged another cheese and beer tasting at the Pineapple, Kentish Town on Tuesday 6th October as part of the branch's celebrations of cider and perry. Tickets are now available at: http://www.eventsbot.com/events/eb217057495. It always sells out so don't leave it too long. Non members are welcome.
31st July 2015
The Gipsy Queen in Gospel Oak (166 Malden Road NW5) will be having a Meet the Brewer evening on Tuesday 4th August from 6pm. The brewer this time is from Trumans. They also now offer a Discounts for CAMRA members of 10% at all times and that between 12-5pm every day, all real ales are £3 for everyone.
Some changes in Crouch Hill where the Noble relaunches as the Hopsmiths. It is now run by the Late Knights brewery of Penge, their first venture north of the river. Opposite Crouch Hill station on the Gospel Oak to Barking Overground line, it is just up from the Stapleton and Old Dairy, a welcome addition to the area.
Over in the south-western corner of our branch, the Globe (47 Lisson Grove, NW1) relaunches into a good beer pub. Just up the road from Marylebone station it opened yesterday offering a selection of real ales but also a large selection of "craft" keg, bottles and even cans, most from the London area.
24th July 2015
Following our social on Tuesday around Hornsey, the Great Northern Railway Tavern, 67 High Street N8, has qualified for the LocAle scheme. A local beer is served alongside interesting ones from around the country, XT 4 was available on Tuesday. http://whatpub.com/pubs/NLD/5705/great-northern-railway-tavern-hornsey
20th July 2015
CIDER Pub of the Year 2015 - Voting is now open to select the North London Cider Pub of the Year. The candidates are Cider Tap NW1; Dukes Head N6; John Baird N10; Queens Head WC1 and Southampton Arms NW5. To vote, click on the link, voting closes on the 24th August, only CAMRA members can vote.
https://www.surveymonkey.com/r/2CS35N7
14th July 2015
Good news - The Railway at West Hampstead has now re-opened after the conversion of upper stories to flats. http://whatpub.com/pubs/NLD/6134/railway-west-hampstead
13th July 2015
Another community pub under threat, The Bailey on Holloway Road. Islington Council has listed it as an Asset of Community Value, but the developer is appealing. Sign the petition here to support the ACV, https://www.change.org/p/islington-council-protect-the-bailey-pub-in-holloway
13th July 2015
Come to our Annual General Meeting and hear Dan Fox of London Brewing Co share his views and thoughts with us.
27th June 2015
It's been fairly quiet on the news front but The Gipsy Queen in Kentish Town (166 Malden Road) opened on Friday 26th, 6pm onwards. Having been through a few changes in recent years, this time it is being run by the same team as the Grafton in Kentish Town.
Also, the Raulway in West Hampstead should hopefully be opening again after a long closure. The floor space has been reduced to make room for access to upstairs and they are aiming to also open on Friday 26th.
8th June 2015
Voting is now open to CAMRA members for our next Pub of the Season Award, to vote click here https://www.surveymonkey.com/r/NKJH3FC Candidates are Earl Haig Hall N8, Westbury N22, North London Tavern NW6, Shaftesbury N19 and Rosemary Branch N1.
26th May 2015
Feedback from local members that Quinns Camden Town and The Tap Room N1 are both offering Discounts for CAMRA members of 20p off a pint.
18th May 2015
Over the Spring Bank Holiday (Thu 21st - Mon 25th May), the Shaftesbury in Upper Holloway will be having its first beer festival, London Calling, celebrating beer and cider from our capital. Over the same Bank Holiday starting on Friday 22nd and covering a larger area, the Hops & Glory on Essex Road will be having a "Saison's Greetings" festival. As you can guess, a large range of Saison beers from the UK and Belgium will be available including two from the in house Solvay Society brewery and the return of a Hops & Glory beer brewed on the same plant.
Another Remarkable Restaurants pub gets added to our LocAle scheme through beers from their Dragonfly Brewery in Acton. This time it is the Rosemary Branch in Islington, 2 Shepperton Road. This joins The Antwerp Arms, N17 which has also been accredited becoming, in effect, the tap room for Redemption.
13th May 2015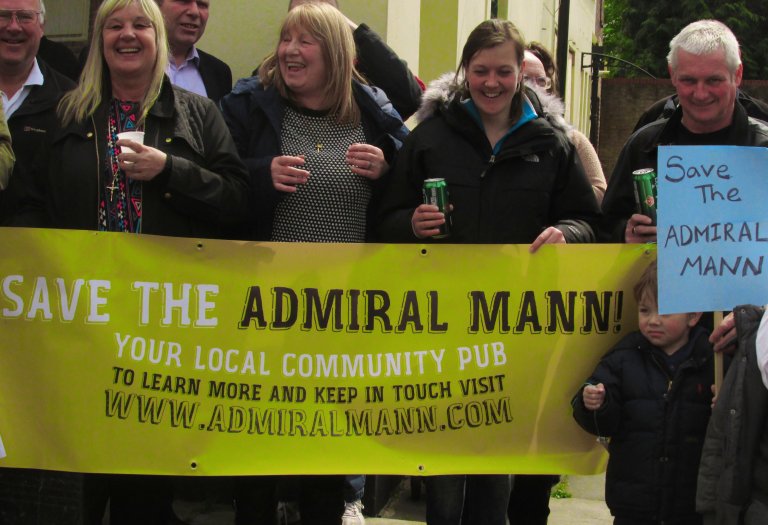 A pending planning application to redevelop The Admiral Mann has met with a massive thumbs-down by those who once counted it as their local. The Admiral Mann pub off Brecknock Road in N7 was until last autumn a vibrant hub in the community - hosting charity events, darts teams and its own football club – but today it languishes as a token charity shop awaiting the developers to move in. Locals showed their disdain last week about the current state-of-affairs when nearly a hundred people turned-up outside the pub to register their opposition.
3rd May 2015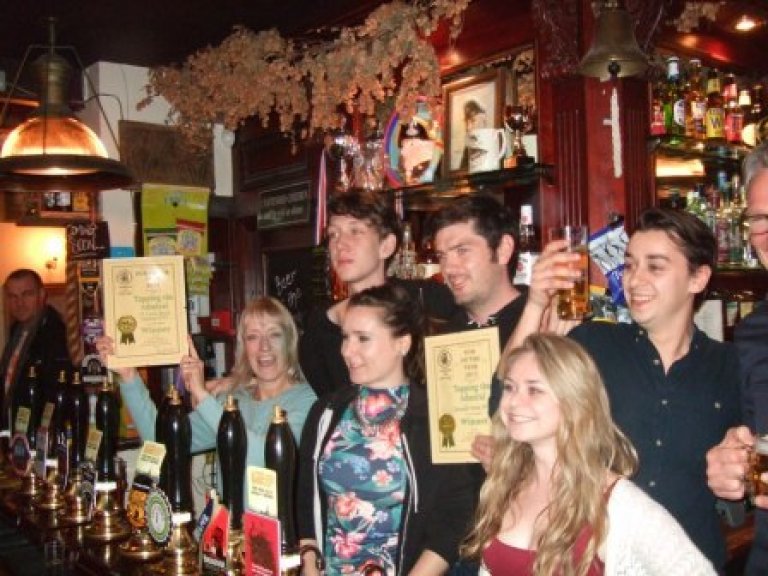 Tapping the Admiral, near Kentish Town West Station, has been awarded Pub of the Year by the North London Branch of CAMRA, the Campaign for Real Ale. Christine Cryne, from the local branch, said, 'This is the fifth time in the last six years that a pub in Kentish Town has won this award, proving that Kentish Town is one of the very best places in London for pubs and to drink good beer'. Tapping the Admiral makes it five out of six for Kentish Town pubs
25th April 2015
And now the bad news, while your webmaster was recuperating, the vandals hit - and demolished the Carlton Tavern, Kilburn. We are grateful to the West End Extra for their coverage http://www.westendextra.com/news/2015/apr/real-ale-campaign-and-residents%E2%80%99-group-demand-answers-shock-pub-demolition And, for once, we would say that the graffiti is 100% justified.
25th April 2015
Apologies for a lack of news in recent weeks due to illness but hopefully normal service will now resulme and lets start with a great story - North London's First Community Pub opened at Noon on Friday 24 April. The real ale is from Redemption. Likely opening times 12-23 Mon-Sat and to 22.30 Sun. The following (bank holiday) weekend there will be all sorts of events, including a balloon race and live music - see the website http://www.antwerparms.co.uk/ for details. Antwerp Arms, 168-170 Church St, N17 8AS - trains to White Hart Lane, or a tube to Seven Sisters then a bus to Tottenham Sports Centre.
2nd March 2015
The draught beer list for next week's London Drinker Beer & Cider Festival can now be downloaded by going to the Festival pages.
27th February 2015
As the Golden Lion roars across the finish line. drinkers in Camden Town, indeed across London, raised their glasses in celebration at the news that The Golden Lion has been saved from destruction by being bought by licensee Dave Murphy. Sometimes the good guys do win.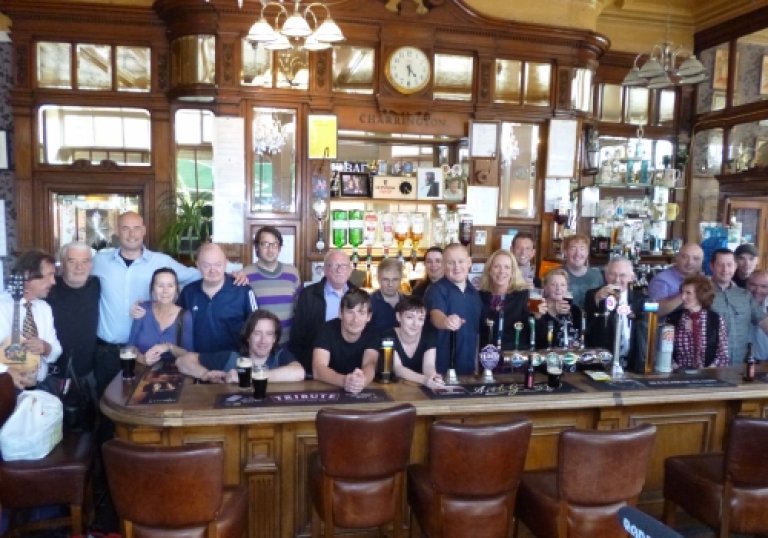 23rd February 2015
The Stapleton Tavern 2-4 Crouch Hill, N4 4AU is now offering a 10% discount to CAMRA members on cask beers http://whatpub.com/pubs/NLD/5609/stapleton-tavern-finsbury-park
11th February 2015
The Beehive Tottenham Pub is a First in winning CAMRA North London's Winter 2014/15 Pub of the Sesaon Award, the first pub in Tottenham to do so.
8th February 2015
North London Branch is now in the process of choosing our Pub of the Year. We have a short list of 5 pubs: Bull, N6; New Rose, N1; Queen's Head, WC1; Railway Tavern, N16 and Tapping the Admiral, NW1. Any CAMRA member can vote; go to: https://www.surveymonkey.com/s/JQCPZQ9
27th January 2015
We now have the initial list of London beers confirmed for the London Drinker Beer Festival see: https://www.facebook.com/events/1005870879429105/?fref=ts
22nd January 2015
Two LocAle Pubs to add, the Alma in Newington Green and the Shaftesbury in Crouch End, the latter selling beers from the Dragonfly Brewery in Acton. Both offer Discounts for CAMRA members
The latest news from the Bree Louise in Euston reports that following from a Tiny Rebel take over, this week will see beers from Titanic with 17 different ones promised. February sees the start of the Six Nations and from the 5th there will be 6 beers direct from Italy. We'll be having a social at the Bree for the final matches day, Saturday 21st March.
Also in Euston, the Royal George on Eversholt Street will be a holding a Meet The Brewer session with Portobello Brewery on Thursday 22nd January from 6pm. Free samples available and a charity raffle for the Great Ormond Street Hospital.
More international beers, this time at the Hops & Glory in Canonbury. On Monday 26th January, Australia Day is being celebrated in traditional style with a BBQ in the garden, Lamingtons and authentic beer from Australia. In February, Friday 20th will see the launch of the recently installed Solvay Society brewery which moved from Walthamstow. Confirmation and further details to follow.
9th January 2015
The Bedford Tavern in Holloway (160 Seven Sisters Road) is now selling real ale, a single handpump was installed before Christmas with Hackney NZ Pale Ale being the first beer. In the short time it has been open, it has been getting good reviews including Bar of the Week in the latest Time Out.
18th December 2014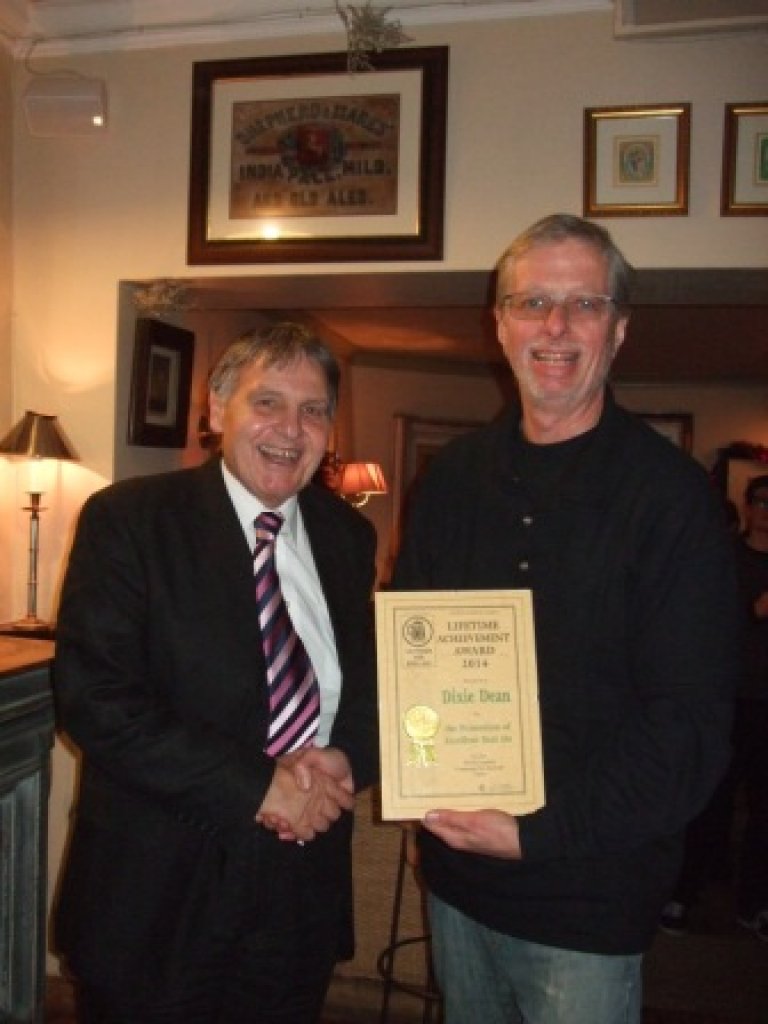 Retired licensee Dixie Dean received a Lifetime Achievement Award from the North London Branch following his retirement from The Prince Arthur earlier this year. It was the final event forming a part of the the branch's 40th Birthday celebrations.
9th December 2014
A joint celebration of the Branch's 40th Birthday and the 35th Birthday of Wetherspoon's was held at The Rochester Castle, Stoke Newington. Wetherspoon's kindly put on a buffet and offered members 50p off a pint all evening. After the buffet, those present enjoyed a Pub Quiz and festive charades. Chairman John Cryne presented a commemorative certificate to the pub.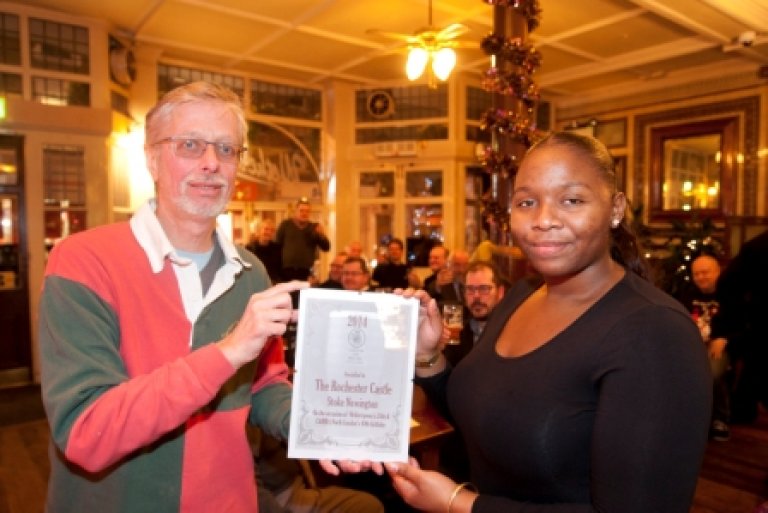 28th November 2014
Catching up on other new openings, in Stoke Newington, Stokey Bears has opened as a burger bar (129 Stoke Newington High Street, N16). The main feature is the burger menu but drinkers are welcome and there is a small bar area at the rear with plans to expand sideways. The beers are provided by the Bear Hug brewery from Nunhead in South East London. They don't have a brewery yet and cuckoo their beers elsewhere, mostly at the Ramsgate Brewery but also in Austria for their Bruno Lager. The beers are craft keg only at the moment but are good examples of the genre.
O'Neills is the last vestige of the 90s when fake oirish bars were all the rage and, even now, the chain is only slowing falling in numbers. The latest conversion is O'Neills in Islington at 59 Upper Street which has been refurbished and opens as the Radicals and Victuallers.
23th November 2014
CAMRA's 2015 London Drinker Festival is once again doing a collaboration brew with the London Brewing Company for the March Beer Festival but this time the beer is bound to be snappy!
The Festival is one if the very few to produce their own home cooked food and this year they will be having a number of exotic burgers on sale such as alligator. They are asking all of the local CAMRA members, who are under 30, to suggest which beer style would go best with this burger and come up with a name for the beer. They are also asking for ideas on what the beer should be called. The people who give the best suggestion in each category will invited along to brew at the Bull in Highgate in February. See Make it snappy!.
23rd November 2014
In the area between Holloway and Finsbury Park, the Bedford Tavern has reopened. It's at 160 Seven Sisters Road, and it's early days yet with a soft opening. There is a good bottled range and craft keg with real ale to follow, food is available. One to watch in an area with few pubs left.
The Elixir Bar in Euston (162 Eversholt Street, previously the Carriage and Rowleys) repositioned itself recently as a craft beer pub. The cocktail bar image has gone and a more basic style comes in. Last week the two handpumps were offering beers from the Siren and Moor breweries, the latter known for its cloudy unfined beer and both having a good reputation. There is also a good selection of craft keg including some limited edition beers from London breweries. Cider fans will be happy with two boxes of Westons ciders on the bar. Basic details at http://www.elixirbar.co.uk/
The Canonbury in Canonbury (21 Canonbury Place, N1) gets added to the LocAle list after its recent survey. Sambrooks Wandle is usually available.
10th November 2014
On Thursday 20th November, the Grafton in Kentish Town is having a tap take over with Truman's Brewery. Brewers will be on site from 7pm to 9pm.
The latest addition to the LocAle scheme is the Leconfield on Green Lanes in Newington Green. This revitalised mock Tudor pub sells a range of local beers alongside guest beers from further afield.
29th October 2014
CAMRA members and cider & perry drinkers celebrated Cider & Perry Month by awarding the Winners (Bree Louise) and Runner-up (Cider Tap) Awards in the North London 2014 Cider Pub of the Year competition.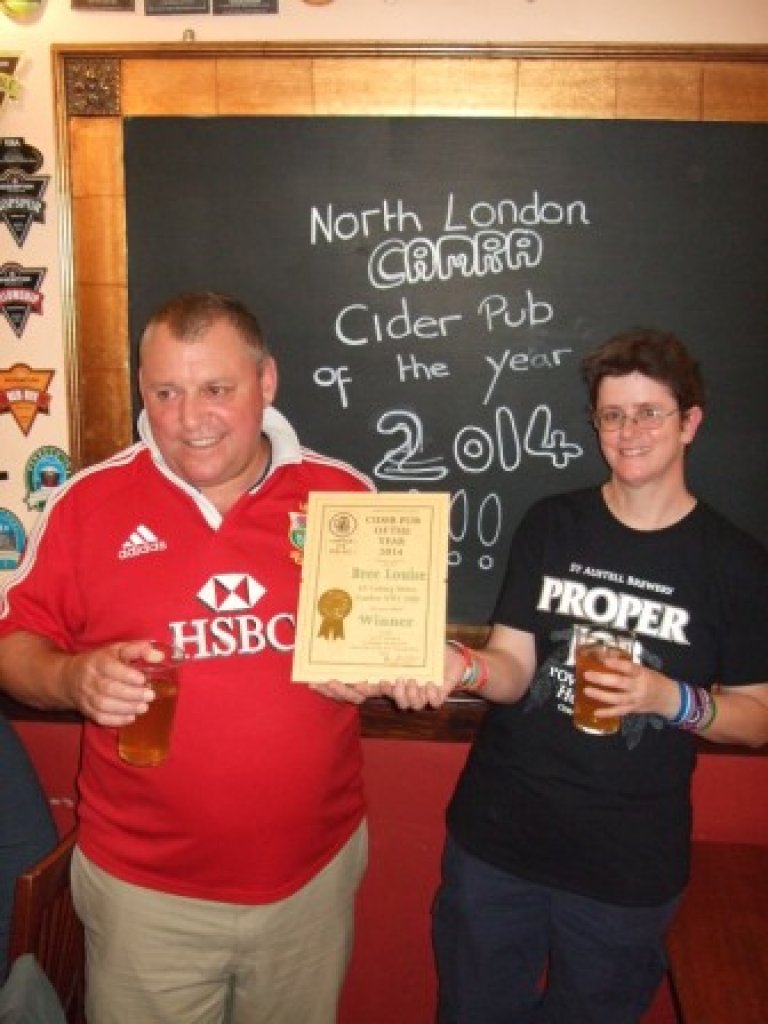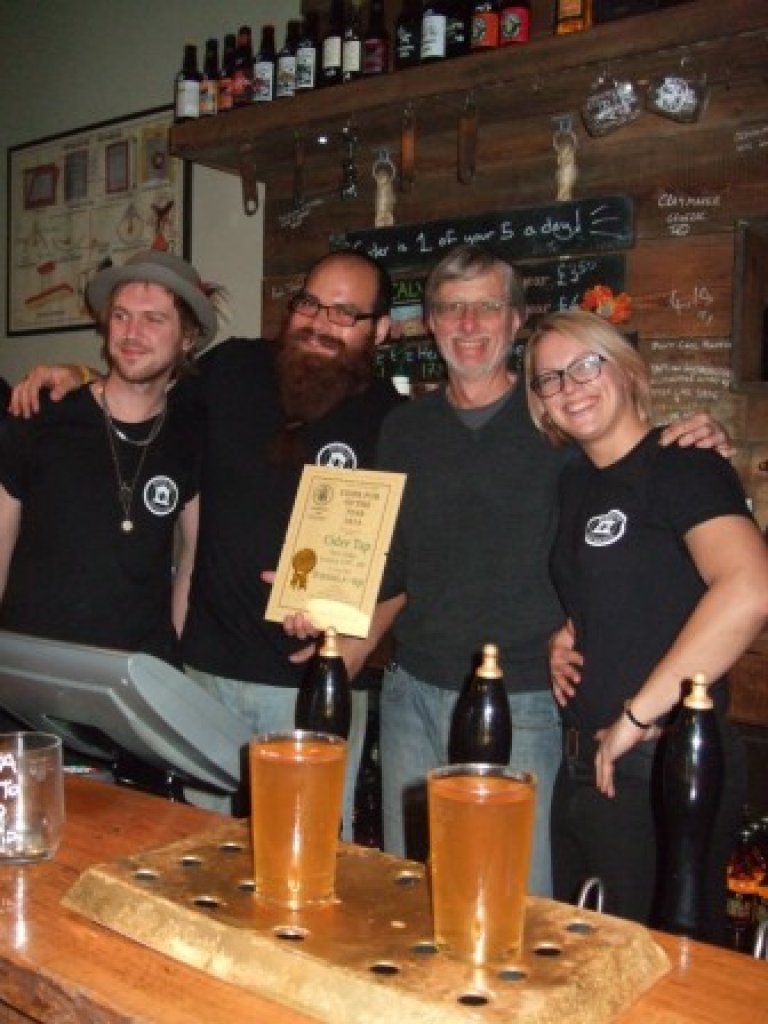 17th October 2014
Two re-openings to announce this week. In Wood Green, the Westbury (57 Westbury Avenue, N22) opened last weekend. A sister pub to the Jolly Butchers in Stoke Newington, a wide range of beers is available including a number from Redemption. It's in an area with little real ale so should do well and hopefully kick-start other pubs to think about offering it. Turnpike Lane underground station is the nearest, about a 10 minute walk away.
In Crouch End, the Shaftesbury re-opens this weekend after a make over. It's run by the Remarkable Restaurants chain and will include beers from the Dragonfly brewery located in their pub at Acton.
16th October 2014
Following on from our cider and cheese tasting at the Pineapple, they will be having a beer and cider festival over the Halloween weekend starting on Friday 31st October. As usual, the barrels are on the stillage in the garden.
The Leconfield (Green Lanes, N16) is having an ale festival celebrating the best of British. Starting on Monday 13th October, it lasts through to Sunday 19th October.
The Prince Albert in Camden Town is having a beer festival from Sunday 19th to Friday 24th October. You have a chance to request your favourite beers, send an email to moc.nedmactreblaecnirp@ofni before 12th October. CAMRA members will get an additional 20p off each pint.
The Shaftesbury in Crouch End (534 Hornsey Road) will reopen on Thursday 16th October after an extensive refurbishment. Run by the Remarkable Restaurants chain, it will include beers from the Dragonfly Brewery at one of their pubs in Acton. To celebrate the opening, CAMRA members are welcome from 5pm on that evening for some complimentary drinks and nibbles.
6th October 2014
We are looking for the next Winter North London Pub of the Season and we'd like your help to choose. A list has been put together of pubs that are trying hard and an award such as this can help them as the winning pub does get local publicity. So do take a couple of minutes to vote. The shortlist of four pubs are: Beehive N17, Bluebell NW5, Devonshire House N8, Lion & Unicorn NW5. The closing date for the voting is 30th October 2014. Only CAMRA members can vote!
Please go to: https://www.surveymonkey.com/s/VLZGQGX
22nd September 2014
The Wenlock Arms and The Beehive become the latest members of CAMRA's LocAle Pubs scheme.
19th September 2014
A pub in Kentish Town has celebrated winning one of the most sought after awards in the drinks industry after being crowned the Great British Pub of the Year 2014. http://www.hamhigh.co.uk/news/kentish_town_pub_wins_great_british_pub_of_the_year_2014_1_3774142
9th September 2014
And The Duke's Head becomes the latest member of CAMRA's LocAle Pubs scheme.
26th August 2014
Celebrations at the Duke's Head, Highgate, CAMRA North London's Autumn Pub of the Season. Picture (by Steve Newton) shows from left to right -Lottie Judge (Bar Manager), Tom Harrison (General Manager), John Cryne (CAMRA), Tarik Nashnush, Martin Aberdeen (Owners).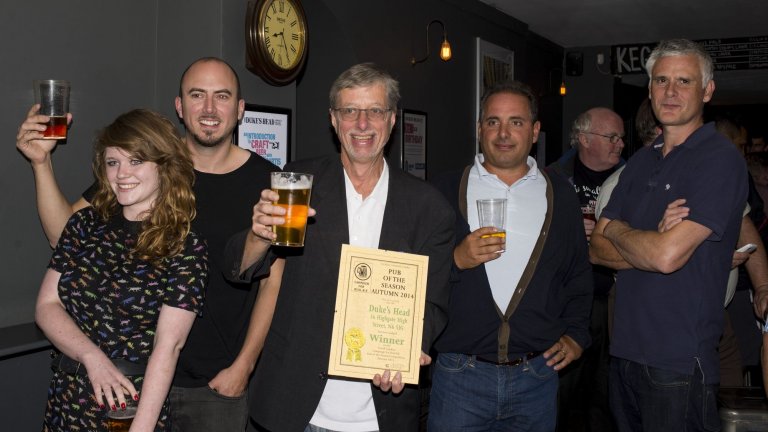 19th August 2014
Residents of N7 are up in arms at the decision of McMullen's Brewery of Hertford to sell their local, The Admiral Mann, for possible redevelopment and peremptorily close the pub this weekend. The Save the Admiral Mann campaign group are aiming to get the pub listed as an Asset of Community value. Click on the previous link for more detail. Sign the petition here http://tinyurl.com/k2vm4ah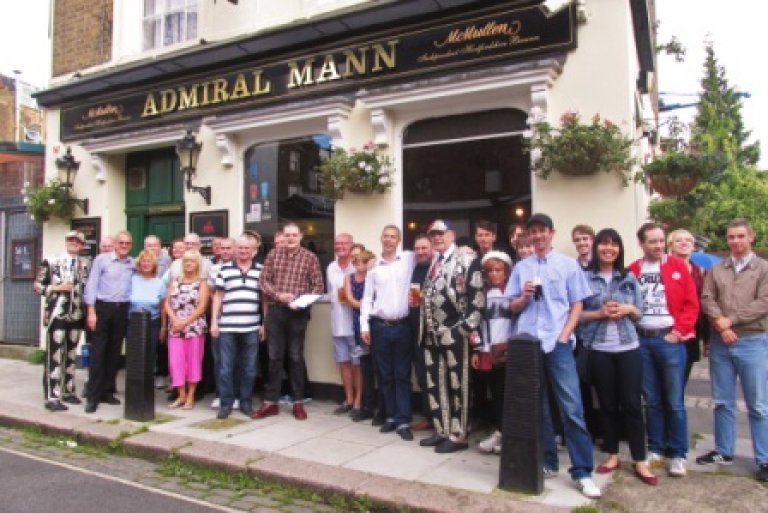 18th August 2014
Well, the Great British Beer Festival is over so back to normal! Bank Holiday weekends always turn out busy and this August one is not going to be any different. The Hops & Glory in Islington is having an IPA festival, see the press release in the Files section at Yahoo. Even better, CAMRA members will be able to have pints of real ale at three pounds.
Just up the road in Stoke Newington, the White Hart will be having a beer and cider festival, no details yet, but going by the last one in the yard out the back, it will be be very busy and hopefully the weather will hold out so the extensive garden can be used.
31st July 2014
Voting has now commenced to choose CAMRA North London's Cider Pub of the Year. There is a shortlist of five pubs, Bree Louise and Cider Tap both NW1, Queen's Head WC1, Southampton Arms NW5 and John Baird N10. Voting is open to CAMRA members here https://www.surveymonkey.com/s/WYZVQF5 The closing date for the voting is Monday 25th August.
18th July 2014
It's well known that London is riding on a flood of new breweries and beer so a new event is taking this under one umbrella. The London Beer City week takes place from Saturday 9th to Saturday 16th August and includes brewery open days, pub crawls, beer tastings and of course GBBF at Olympia http://gbbf.org.uk/ Full programme on their website at http://www.londonbeercity.com/
11th July 2014
The Gatehouse in Highgate, one of the earlier Wetherspoon pubs, will be 21 on Saturday 19th July and they will be having a 90s party. Expect pub games, food and drink deals, children's entertainment, prizes to be won and music from The Beautiful Game.
The Pineapple in Kentish Town will be celebrating at the end of August with a cider festival from 29th to 31st August. Expect about a dozen ciders and perries. Before then they will have the first beers from the new Hardhead brewery in Cornwall. The brewer will be in attendance in the evenings of Wednesday 30th and Thursday 31st July to talk about two of their beers, Hardhead Best and Hardhead IPA, both of which will be available. And we should also bid a sad farewell to Simon Rennie who has left the pub after a long stint, moving down to Brighton.
Also from Cornwall, the Firebrand brewery will be showcasing three of their beers at the Tapping the Admiral in Kentish Town on Thursday 7th August from 6pm. Three of them will be available.
The campaign to keep the Golden Lion in Camden Town open continues but in the meantime real ale is now available. Sharps Doom Bar was available this weekend following on from St Austell Tribute. It's worth going in at a quieter time to appreciate the heritage of the pub especially the splendid bar back and the rare to see non-electronic cash register!
9th July 2014
Every two months, the North London Branch sends details of changes taking place to pubs in the Branch area to London Drinker magazine. Because of space constraints, it is not possible for LD to reproduce the submission in full but you can find it here Capital Pubcheck Updates
24th June 2014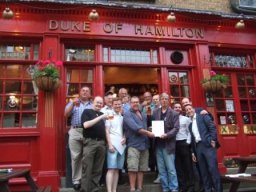 Hampstead pub wins special award from CAMRA. Locals and CAMRA members alike raised their glasses when the Duke of Hamilton was presented with a special award from the North London branch last night in celebration of the branch's 40th birthday Duke of Hamilton 40th
24th June 2014
During the 18th and 19th centuries Highgate village was probably best known for its strange drinking custom known as the Swearing on the Horns. The custom returns on 4th July! Hornsey Round Table members invite customers at The Bull pub to give a 'fine' to the judge and his clerk, who will be dressed in traditional costume. Fines will be donated to The London Centre for Children with Cerebral Palsy. Download this to find out how to Kiss the maiden at The Bull! and contribute.
After a few false starts last year, the Queens Head in Kings Cross (66 Acton Street, WC1) now has its first beer available, Premium Bitter 5.9%. The brewery has been tweaked and should now be in regular production for small runs on real ale and keg beers.
16th June 2014
The Robinson Crusoe in Stoke Newington on Green Lanes reopened recently as Tommy Flynns, part of their chain. It usually has a couple of beers on and now has a 10% discount for card carrying CAMRA members.
13th June 2014
Last week the Branch had a beer and chocolate tasting as part of its 40th birthday celebrations. To see what combinations they tasted seeBeer & Chocolate Tasting.
12th June 2014
Save the Alex! The planning application is now in to convert the Alexandra on Fortis Green into two private dwellings. If you want to object (to change of use from a public house) you should do so now, using the attached Haringey planning application website below: http://www.planningservices.haringey.gov.uk/portal/servlets/ApplicationSearchServlet?PKID=273974 Click on the comment on application button, and remember to click on the object to application button in the Nature of Submission section, and put change of use in your comment section as your reason for objecting. Also forward this to anyone else you think might be interested in saving the Alex as a local boozer!
11th June 2014
The Parcel Yard is "Best Station Pub in the World" according to the International Food and Beverage Creative Excellence Awards (FAB) 2014 seeing off tough competition from entrants across the world including Paris Gare de Lyon, SSP France, and Montreux Jazz Café at this year's FAB Awards.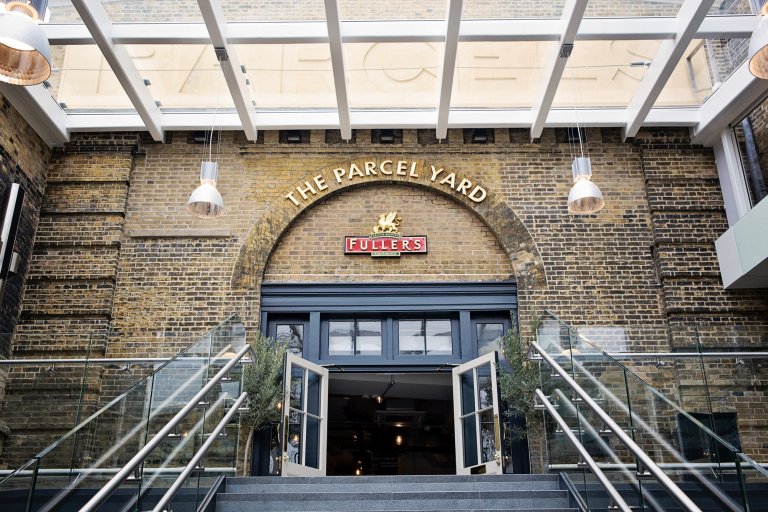 Jonathon Swaine, Managing Director for Fuller's Inns, said: "This is an incredible accolade for The Parcel Yard and for Fuller's. We are immensely proud of our station pubs and are delighted that our continued focus on delivering quality food with first class beer has now been recognised on an international level." The Parcel Yard's win came as a double honour for Network Rail at London King's Cross as the station also won the award for Best Overall Food and Beverage offer at a Railway Station.
8th June 2014
It seems to be festival season. The Crouch End Festival starts on Friday 6th lasting through until Sunday 15th. At the same time, the Maynard in Park Road is having a beer festival with the five handpumps in action along with six barrels on the gravity stillage. Around 20 ales will be sold during the festival highlighting London brewers. Details of the Crouch End Festival at http://www.crouchendfestival.org/
This weekend sees the Stoke Newington Literary Festival. Saturday includes a talk about the Craft Cider Revolution and Sunday has a Beer and Music matching session in the evening. Details and ticket purchasing at the festival website at http://www.stokenewingtonliteraryfestival.com/
Next weekend, starting on Friday 13th June, the Pineapple in Kentish Town will be having a mini beer festival to celebrate the London to Brighton cycle ride. Beers will come from breweries along the route, cycles optional.
The Prince in Stoke Newington (59 Kynaston Road) reported that it opened on Wednesday evening after extensive renovations.
The Dragonfly Brewery in Acton started in May in the George & Dragon pub which is owned by the Remarkable Restaurants group. It's a big brewery out the rear in a new bar and it's obviously designed to supply some of the other pubs in the chain. It has now been spotted in the Salisbury in Green Lanes, one of their pubs. The Shakespeare in Stoke Newington is also owned by the group, check out their website for others.
18th May 2014
The Earl Haig in Crouch End, the newish Antic pub, will be having a cider festival over the Bank Holiday weekend starting on Thursday 22nd. The Earl Haig is in Elder Avenue, just behing the Queens.
The Doric Arch has reopened again this week after a face-lift. The frontage onto the bus station has been renewed and the entrance area has been tiled. Expect business as normal elsewhere. We are here on Monday 2nd June for the Pub of the Year runner-up presentation. Elsewhere, the Prince in Stoke Newington is still closed for refurbishment as well as the Masons Arms in Kensal Green.
16th May 2014
Lots of goings on in the branch at the moment but the most pleasing to report is a new brewery. The Hammerton Brewery has been bubbling away for the whole of April and its beers are now starting to appear in pubs. It is based in Roman Way, N7, just along from the railway line. Two beers are available, N7 Pale Ale and Pentonville Oyster Stout at 5.2% and 5.3% respectively. Launched at the Tap Rooms in Islington last Thursday, they were available over the weekend at the Snooty Fox and have been seen since at the Lexington in N1 and Schillibers in N7.
Talking of new breweries, the new Beavertown brewery is taking shape in Tottenham and hopes to open this month after moving back into our branch from Hackney Wick. One event that will take place there on Saturday 17th June is the London and South East Craft Brewing Competition being run by the London Amateur Brewers. If you make some good home brew enter at: http://londonandsoutheast.brewcompetition.com/
For the new openings, we start with the most ambitious of all, Craft WC1, at 168 High Holborn on the corner of Endell Street, next to the Oasis swimming pool. Formerly the Oporto, it has most recently been Rudy's Revenge. They promise 15 cask ales and 30 keg beers, possibly the largest selection of beers in London. If you have been to any of the other Craft pubs, you'll know what to expect.
The former Westport Inn in NW5 has reopened after a refurbishment and is now run by the son of the previous owner. It was reviewd in last week's Camden New Journal and real ale is now sold. The name has been changed to the Bluebell.
Another keg pub has had a refurbishment and real ale installed. The Robinson Crusoe in Stoke Newington (177 Green Lanes) is a post-war pub contemporary with the surrounding estate. It's been given a make over and four handpumps installed. Some of the beers are coming from Thwaites but it is reported that no pump clips are displayed at the moment, so do ask for it even if it looks like none is available.
2nd May 2014
The Three Johns on White Lion Street in Islington re-opened on Thursday night. It has been through a few changes over the years with the Three Johns being one of its original names. The signs outside shout Ales and Stouts but expect the usual craft beer offerings as well, we hope to have a more news soon.
Elsewhere, the Washington in Belsize Park has reopened after a refurbishment and the Doric Arch at Euston is closed for two weeks for one as well, scheduled to re-open on 12 May.
28th April 2014
One of the best combinations of tastes is beer with chocolate. As part of the North London Branch's 40th birthday celebrations, we are offering people a chance to see how the complexities of the flavours in beer marry with the luscious flavours in chocolate. Six different beers, including some from London's micro brewers will be paired with six different chocolates by Beer Writer and Beer Judge, Christine Cryne. The event starts at 8pm in the upstairs room of the Pineapple and will last about an hour. Price only £10 per person (members and non members). See: http://www.eventsbot.com/events/eb275397662 on how to book
23rd April 2014
All smiles at The Snooty Fox.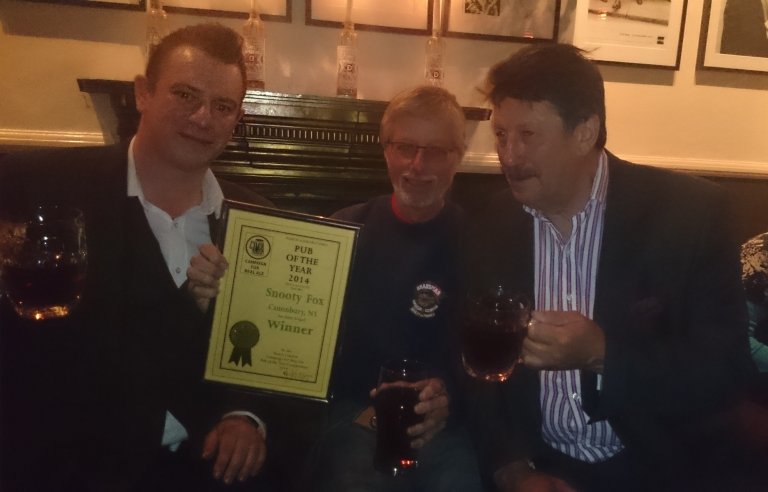 15th April 2014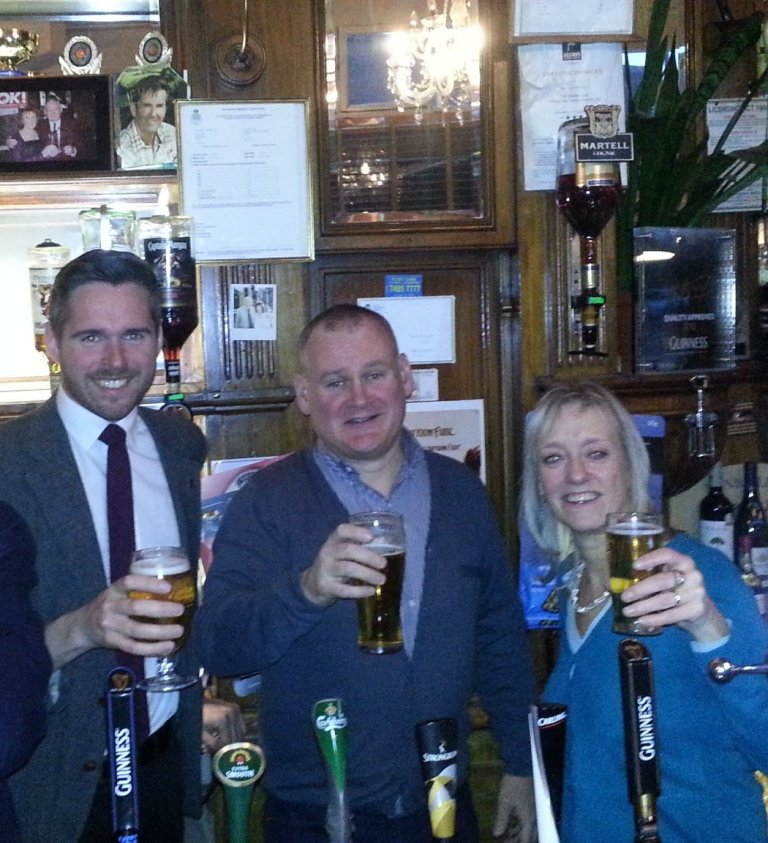 Tom Copley, member of the London Assembly joined licensee Dave Murphy and local campaigners at The Golden Lion NW1 as Campaigners celebrate as Council 'does the right thing'
11th April 2014
Next week will see our annual major pub award ceremony, namely the Branch 2014 Pub of the Year Awards so congratulations to Snooty Fox is our 2014 Pub of the Year and also congratulations to Doric Arch close runner-up. The other four finalists were The Bull N6, Howl at the Moon N1, Queen's Head WC1 and Railway Tavern N16.
11th April 2014
The Pineapple in Kentish Town will be having its traditional Easter weekend beer festival the highlight of which is the bonnet parade on Sunday afternoon. Elsewhere in the branch there are beer festivals over the Easter weekend at the Prince Albert in Camden Town, the Harringay Arms in Crouch End and the White Hart in Stoke Newington along with a cider festival at Tapping the Admiral in Kentish Town. A busy weekend!
30th March 2014
CAMRA North London Branch Chairman John Cryne is to be a speaker at the next Guardian Masterclass on Brewing on 13th April. The event will run for a full day, from 10am-5pm, at The Guardian offices in King's Cross. Beer writer Pete Brown will be hosting the day. And as part of that arrangement CAMRA has one free ticket to give away to the event. In order to enter a competition to win that ticket just click here Win a ticket to The Guardian Masterclass - How to launch an independent brewery on 13 April 2014 and follow the instructions - there's no charge to enter the competition.
27th March 2014
The Harringay Arms in Crouch End is having a Craft Beer and Blues festival over the Easter weekend starting on Friday 18th April featuring London's best craft brewers, international beers, delicious food and four days of Blues!
Antwerp Arms N17 Community Buyout
The share offer is now open. Go to http://www.microgenius.org.uk/projects/ It will close on or before 22 May. Shares are £50 each. Buy one to become a member, buy at least four to get interest on your investment, buy at least 10 to get discounts on Redemption Beer and if you put in £1000 or more you will become a Patron of the Antwerp Arms Association.
27th March 2014
The Howl at The Moon is now offering a 10% discount to CAMRA members on cask beers. http://whatpub.com/pubs/NLD/5487/howl-at-the-moon-london
26th March 2014
Did you miss the 2014 Festival, which was our 30th event, making the London Drinker Beer Festival the longest running London beer festival in one venue. If so go to, http://www.northlondon.camra.org.uk/viewnode.php?id=772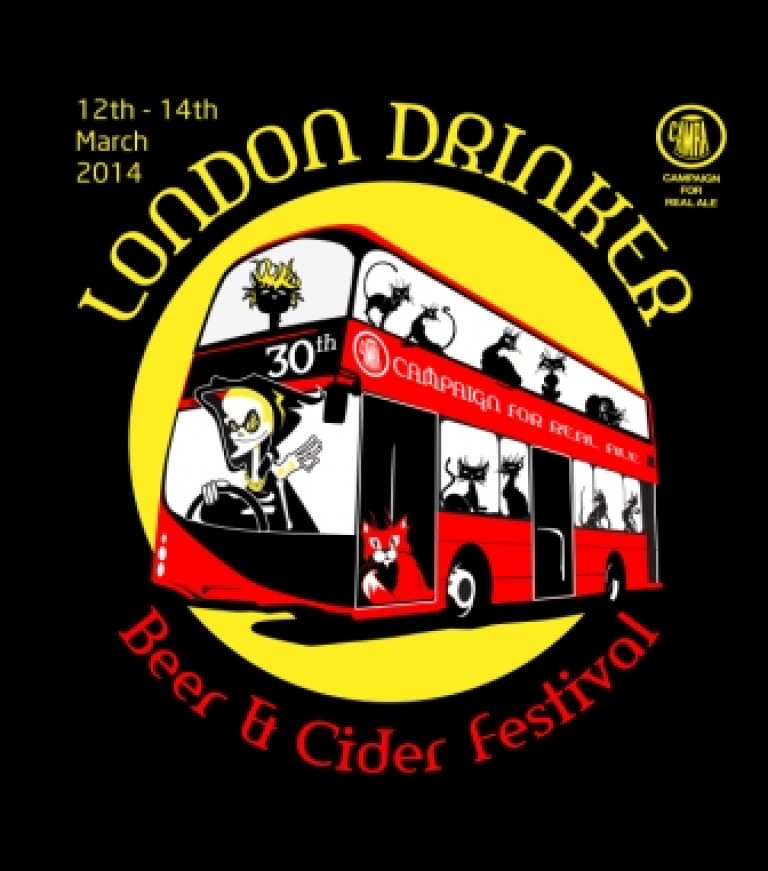 9th March 2014
The Golden Lion is a beautiful late Victorian corner public house with great street presence which has been serving the local community in Camden for 120 years or more. The Golden Lion's Supporters were successful in having the pub registered as an Asset of Community Value in December, proving that it is a wanted and valued social venue. The loss of the pub after many other similar losses in Camden in recent years would be a heavy blow. Traditional pubs like the Golden Lion all over London are being torn down or converted to other uses simply in pursuit of profit and without regard for the social needs of a community. Please support the pub and sign the petition here http://tinyurl.com/po5l4dx
7th March 2014
To coincide with our Festival, the Dukes Head Highgate will have a Cheltenham beer festival next week starting on Tuesday 11th March and finishing on Friday 14th March. Beers come from Prescott, Cotswold Spring, Severn Vale, Uley, Stroud, Cotswold Lion, Gloucester and Costwold breweries.
The Great Northern Railway in Hornsey will be having their first beer festival over the weekend leading up to St Patricks Day. Starting Friday 14th March, it lasts until Monday 17th. There will be 20 real ales and five ciders.
The Tapping the Admiral in Kentish Town is launching a series of brewery showcase nights. Tuesday 15th April centres around London Fields and the launch of Double IPA, a 7.2% beer in their Bootlegger series. Tuesday 13th May, subject to confirmation, will be the Portobello and Kite breweries. Over the Easter weekend, they will be holding their first cider and perry festival, the pub is installing 2 pumps to have a cider and perry permanently on sale.
6th March 2014
Tottenham Brewer helps Capital Beer Festival remember a well regarded volunteer with a special brew. Tottenham Brewer helps Capital Beer Festival remember a well regarded volunteer
4th March 2014
The Imported Beer list for the
forthcoming Festival has now been added to the Festival pages and London Drinker Beer & Cider Festival Programme 2014 can now be downloaded but be aware it is 4.1meg. Hard copies will, of course, be available at the event.
28th February 2014
White Hart Stoke Newington latest addition to LocAle List http://www.camranorthlondon.org.uk/viewnode.php?id=781
17th February 2014
CAMRA members gathered from across North London, despite the tube strike, to present their Winter 2013/14 Pub of the Season award to Hops & Glory.
http://whatpub.com/pubs/NLD/5462/hops-glory-canonbury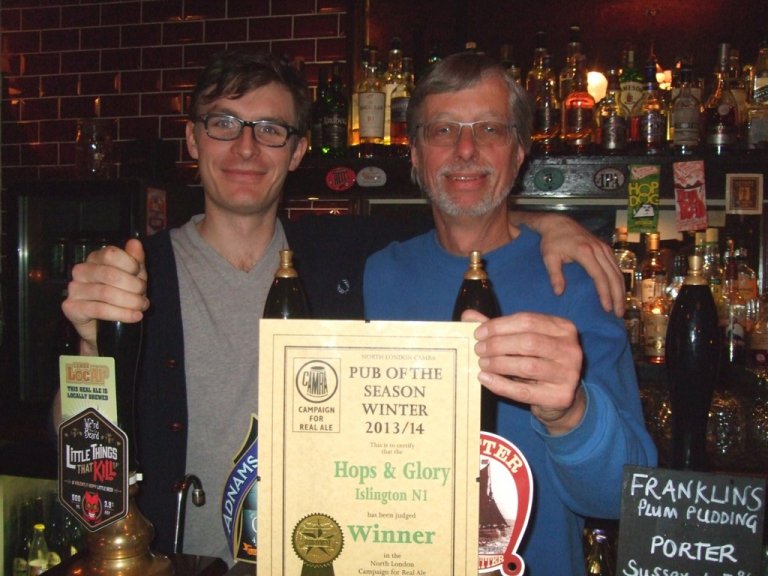 12th February 2014
The provisional cask beer list for next month's London Drinker Beer & Cider Festival has now been posted. http://www.camranorthlondon.org.uk/viewnode.php?id=808
4th February 2014
Four women from North London are taking over the brewing for a day at Highgate's London Brewing Company to produce a celebration brew for the branch's 40th birthday.
Women celebrate by taking over the brewing.
30th January 2014
Adrian Larner was for once lost for words when CAMRA North London Branch member, Christine Cryne, presented Adrian with a personal award from the branch last week. Adrian who is the landlord of the Calthorpe Arms, Gray's Inn Road, WC1, was given a Certificate for his support for real ale to rounds of applauds from regulars and CAMRA members. For more go to Camden Publican wins personal award from CAMRA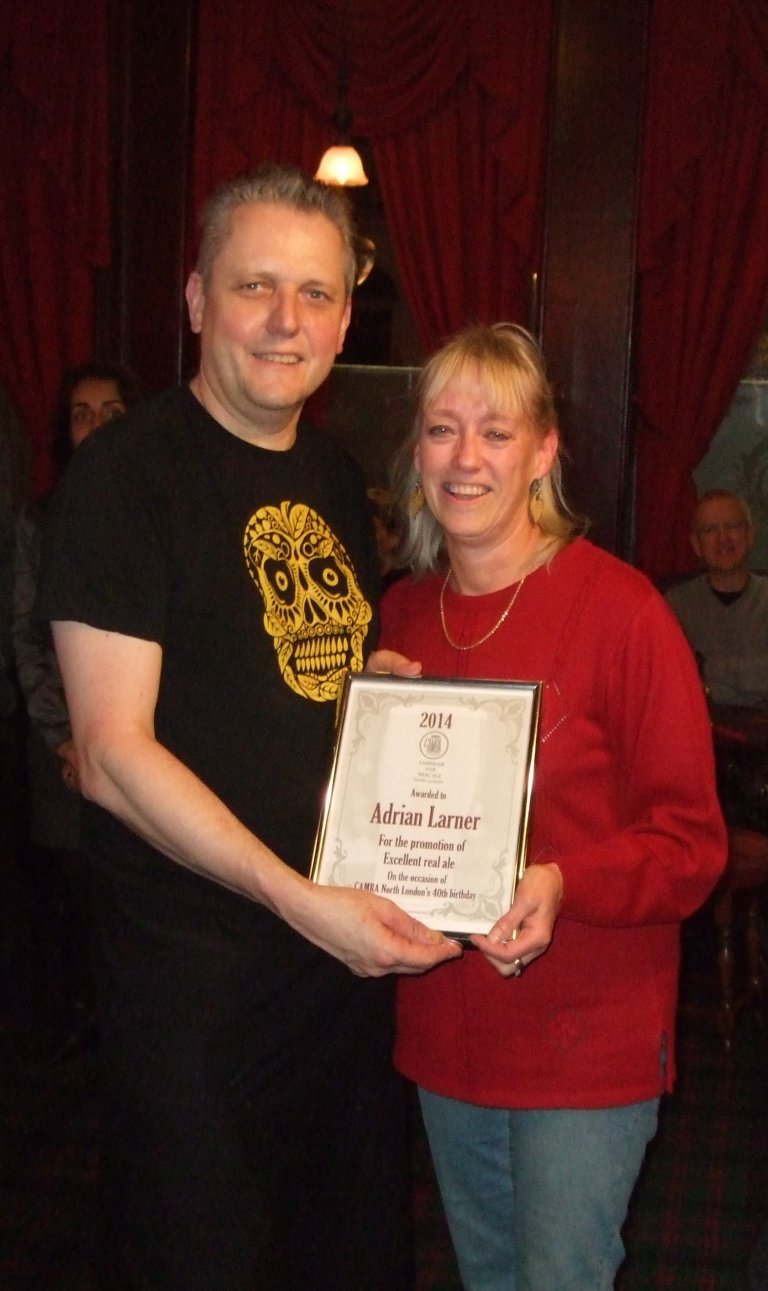 24th January 2014
As part of the Wetherspoon's London Real Ale festival, the Toll Gate in Turnpike Lane will be offering 50p off a pint for CAMRA card carrying members. The festival will be between 10th and 14th February when they will have 15 ales on.
The Maynard in Crouch End will be having another beer festival starting on Friday 31st January lasting through until Sunday 9th February. Beers are usually served from a gravity stillage as well as from the handpumps on the bar.
On Tuesdy 11th February, between 6pm and 8pm, the Lion and Unicorn in Kentish Town will be having a "Meet the Suppliers" evening. In this case the suppliers will be local breweries and local cheese makers. Tastings will be on offer along with the chance to talk to the suppliers. The breweries involved will be Truman's, Redemption, Sambrook's and either Twickenham or London Fields.
Good news from an area not exactly awash with real ale. Caldo, 79 Salusbury Road, Queens Park NW6 has recently opened and sells real ale, Redemption Big Chief being the recent offering.
The Hundred Crows Rising in Islington (58 Penton Street) is to reopen as the Joker of Penton Street and is now the sixth pub in London owned by the InnBrighton group. The opening date is Thursday 30th January according to their website. Although it will mean the loss of the Old Dairy brewery beers, the InnBrighton group has breweries at its pubs in Brighton, Acton and South Hackney, so there should be a good range of Laine brewery beers instead.
23rd January 2014
Myddleton Arms 52 Canonbury Road N1 2HS now offers a 10% discount to CAMRA members, don't forget your card.
But, do Young's really need to tear out the heritage of the Bull & Gate, Kentish Town? http://tinyurl.com/o9yqe6s
20th January 2014
The Old Crown, 33 New Oxford St, WC1, was sold by Punch Taverns to McMullens in July last year. Apparently the respective tenants were not informed beforehand and it came 'out of the blue', with McMullens sworn to secrecy by Punch until the deal had been done. The pub is now tied to McMullens selling AK, Country Bitter and IPA with the monthly special due to replace AK temporarily. The Old Crown's got a late night licence until 3am on certain nights with a DJ and loud 'music'. The beers however were quite acceptable - it must be the only place you could find real ale that late anywhere in the West End!
27th December 2013
Come and be one of the female brewers for a day at the London Brewing Company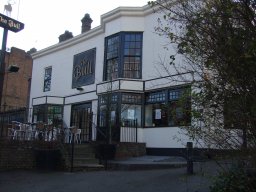 CAMRA's North London Branch is celebrating 40 years of campaigning and we are brewing a beer to celebrate!
The London Brewing Company, that brews at the Bull in Highgate, has a brewster (lady brewer), Jenna Dunseath, and has invited some female North London members to join her in a day of brewing on Tuesday 18th February. This will be a whole day event, starting in the morning. The beer will be available at the London Drinker Beer Festival (12-14th March), which is run by the Branch.
If you would like to join us, simply suggest the name of the cat looking out of the window of the first floor of the bus on the Festival poster (http://www.camranorthlondon.org.uk/viewnode.php?id=772). and email Christine moc.tenretnitb@enyrc.c() no later than 25th January. The winner will be notified the following day.
The only other point is that you must be willing to have your photo published as we are looking to get some press coverage. A small price to pay for what should be a great day out - and something totally different.
11th December 2013
On the 10th December, the North London Branch held their Christmas Social at the Doric Arch near Euston. After a tightly fought pub quiz, with questions on beer and pubs, the traditional game of charades was played to much laughter! If you would like to have a go at the pub quiz you can find the questions at: 2013 Christmas Pub Quiz and the answers at: 2013 Christmas Pub Quiz Answers.
10th December 2013
Pubs granted ACV Status
Campaigners to save local pubs have been heartened by the decisions of Islington and Brent Councils to list the Alma, N1 and the Queensbury, NW2 as Assets of Community Value. This gives the community a right to bid should the pubs be put up for sale and hopefully adds an additional layer of planning protection. Do you think your local pub would benefit from being listed as an ACV? If so, please conact John Cryne. The Alma was run by Kirsty Valentine here's a Kirsty Valentine thank you message to supporters of the ACV application.
6th December 2013
The Mildmay Club (33-34 Newington Green, N16 9PR) is having another bottled beer evening. This time the beer comes from the Ellenberg Brewery in Hanwell. It will be next Wednesday, 11th December, from 8pm onward. Colin Coyne reports that another pub has joined the rapidly expanding list of pubs on the LocAle scheme. This time it is the historic Spaniards Inn in Hampstead.
2nd December 2013
Latest addition to the LocAle list go to http://www.camranorthlondon.org.uk/viewnode.php?id=10237
21st November 2013
Members of CAMRA toasted outgoing licensee Dixie Dean and welcomed the new team at The Prince Arthur last night.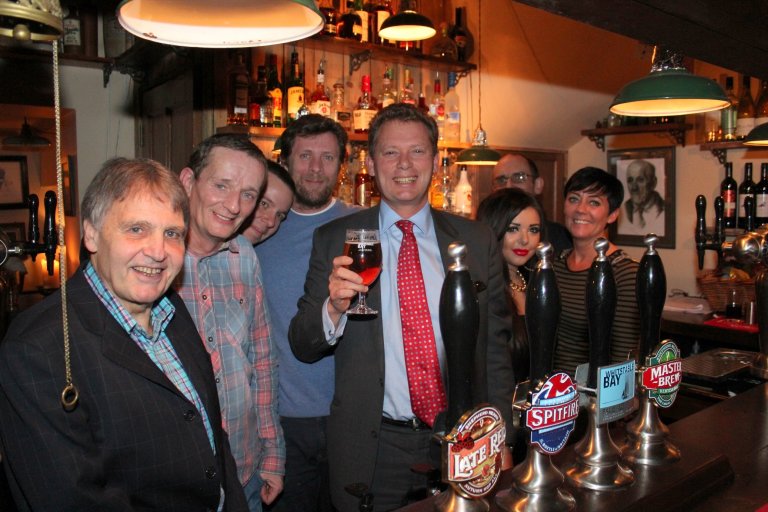 18th November 2013
Branch events for December and January now added to the Branch Diary.
12th November 2013
Winter 2013 Pub of the Season - Voting is now open with a closing date of Friday 15th November. The six pubs nominated are Assembly House NW5, Craft Beer Co N1, Dukes Head N6, Hops & Glory N1, North Pole N1 and Tap Room N1.
Please vote at: http://www.surveymonkey.com/s/ZMHXTDT
A new Antic pub has opened in Crouch End. It's called the Earl Haig Hall in Elder Avenue, just behind the Queens. It is little different from its previous life as the British Legion Hall. As you would expect from Antic there is a good selection of real ales from London breweries and further afield. It's early days yet so opening hours are not fixed yet.
Phibbers in Holloway (203 Holloway Road N7) has been selling Sharps Doom Bar on and off since the summer. A proper Irish pub, it's well known as a place to watch the footie, so real ale is a welcome addition to the bar.
Elsewhere, two other pubs have reopened. The Salthouse in Maida Vale has reopened after a refurbishment and the King William IV on Shepherdess Walk in Hoxton has reopened under new management. At the very top end of our branch, Richard Larkin reports that the Victoria in Highgate is thriving under new owners since earlier this year. What with the Wrestlers and Bull, the slope going north of Highgate is looking up.
26th October 2013
The Alma at 59 Newington Green Road, N1 4QU was recently named as North London's Cider Pub of the Year 2013 but no sooner had this been done than Pub Tenant Kirsty Valentine was delivered a kick in the teeth by her landlords, Enterprise Inns in telling her what cider she could or more pertinently could not stock, detail here http://tinyurl.com/pd8q7rq Subsequent to this Kirsty Valentine was evicted and the pub is now being run by new tenants - for more information http://www.battleforthealma-n1.com/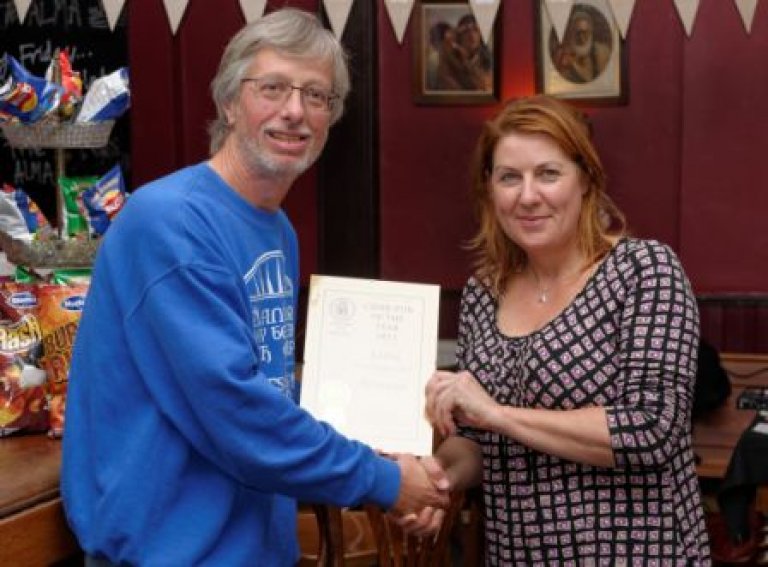 25th October 2013
The Nightingale in N8 suffers further indignity...... http://www.hamhighbroadway.co.uk/news/fire_rips_through_empty_hornsey_pub_1_2909348
18th October 2013
The Craft Beer Co in Islington will be hosting Gregg Irwin of the Weird Beard brewery on Monday 21st October as part of their homebrew club. He will be giving a talk on progressing from an amateur to a professional brewer.
The Coronet in Holloway will be having a "battle of the brewers" as part of the Wetherspoon beer festival. Taking place on Saturday 26th October, the brewers will be on site from 3pm onwards. Breweries represented are Portobello, Redemption, East London, Clarence & Fredericks, Twickenham and Sambrooks.
The Antwerp Arms in Tottenham is open again and now selling real ale. Even better, it is from Redemption, so Tottenham beer in a Tottenham pub, possibly the first for many years. Less encouraging is the sudden closure of the Pakenham Arms in WC1 a pub popular amongst postal workers and Gunners fans. CAMRA is trying to find out what is going on.
16th October 2013
The Taylor Walker chain of pubs is almost halfway through a beer festival lasting until Sunday 27th October. It's based around London breweries along with plenty of others. We have 10 of their pubs in our branch and all pubs are still offering their 10% discount for CAMRA members. To keep up with which beers are on where, each pub will be tweeting what is available each day.
The Golden Egg in Kilburn (155 Kilburn High Road) has finally reopened as The Earl Derby, returning to its original name. It's taken sometime to refurbish it and there is now a range of real ales.
The Regent on Liverpool Road, Islington is now selling real ale, a beer from London Fields being on for a recent visit.
The Old Oak opposite Gospel Oak station has reopened after a refit, currently only selling Doom Bar but with plans for more. The landlady has a good track record having come a Vale Brewery pub in Aylesbury.
The Herbert Chapman in Holloway (274-276 Holloway Road) has only had limited opening hours recently, mostly on match days only but building work over the summer has resulted it opened as a new pub called Filthys. Unfortunately no real ale.
14th October 2013
The North London Branch is to hold its first Cider and Cheese Tasting linked in with The Pineapple's first Cider & Perry Festival, for full details open this download Cider & Cheese Tasting Poster, to book a place contact John Cryne, see Contacts page.
13th September 2013
CAMRA members from across London gathered at The Parcel Yard on King's Cross station to launch the 2104 edition of the Good Beer Guide.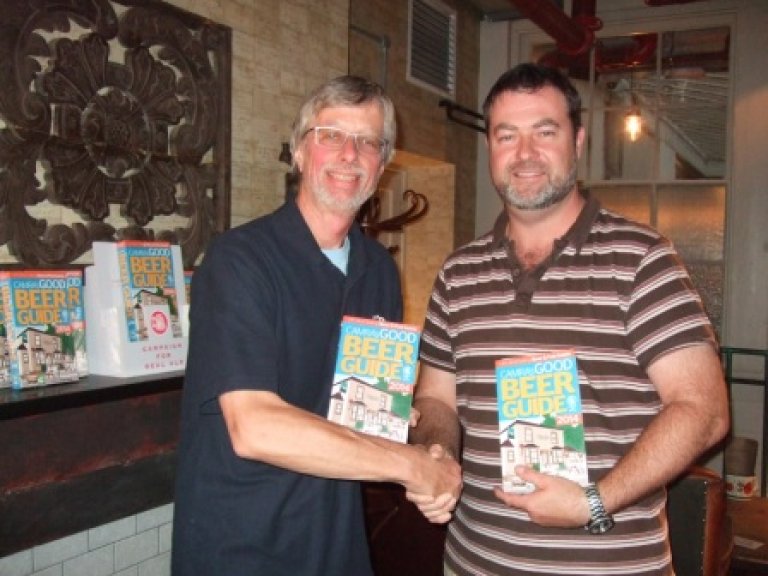 The Marquis of Cornwallis in Bloomsbury (31 Marchmont Street) is having a London beer festival this weekend with about ten real ales on stillage.
The Tapping the Admiral in Kentish Town, our current Pub of the Year, will be having a London to Brighton ale festival from 25th to 29th September with beers from London, Sussex and all points between.
The Oak Bar in Newington Green (79 Green Lanes N16) has had a make over and has emerged as the Leconfield, the name of the road behind the pub. It's an inter war pub with mock Tudor frontage and some remaining features but it has opened out inside and a lovely large space. As with other recent openings, it's a work in progress but you can't miss the signage outside! Four handpumps dispense real ales from breweries across the country and the place was busy for the quiz last Thursday. A welcome addition to the Newington Green area.
12th September 2013
Pubs converting to real ale continue and the latest discovery this time is the Hercules in Holloway (504 Holloway Road N7). It's had a handpump but has not been used for many years. It's now been taken over by the Tommy Flynns chain although there is very little change inside apart from a quick clean up. The handpump has been brought back into use and is selling Adnams Ghostship. It's been open for a few weeks already but its official opening party is this Saturday, 7th September.
3rd September 2013
The Hops & Glory on Essex Rd., N1 has been in touch, "Just getting in touch as it was great to have so many CAMRA members down with our IPA festival. Many of whom hadn't been in before. As a result we've decided to extend our 30p per pint off Discounts for CAMRA members to Cask Ale on Mondays through to Fridays at any time."
30th August 2013
And now it is 51 LocAle Pubs with Wetherspoons' J J Moon's in Kingsbury joining the scheme.
29th August 2013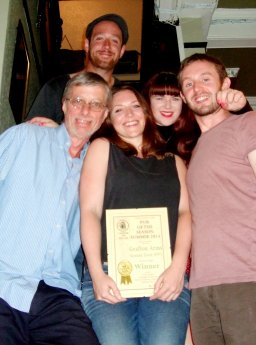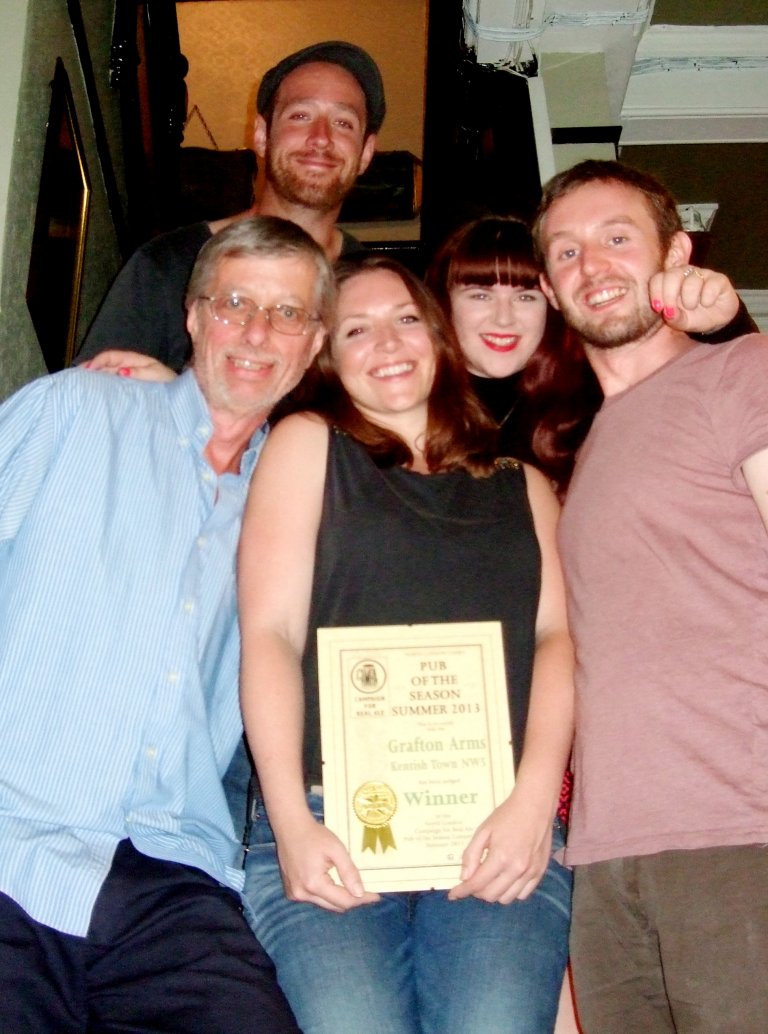 The Swan in Cosmo Place has become the 50th pub in the North London CAMRA Branch area to join LocAle Pubs - beers from Portobello, Redemption and Hackney + a 10% discount for CAMRA members.
Last week CAMRA members celebrated The Grafton winning our Pub of the Season Summer 2013 Award, for more information Grafton Kentish Town
25th August 2013
The next beer festival at the Pineapple in Kentish Town will take place from Friday 4th to Monday 7th October. The next beer festival at the Snooty Fox in Canonbury will take place from Thursday 24th to Sunday 27th October.
The Park Tavern in Stroud Green (164 Tollington Park N4) has started selling real ale. Sharps Cornish Coaster is on at the moment at a bargain price of £2.50. A true locals pub, the real ale is selling very well. There is only one handpump, in the rear bar. Around the corner on Fonthill Road, the N4 bar (20 Fonthill Road) reopened and it has reverted to its original name of the Edinburgh and is selling two real ales, St Austell Tribute and a beer from Portobello.
19th August 2013
The latest addition to the LocAle list is the current London Cider Pub of the Year, the Queens Head in Kings Cross. As well as selling beers from London breweries, it does have it's own brewery in the basement. It has sold on their own beers but it is hoped to ramp up production when it gets a bit cooler.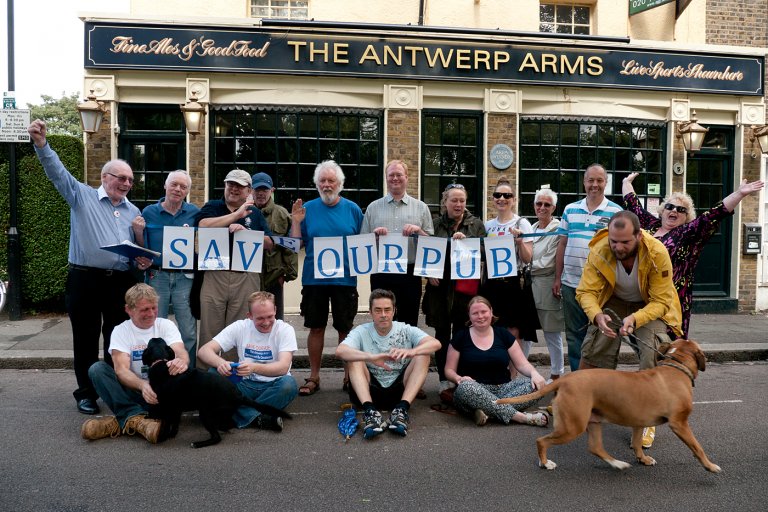 A local community group in Tottenham is looking to get an Asset of Community Value certificate on and possibly buy the pub, which is in Church Road, facing Bruce Castle Park, near the Spurs ground. The pub is still open and has two hand pumps, one of which is usually for Greene King IPA. They would like support from CAMRA members and potentially, shareholders for their cooperative company. Please see 'Antwerp Arms Association 'on Facebook or e-mail moc.liamtoh@enalerehpotsirhc
9th August 2013
The Hops & Glory in Canonbury will be having an IPA festival over the August bank holiday weekend. There will be a collaboration IPA with Pressure Drop brewery, a bar full of IPAs on handpump and craft keg and Pete Brown will be guest speaker on the Saturday afternoon. During the festival, there is a 30p reduction for CAMRA members on any pint of cask ale. With the Duke Wellington having an East London breweries festival and the Alma having a cider and perry festival, you wont have to walk very far!
5th August 2013
The Royal George in Eversholt St is the latest pub to join our LocAle Pubs scheme and what is more it offers a 10% discount to CAMRA members.
4th August 2013
The Queen's Head in Acton Street has been named as CAMRA Greater London's Cider Pub of the Year and received their award at a ceremony last week - Nigel Owen (left) accepts the Award from CAMRA's Christine Cryne.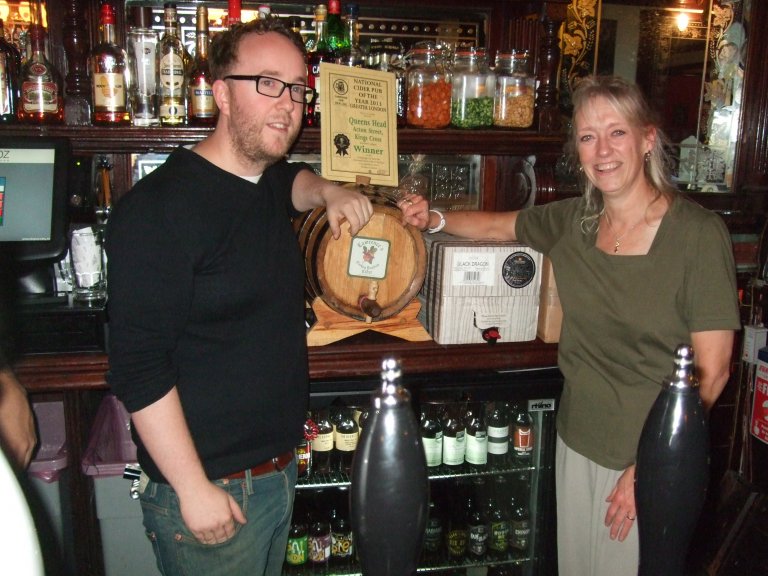 1st August 2013
The landlady of The King William IV in Hampstead has written an open letter in an attempt to set straight a local problem with the adjacent crepe stand - read it here http://tinyurl.com/q53fx4j
30th July 2013
The next beer festival at the Duke of Wellington in Dalston will take place over the August bank holiday weekend starting on Thursday 22nd.
Our LocAle scheme edges ever closer to 50 pubs (1 more to go now) with the inclusion of the Royal George in Euston. Part of the Taylor Walker chain of pubs, it has been selling London beers for some time now and tweets most days as to what is available. It also offers a discount to CAMRA members, 10% off the real ales.
19th July 2013
There's lots of Pub News July 2013 this week, too much to include on this front page, so click on the link to find about more about the Antwerp Arms, Macbeth, pubs now selling real ale and forthcoming beer festivals, you know you need to!!
17th July 2013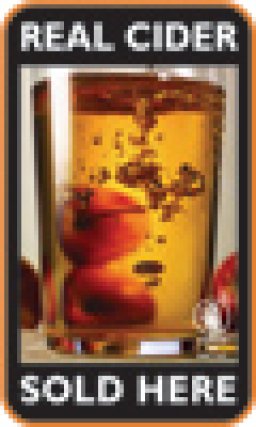 With the huge rise is the number of pubs serving real cider in the Branch we are instigating a Branch Cider Pub of the Year competition for the first time. The shortlist of nominations is the following: Alma, N1; Bree Louise NW1; Cider Tap NW1; Queens Head WC1; Southampton Arms NW5. If you would like to vote for your favourite please go to http://www.surveymonkey.com/s/C22ZP7T and rank them from 1 to 5. (You will be asked to fill in your name and membership number, this is only to verify you are member of North London Branch) - voting closes 23rd August.
12th July 2013
The next festival at the Alma in Newington Green will be a cider festival over the August Bank Holiday weekend. The latest pub to be added to the LocAle scheme is the Coronet in Holloway. Last weekend it had the Compass beer festival along with three other local Wetherspoon pubs selling LocAle beers.
21st June 2013
The beer festival at the Drapers Arms in Islington start Friday lunchtime. Beers available from the likes of Redemption and Dark Star, ciders will be Orchard Pig Explorer, Naish/Chat Badgers Spit and Pook Hill New Season.
Thanks to the Five Points Brewery in Hackney for having us on Tuesday night including tasting their beers there and at the Cock both in cask and in keg. They are also available in bottles. There are plenty more opportunities to sample the range. On Friday 21st, they are having tastings of bottles at Sourced Market in St Pancras Station from 5pm-7pm. The next day, Saturday 22nd, their beers will be available all day at the Snooty Fox in Canonbury along with a meet the brewer sessions between 5pm and 7pm with tutored tastings. On Saturday 6th June, there is an all day open day at the brewery itself along with a small beer festival including beers from other local breweries. With a temporary events licence, their beers will be on sale for take home.
The Northgate in De Beauvoir Town (113 Southgate Road) has reopened after a short closure and is now called the De Beauvoir Arms. The beer range has improved with Broadside, Wandle, TEA and Marston's EPA available along with a real cider on handpump.
The Alma in Newington Green will be having an Independence Day on Saturday 6th July featuring lots of American style beer and lager along with typical southern style food.
14th June 2013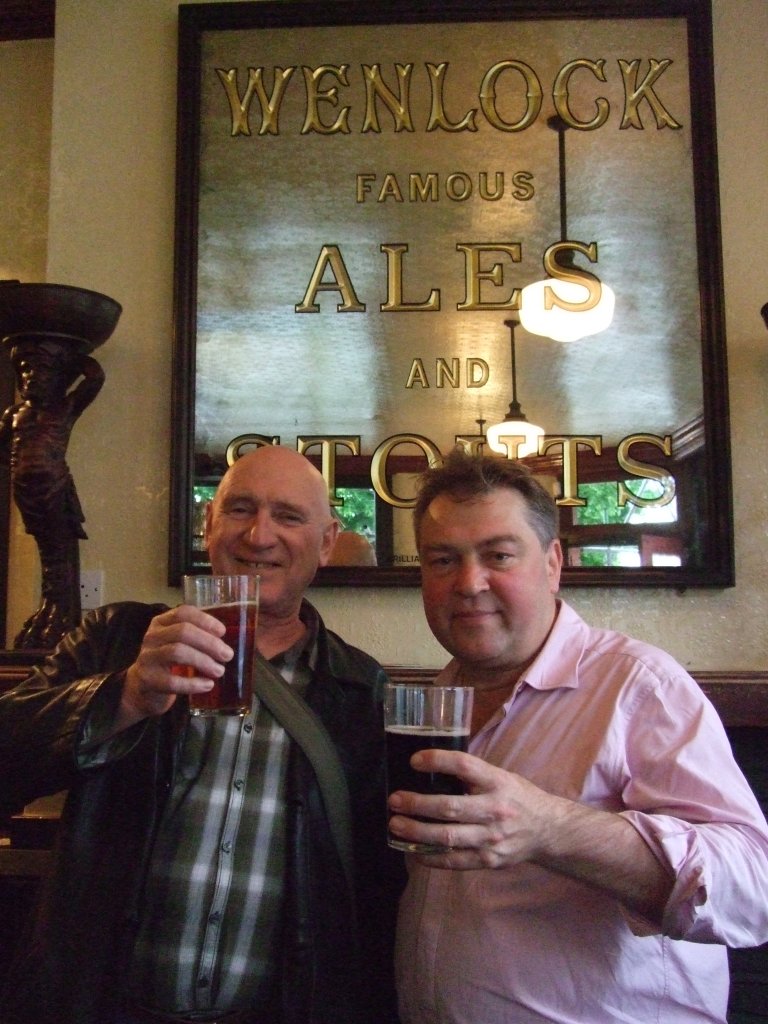 The Drapers Arms in Islington is having a beer and cider festival from Friday 21st to Sunday 23rd June with "lots of artisan ales and ciders" along with beery food and snacks from the kitchen.
The Snooty Fox in Canonbury will be having a day full of Five Points Brewery beers on Saturday 22nd June. The beers will be available all day and the brewers will be there from 5pm to 7pm to hold tasting sessions and answer questions.
The Hops & Glory on Essex Road in Canonbury is having a "US taps takeover" from 1st to 7th July celebrating Independence Day.
The White Horse in Hoxton (153 Hoxton Street) relaunched itself last week as a place offering "Fine Ales and Good Times". One beer is guaranteed to be from a local brewery and Pieminister pies are now served in the evening. A good selection of craft keg beers from the UK and US are also available.
Another new LocAle pub this week, the Railway in West Hampstead. The pub has been moved from the Original Pub Co to the Spirit Pub Company. By virtue of this, it qualifies for a 10% discount for CAMRA members.
7th June 2013
There is so much news on pub festivals, re-openings (including The Wenlock) that we have had to put it all into a separate page, so to find out what's going on click Pub News June 2013 Voting has now opened to CAMRA members for our next Pub of the Season, for details on who you can vote for and how to vote, go to http://www.camranorthlondon.org.uk/viewnode.php?id=780
3rd June 2013
Great - two new members of the CAMRA LocAle scheme - the Earl of Essex, 25 Danbury Street, N1 8LE (a bit of a no-brainer with its in-house brewery!) and the Devonshire House, 2 The Broadway, N8 9SN.
http://www.camranorthlondon.org.uk/viewnode.php?id=781
2nd June 2013
The Lamb on Holloway Road will be having a beer festival from 18th to 21st July based around beers from London breweries.
29th May 2013
In an usual move, a Kilburn pub is to stop selling draught beers and lagers in protest against the prices pub companies charge for beer, read about it here http://tinyurl.com/qxwvr57 and to find out more about The Fair Deal For Your Local campaign, go to http://www.fairdealforyourlocal.com/
28th May 2013
Our beer festival is well known for the quality if the sausages we offer and for years only one supplier has worked for us - Bill O'Hagan. Well sadly Bill has headed to the great sausage mixer in the sky and The Economist has penned a worthy tribute http://econ.st/1aag7gP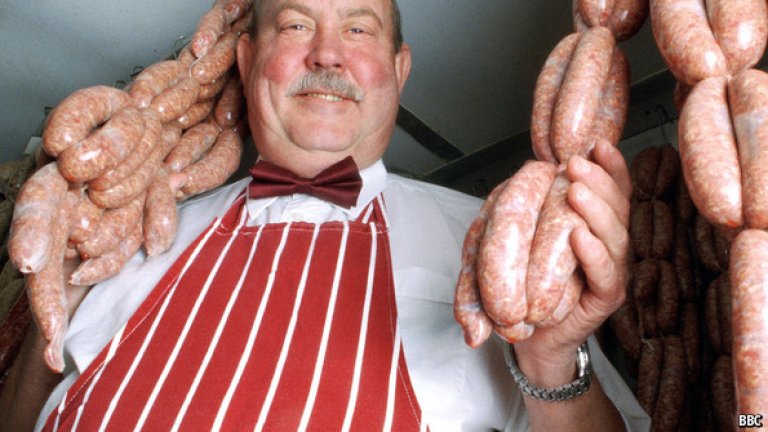 17th May 2013
The Bree Louise will be have a "meet the brewer" session on Wednesday 22nd May from 5.30pm. The featured brewers are Brupond and Signature and their beers will be available on both handpump and gravity for comparison.
We have two new brew pubs in the branch as the number of breweries and brewpubs in Greater London almost reached fifty. The Earl of Essex now has a working brewery after a false start. They first brewed during April. In Kings Cross, the Queens Head in Acton Street has sneaked in a variety of components into its cellar and built a brewery. The first trial beer has been brewed and should be available in the pub very soon.
Tee's Wine Bar in Turnpike Lane (actual address is 679 Green Lanes, it's behind Costa Coffee) has reverted to the Wellington and turned into a usual irish pub. Real ale has been introduced and Doom Bar is on offer.
Over in Kentish Town, real ale has been reported in Annies at 180 Kentish Town Road NW5, and possibly in Aces & Eights at 156-158 Fortess Road, opposite Tufnell Park station.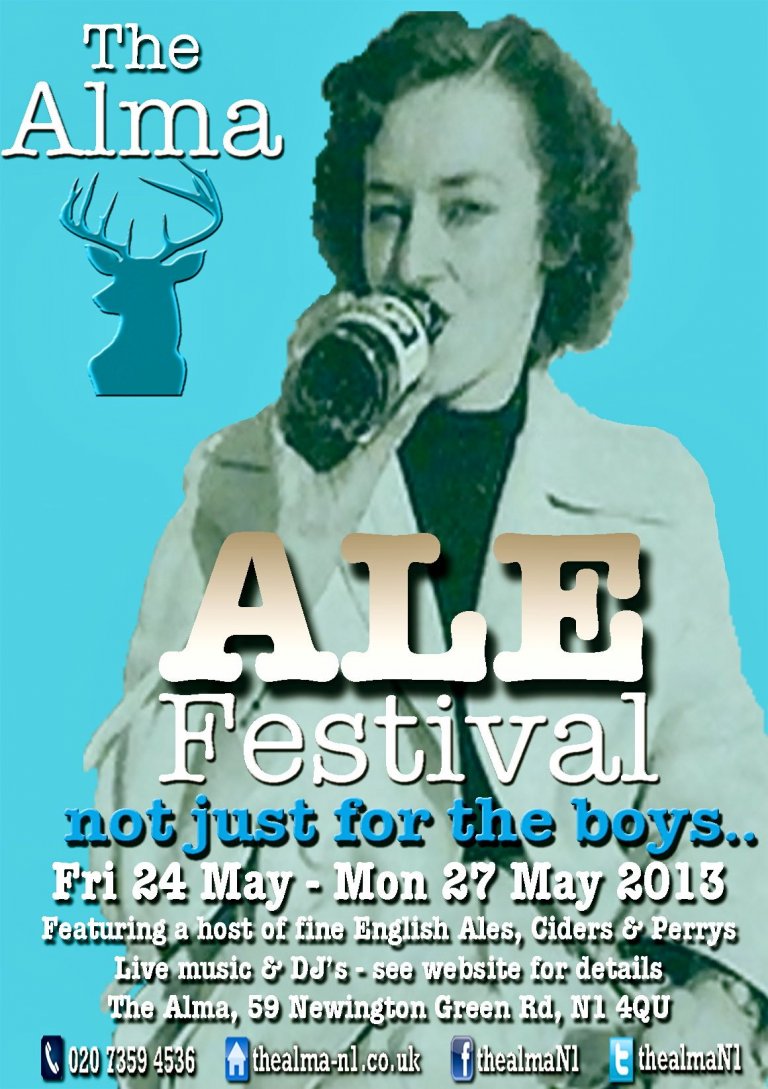 The Three Crowns near to the Old Street roundabout (8 East Road N1) is now open. It has been closed for some years and used as the offices to the major building works adjacent. The original tile-work on the outside of the pub was part exposed when it was closed and has now been cleaned up. Inside, three real ales and one real cider are available.
15th May 2013
Colonel Fawcett, Camden Town now added to LocAle Pubs together with our first pub in N4, The White Lion of Mortimer.
10th May 2013
The Alma has just announced details of its latest Ale festival.
8th May 2013
John Cryne of CAMRA's North London Branch used the opportunity of CAMRA's Parliamentary reception to meet with local MP Sarah Teather. High on the agenda was the threat to local pubs and, in particular, the proposed closure and redevelopment of The Queensbury at Willesden Green. Sarah has been a strong supporter of http://savethequeensbury.info/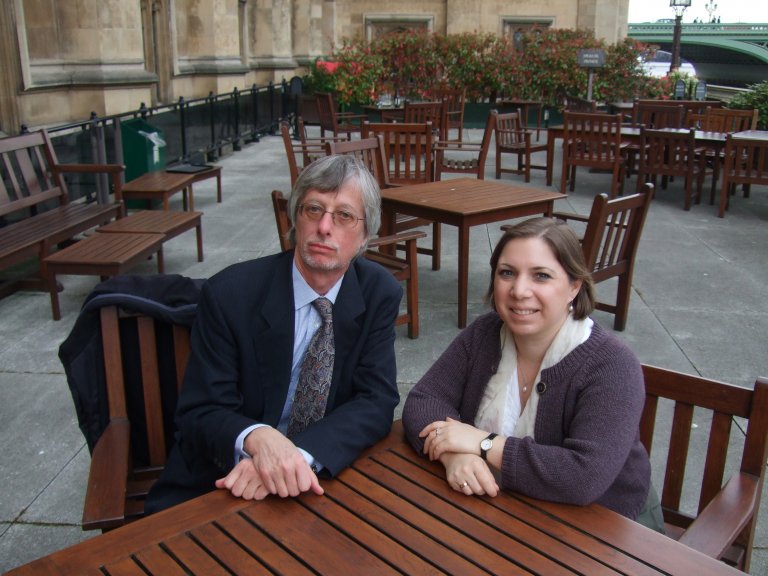 29th April 2013
The Bank Holiday is often busy for beer festivals. The Island Queen in Islington N1 is having a beer festival and the Alma in Newington Green N1 is having a cider festival featuring 20 ciders from England. The Wrestlers in Highgate N6 is having a sausage and beer festival from 13th to 15th May. There will be 12 London beers and 12 different sausages.
May is usually CAMRA Mild Month and it is good to hear of pubs doing milds. The Bree Louise is jumping in deep by having over 100 different milds through the month.
22nd April 2013
The Canonbury pub in Canonbury (surprise!) is holding a beer festival over the second May bank holiday, starting Friday 24th May. There will be up to 10 beers available and by then the weather should be good enough to make use of their huge garden! Other beer festivals in our Branch area
Sunday 21st April - Sunday 28th April. Doric Arch, 1 Eversholt Street, Euston, NW1 1DN. Week long beer festival around St Georges Day featuring London beers. There will be lots of beers from London breweries and don't forget to join their free CAMRA loyalty card for a 15% discount. Website: http://doric-arch.co.uk/
Tuesday 23rd April. Queensbury, 110a Walm Lane, Willesden Green, NW2 4RS. St George's Day beer festival with 7 real ales. Website: http://www.thequeensbury.net/
Thursday 25th April onwards. Black Lion, 295-297 West End Lane, West Hampstead, NW6 1RD. Beer festival starts as part of a week long birthday party Monday 22nd to Sunday 28th April. Website: http://theblacklionnw6.co.uk/
12th April 2013
Spike, Kirk and the Tapping The Admiral team celebrate being awarded CAMRA North London's 2013 Pub of the Year Award, with Branch Chairman, Catherine Tonry, raising a glass. Pub of the Year Awards 2013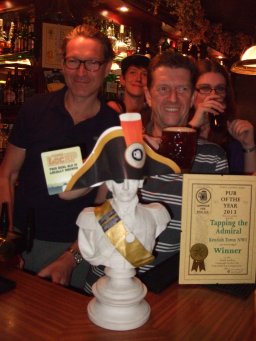 8th April 2013
The North London Branch of CAMRA has issued Victoria Camden Town News Release strongly condemning the plans to convert The Victoria in Camden Town into flats, yet Another Camden pub under threat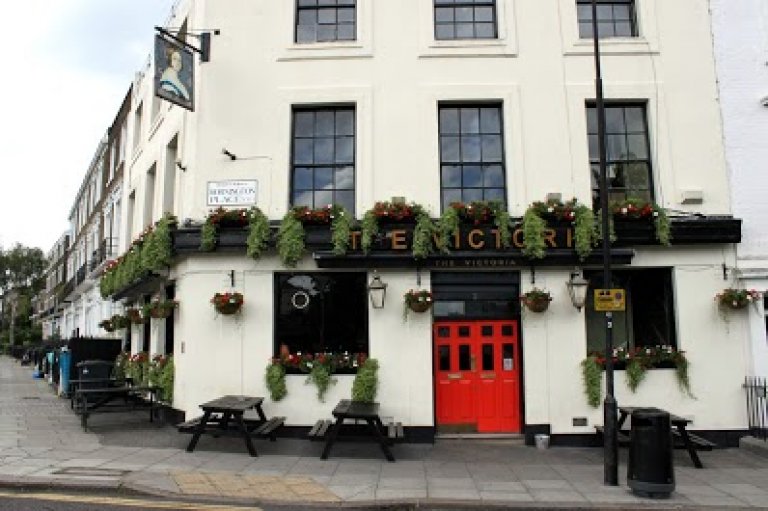 7th April 2013
The beer festival at the Taylor Walker chain of pubs is continuing through until 28th April. Some of the pubs have four casks stillages and the 10% CAMRA discount is available on all festival beers. The TW pubs in our branch are Friend At Hand WC1, Marlborough Arms WC1, Museum Tavern WC1, Plough WC1, Swan WC1, Camden Head N1, Globe NW1, Green Man NW1 and Royal George NW1.
The Stag in NW3 will be holding a tasting session with the London Fields Brewery on Wednesday 10th April from 8pm onwards.
The Tollgate in Turnpike N8 Lane will be having a meet the brewer session with Andy Moffat from the Redemption Brewery at 6.30pm on Thursday 18th April.
The Black Lion in West Hampstead NW6 will be having a week long celebration of their 1st birthday from Monday 22nd to Sunday 28th April featuring a beer festival from Thursday 25th.
The Queensbury in Willesden Green will be have a beer festival on Tuesday 23rd April for St George's Day. 7 real ales available, four through handpump and three on gravity.
2nd April 2013
The Islington Tribune speaks out on 500 sign petition to save pub that's 'at heart of the community'
22nd March 2013
The next beer festival at the Pineapple in Kentish Town will be taking place over the Easter weekend starting on Thursday 28th March.
A new LocAle pub to welcome abord this week, the Colonel Fawcett, NW1. Not far from Camden Road Overground station, beers from Redemption and Brodies are regulars with Hackney and London Fields sometimes seen.
The Taylor Walker chain of pubs is having a month long beer festival from 28th March to 28th April. There are just over 100 pubs in the chain, mostly in London with a few in our branch. There is a Pub Finder on their website at http://www.taylor-walker.co.uk/find/pubs/ to find a local one. Some of their pubs do a CAMRA discount and their last beer festival included a CAMRA discount.
11th March 2013
Now that the dust has settled from last week's London Drinker Festival, the Branch's calendar for April and May has been released, click on Branch Diary in the left hand column.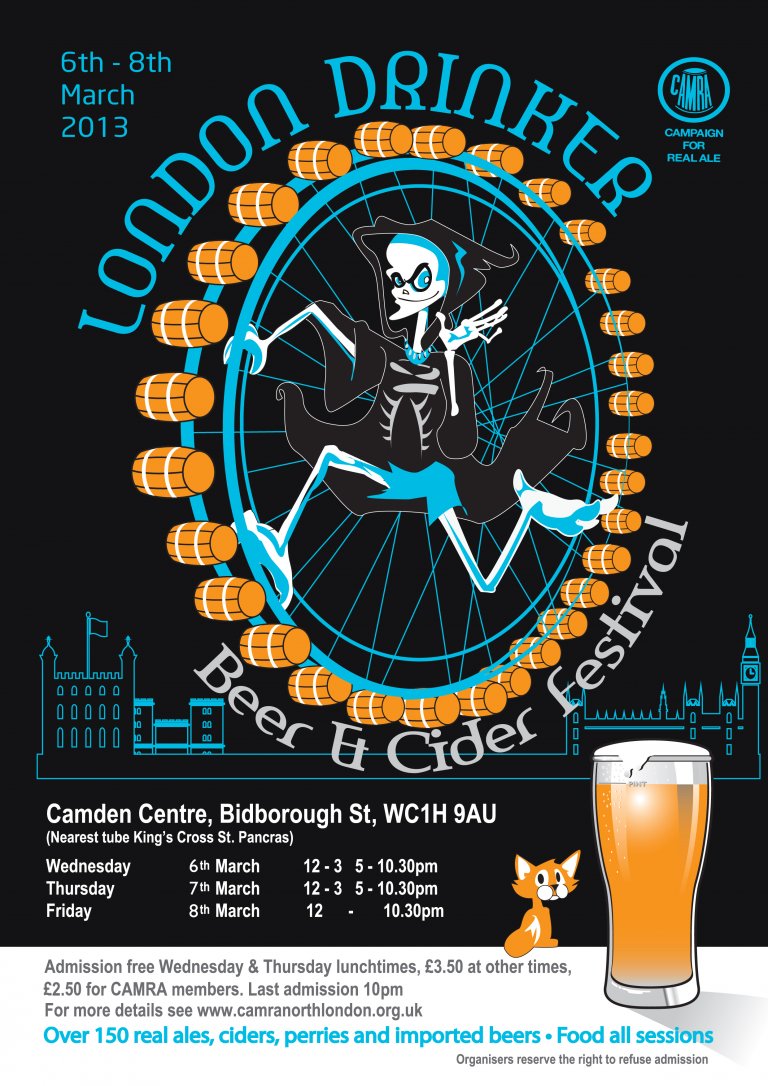 27th February 2013
The Bull at Highgate has been named as CAMRA North London's Winter Pub of the Season, for more.....http://www.camranorthlondon.org.uk/viewnode.php?id=780
25th February 2013
To complete the picture, the imported beer list has now been added to the Festival pages